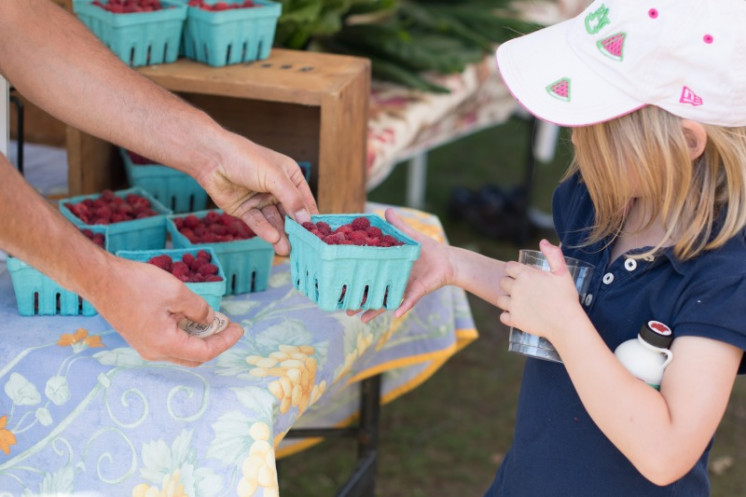 Every week families from around Vermont and neighboring regions visit their local farmers market. There's music, prepared foods, and of course, fresh produce. But did you know there is a program at many markets that is just for kids?
All kids ages 5-12 are welcome to participate this summer in Power of Produce (POP) Clubs - a fun, free way to learn about and enjoy fresh local food every week - at participating farmers markets.
POP Clubs provide an accessible way for children to engage in the local food system through conversations with farmers, educational games and demonstrations, and exposure to new fruits and vegetables. In addition to participating in activities, POP Club kids receive vouchers to spend at the market, allowing them to make their own shopping decisions.
The program exists nationally, including right here in Vermont and surrounding states. For example, just in the Upper Valley, children can participate at 13 farmers markets on either side of the state line. In 2018, over 1,300 kids participated in Upper Valley POP Clubs and spent $6,400 in free "POP Bucks" at farm vendor booths.
Vital Communities, who supports the Upper Valley programs, explains that POP Clubs are simple, fun, and free. Families sign up at the market's POP table and start the day's fun activity—a farmers' market scavenger hunt, a vegetable quiz, an art project or other produce-related fun. Kids get to explore the market, talk with farmers, learn, taste new vegetables and fruit, and share their knowledge. The POP host is there to help. Once they complete the activity, participants return to the POP table to receive their $3 in POP Bucks: market money just for kids to spend on fruits and vegetables. There is no need to sign up in advance, and families are welcome to participate once or many times throughout the summer at one market or many.
The Power of Produce program began in May 2011 at the Oregon City Farmers Market in Oregon City, Oregon. It was created by the market manager through a grant to improve community health. The program's mission was three-fold: (1) empower children to make healthy food choices (2) strengthen and sustain healthy communities through supporting farmers and cultivating future farmers market supporters (3) expand farmers markets from a retail location into a place where children can try new foods and learn about healthy eating.
Check with your local farmers market to see if they have a POP program!
Photo credit: Molly Drummond
References: 
Farmers Market Coalition, a nonprofit dedicated to strengthening farmers markets across the United States.
Vital Communities, a nonprofit organization that cultivates the civic, environmental, and economic vitality of the Upper Valley. Valley Food & Farm, a program of Vital Communities, keeps agriculture a daily part of community life.