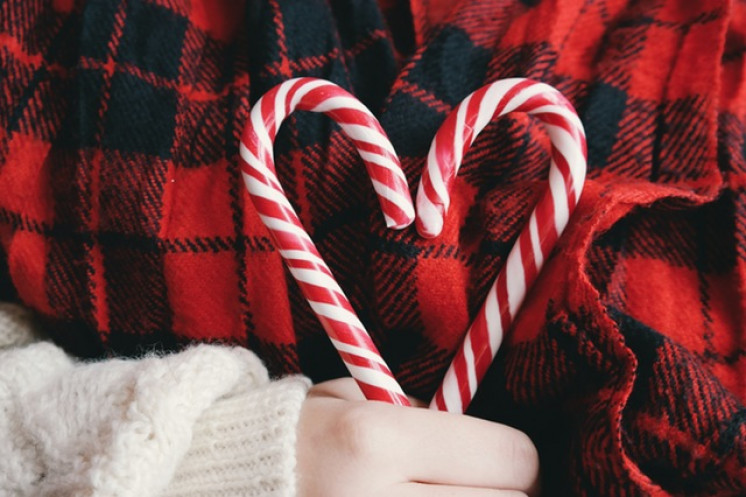 You can have a hands-on experience of candy cane making this December at Laughing Moon Chocolates in Stowe. They will hold candy cane making demonstrations, including a chance to make your own cane Saturdays and Sundays until December 23rd. Details are available on our events page. So, try out this sweet as part of a new (or old) Vermont holiday tradition!
Candy canes are a variety of hard candy, candies produced by boiling sugar syrup to the "hard crack" stage when the syrup starts to form brittle threads. According to the Oxford Companion to Sugar and Sweets, sticks of hard candy appeared many centuries ago in China, where barley syrup was boiled, then fashioned into sticks rolled in sesame seeds. Hard candies first came to Europe from Persia in the twelfth century, flavored with violets, cinnamon, rose water, and even gold leaf. Many of these early hard candies were used medicinally - particularly candies flavored with peppermint or wintergreen oil (later to become the signature flavor of candy canes). The candy cane itself likely originated in Germany.
Did you know candy canes were produced exclusively by hand until the 1920s? The hand process involves pulling hot sugar (usually on a taffy hook) to get the right consistency and color, rolling it until it cools enough to stiffen (so it won't develop a flat side where it rests on the table), and shaping it into the cane. In 1921, Bunte Bros. in Chicago invented a new machine for manufacturing candy canes. The candies entered mass production by the late 1920s. We now sell 1.7 billion candy canes a year.
The Food Network show, Unwrapped, took a look inside commercial candy cane production in this 2015 episode. And if you want to learn even more, here are the top 10 things you might not know about candy canes.
The candy cane has been a symbol of the Christmas holiday for centuries. The Shepherd's crook-shaped candy in red and white has not only been enjoyed as a sweet but also used to decorate Christmas trees almost since the Christmas tree concept arrived in America (the mid-1800's). The exact origins of the cane aren't clear. Some tales focus on the religious symbolism of the red and white colors, but those stories are dubious since the first candy canes existed before sugar was refined enough to cool into the pure white color we see today. Others credit a clever 17th century choirmaster with tweaking the already-popular hard candy sticks to produce a confection that would keep children quiet during long holiday services. In general, candies and sweets - which were once much more expensive than they are today - have historic ties to festivals and holidays, occasions when people were willing to purchase special foods. Christmas is, of course, no exception and the food historians at Food Timeline have a list of some of the most popular Christmas-related foods through history.
So whether you use them as decorations on your tree, add them to your favorite baked good or eat them just as they are, be sure to enjoy this sweet treat this holiday season.
(This article was originally published in 2016.)