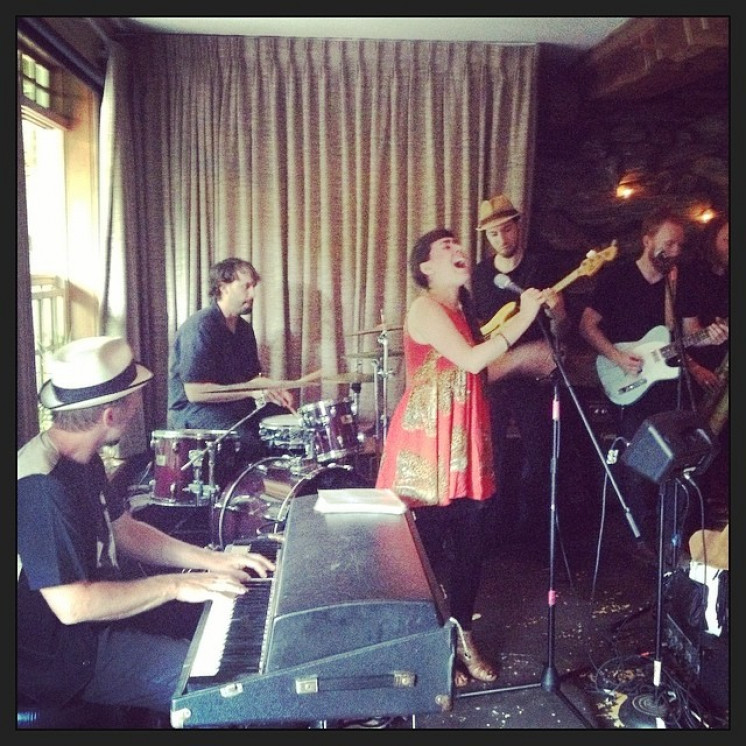 Restaurants are reaching beyond ingredients to source all kinds of goods from Vermont producers - from tables and appliances to hand soap in the bathroom. That's why it comes as no surprise that locavore restaurants across the state are turning to local sounds to pair with their local bites. Whether hosting weekly music residencies or shutting down regular service for full-blown rock shows, the partnerships between Vermont's chefs and musicians are stronger than ever - giving Vermont musicians a chance to play for a captive audience of local-loving diners and restaurants a chance to more fully engage their guests. We asked a few of our restaurant partners why local music and food pair so well...
"Live music adds another layer to the experience, it feeds the senses," describes Marilee Spanjian of The Inn at Weathersfield in Perkinsville, VT where they host musicians every Friday. At the Inn, it's more about adding ambiance and music that accompanies their cozy atmosphere and conversation but that doesn't stop people from feeling the boogie. Marilee shared that often times, "guests have just felt moved to stand up and dance!"
Hotel Vermont programs music to introduce guests to Vermont's thriving local music scene, fitting perfectly with their ethos. "Much of what we do at Hotel Vermont and Juniper is focused on community. We offer live music three nights a week to support our local musicians, provide an experience for our hotel guests and encourage locals to gather in our space," explains Matt Canning, Food and Beverage Manager for the hotel. Located in the heart of downtown Burlington, shows at Hotel Vermont can really pull a crowd. Matt shared a memory from this year's Burlington Discover Jazz Fest where local jazz celebrity, Ray Vega, brought a surprise to his Wednesday set. "On this particular Wednesday in June, the Ray Vega Quartet had the lobby and restaurant packed with eating drinking and dancing guests. Half way through, a gentleman walks in off Cherry Street and picks up a trombone lying next to Ray. In a matter of fact announcement Ray introduced Trombone Shorty to play a couple tunes. A night before he played a sold out water-front main stage show, Trombone Shorty blew away our guests in a free lobby performance." 
Chef Eric Warnstedt of Hen of the Wood in Burlington and Waterbury and Doc Ponds in Stowe is a music lover and huge supporter of the local music scene - just check out the vinyl collection at Doc Ponds sometime. For Eric, the Vermont music scene has a kinship to the restaurant scene. "I love how close we can get to everything. Everyone seems to play in many bands - they all seem very supportive of each other. It's similar in some ways to the restaurant business," Eric describes. How does Hen staff like to get down? "We like stuff that swings, gets funky and sets the mood for a party. For us, it's just fun. When we have music at Hen-Waterbury it's more like we are throwing a party. We usually partner with a brewery and cook up cheap eats, a total departure from Hen business as usual," Eric explains. 
Citizen Cider on Pine Street in Burlington built their tasting room and restaurant complete with a stage for local sounds. "We love bluegrass, hence Brett Hughes being our resident musician," shares Cheray MacFarland, Citizen's Marketing Director, "but the Tasting Room crew definitely prefers new and upcoming music." Though the staff's musical taste varies at Citizen, they look at featuring live music as a way to support their community in the Arts District of Burlington. On Sunday, September 24th, Citizen will feature a Pine Street Battle of the Bands in their loading dock where bands will compete to be the reigning band of Pine Street and play a slot for CiderFest at Happy Valley Orchard in October! 
A couple questions, just for fun...
What local food or beverage would you pair with local music? 
Matt Canning, Hotel Vermont: I recommend our Hotel Vermont private label gin or vodka martini (try our Farmer's Tan Martini with pickled veggies) and a number of small plates like house charcuterie, Vermont Creamery's St. Albans baked brie, fried Lake Champlain perch or vegetable momos. 
Cheray MacFarland, Citizen Cider: Any cider goes well with live music - especially in a 16oz can
Marilee Spanjian, Inn at Weathersfield: Great question. Think it would have to be something fun like a seasonal corn soup or pickled vegetable salad.
What's the most popular order for your musician guests? 
Eric Warnstedt, Hen of the Wood and Doc Ponds: I love when I see local rock stars housing a few dozen oysters in Burlington!
Marilee Spanjian, Inn at Weathersfield: I'd say most choose steak or veal - sometimes a burger. 
Matt Canning, Hotel Vermont: Our eclectic group of musicians enjoy a wide range of dishes available on Juniper's menu but the combination of a Zero Gravity Green State Lager, Templeton Farm grass feed beef burger and our world famous french fries must be the most popular. 
Cheray MacFarland, Citizen Cider: That ranges for sure, but the corn dog is always a favorite. 
Looking to catch some live music and local eats?
Citizen Cider, Burlington: http://www.citizencider.com/events/
Doc Ponds, Stowe: https://www.docponds.com/events
Hotel Vermont, Burlington: http://hotelvt.com/calendar
Inn at Weathersfield, Perkinsville: https://www.weathersfieldinn.com/iw-vermont-calendar
Other Restaurants Featuring Live Music
Bar Antidote, Vergennes 
Mojo Cafe, Ludlow
The Perfect Wife, Manchester
The Reservoir, Waterbury
Windsor Station and Barroom, Windsor
Skinny Pancake, Burlington + Montpelier 
Two Brother's Tavern, Middlebury