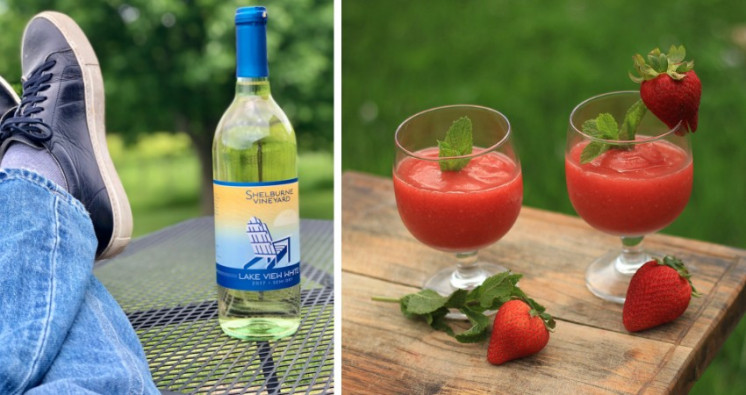 Crisp, light, refreshing, bubbly, chilled...what other words come to mind when relaxing with a summer wine? Whether you are grilling, at a picnic, camping, relaxing on the porch, or canoeing, our local wineries have you covered and share some of their summer favorites.
Our go to summer favorites are sangrias made with local wines & fruit! We produce a blueberry wine, our Brandon Blueberry named after our great little Vermont town of Brandon, located near the Brandon Gap where you can find wild blueberries to pick!
Mix our blueberry wine with lemonade, throw in some fresh lemons, blueberries, and mint - and you have the most refreshing BBQ sangria around!
We recommend trying our Strawberry Rhubarb Hard Cider, a refreshing hard cider from a blend of sweet ripe strawberries, tart rhubarb, and our crisp apple cider. La Crescent is also a great summertime white. Our La Crescent is a delightful semi-dry white wine with hints of apricot, citrus, and honey. Enjoy.
Our Vermont Rosé is a dry alternative to heavy reds or lean whites. With hints of early strawberry, spring herbs and tart cherry aromas, it is well suited for picnics, light summer dinners, or simply on its own. Crafted from our St. Croix grapes, this wine is a notable example of the high quality wines that can be produced from northern varietals. This wine pairs well with sharp cheddar and creamy blue cheeses. You can also make delicious sangria with it!
Our Starlight is a delicate dry rosé that channels the scent of our strawberry fields— warm berries, summer wind, cool evenings— from all those years before we planted grapes on this land. We like it with summer pasta dishes, seafood, roast pork, or rice salads.
We also recommend our Pét-Nat, a type of sparkling wine - fresh, alive, and lightly fizzy. It's short for Pétillant Naturel, which means "naturally sparkling." The final result is unpolished, unpretentious, and unique each year. Pét-nats are wild creatures. Cloudiness is expected, and they can vary from bottle to bottle even in the same batch. That's why they're so exciting! Batch A:  Rich citrus and pear notes with a small touch of sweetness variety: La Crescent. Batch B:  Classic dry sparkling wine with crisp toasty flavors varieties: Louise Swenson, Prairie Star, and Adalmiina (our Black Sparrow blend). Available at the winery only!
Maquam's Pear and Black Currant Wines are perfect for summertime to relax and enjoy with friends! The Pear Wine is light and refreshing, making it excellent on its own or paired with your favorite dish. The Black Currant Wine is made with estate grown berries and locally sourced VT maple syrup. The Black Currant Wine comes across as a full red wine but is light bodied with a smooth finish. Both wines also make excellent sangria and are winners of multiple international wine competitions.
Maquam is a small, family owned winery focused on limited-production, non-grape fruit wines including Pear, Black Currant, Blueberry-Maple, Apricot and Country Road Red (Cherry Apple).
The 2017 Méthode Champenoise Rosé Brut is a blend of organic cold hardy grapes from our vineyard; Louise, Sabrevois, Swenson White, and Frontenac. Balanced acidity combined with a delicate nose, fresh, crisp taste of green apple, honeydew, and cantaloupe creates a creamy mouth feel with a dryness surrounded by the bubbly finish. Grown in Montpelier, certified organic, and sulfite-free, Montpelier Vineyards is dedicated to producing small-batch, organically farmed wines by hand.
The long days of summer are perfect for sitting on the deck after a day of work and enjoying a refreshing summer cocktail. Introducing Rhubarb Frosé! This wine and strawberry frozen drink will surely be the key to a relaxing summer evening.
Rhubarb Blush Frosé Recipe
1 bottle Putney Rhubarb Blush wine
2 cups strawberries
2 ice cube trays
Blender
Wine glasses
Mint leaves
Fill both ice cube trays with Rhubarb Blush wine and freeze until solid. Simultaneously, cut the tops off of strawberries, slice them in half and freeze. When both the wine and berries are frozen, place them in the blender, blend on high. You may need to leave the frozen berries and wine out at room temperature for a few minutes before doing this for the blender to work. Serve in wine glasses with mint to garnish.
Putney Mountain Winery makes award-wining artisanal wines, liqueurs and sparkling cider. We create our beverages from some of the best produce grown in the region. Our wines range from dry Simply Blueberry and Vermont Pear to sweet and tart Simply Rhubarb and Rhubarb Blush. Our liqueurs bring adventure to our offerings, from the spice of Simply Ginger to the rich dark Simply Chocolate.
Ahhh summertime! Finally, Vermonters can defrost from the long winter and enjoy the Green Mountains for which our great state is named. Whether you're climbing Camel's Hump or walking your pup down your favorite trail, Shelburne Vineyard's Capsize Rosé is your perfect companion. Conveniently packaged in 250ml cans, Capsize Rosé can go anywhere your next adventure takes you. No glass, no corkscrew, just refreshing wine. Pro tip: take Capsize Rosé on your next trip to the lake! If you flip the boat, the cans will float.
This intriguing dry-style of rosé is made from our Vermont-grown Petite Pearl grapes, and has notes of candied watermelon and fresh berries. It pairs well with anything you've got cooking on your barbecue, but we especially love it paired with Korean-style barbecue.
Another great option for summer sipping is our fan favorite Lake View White. This "porch pounder" goes down easy, with bright floral and citrus notes and just a touch of sweetness for a soft finish. Lake View White pairs perfectly with sunshine and bare feet, but if you're hungry, some gouda and crackers on the side would be a great match.