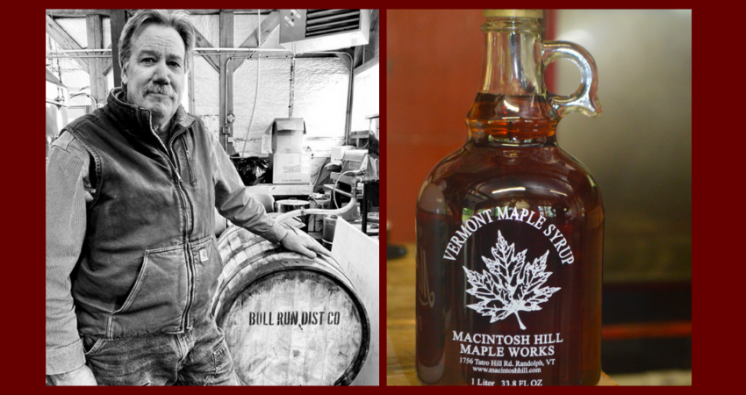 At DigInVT, we couldn't bring you the best of Vermont's food and farm community without our partner associations. The Vermont Maple Sugar Makers' Association, founded in 1893, is one of the oldest non-government agricultural organization in the United States. It syrup season, so we thought we'd bring in one of our partners to share a little about a local maker. This article was written by Cory Ayotte, Communications Manager for the Vermont Sugar Makers' Association. Vermont's Don DeFlorio uses Bourbon barrels from local distillers to add a unique twist to his local Macintosh Hill Maple Works syrup. Learn more in this conversation with Cory.
What piqued your interest in starting a sugaring operation?
DON: The site I'm on had been sugared by previous owners. I tried to fix the old sugarhouse, then abandoned it. I ended up building a modern sugarhouse with a vacuum and RO. Now I have GPS driven vacuum control with a phone app that shows me where leaks are. Micro leaks are hard to find. Beech leaves can create a noise that sounds similar to a leak and can fool me sometimes. Having the GPS unit saves me a lot of time. As I was building the sugarhouse, a lot of other sugar makers in Randolph would come over and give advice. I received a lot of helpful information. And it came from people with all sorts of operations; small and large. Maple has great camaraderie. I don't see that ever going away.
Could you tell us about the neighbor that helps you?
DON: Yes, Paul McAdams has helped a ton over the years. He is 78 years old and has a lot of sugaring experience. He used to gather with buckets and horses in his younger days. He has a lot of stories, haha. He pops in most days. He drops his wife off at Shaw's in Randolph where she still works at the age of 80, then comes up to the sugar house until it's time to pick her up. He loves to calculate how many gallons of sap are coming into the sugarhouse, how much we'll produce that day, etc. Paul does a lot of the bottling when I'm running the evaporator. He's also a talented carpenter and handyman. His skills have come in handy many times over the years.
Could you talk a little about how you sell syrup on the west coast.
DON: Yes, I am currently selling my maple in Oregon and Washington State. I live in the Portland, Oregon area for half of the year. I was a Merchant Marine, and I spent the last twelve years stationed in Portland. That's why I'm in that area. I used to install fiber optics and do repairs off-shore. When I started selling my products, I was doing it at Holiday Shows. My son was stationed outside of Tacoma, Washington and I started my West Coast sales at the Tacoma Dome Show. In four days, I sold about a quarter of my crop.
It took me a while to break into the Farmer's Market scene in both states. The issue I was running into was that my product was not local to either state. I inquired about my product for a Farmer's Market in St. John's, Oregon and I got lucky. The person managing the market was a graduate from UVM and a huge fan of maple syrup. She let me into the market. I've been selling in that one since July. I've started making bourbon barrel aged maple syrup and I've been able to get that into Farmers Markets because the barrels are coming from local distillers. For a while I was travelling two hours to sell my product near my son's place. I would stay with him. Now he is stationed in Fort Meade, Maryland.
Back in Vermont, I sell my used bourbon barrels to Good Measure Brewing Co. in Northfield. I'm in Vermont from December to May. Once the season is over, I bring the first half my crop out west. Then I bring the other half in the fall. I like to learn what is selling best before I bring the rest of my crop out. Bourbon barrel maple is currently selling the best. A lot of people love the value-added products.
Due to Covid, I lost more than half of my business in Portland. Two out of the three restaurants I was selling to closed. I had to make up for that loss with Farmer's Markets. I really enjoy working the markets and talking to people about the process and the products. It's fun education for the consumer. People on the West Coast don't understand how hard it is to make maple syrup. A lot of them think you just tap a tree and syrup comes out. I always have tap lines and taps on hand to show off.
You have mountain bike trails that run through your property. Could you talk about your relationship with Ridgeline Outdoor Collective?
DON: Of course. There are also VAST trails that run across my property, too. Zac Freeman, the head of the Ridgeline Outdoor Collective has built a lot of trails in the area and has been very easy to work with. He built a bridge over a sap line and I told him that wouldn't work for me, and he told me that he would fix the issue. I've seen bikers ride through the prop- erty during the night with loads of lights. It was neat to see.
Have you noticed a correlation between the people who have ridden your trails and syrup sales? Do they buy your product down the road?
DON: No, but we are a Harvest Hosts location and that has worked out wonderful for me. I am a motorcycle guy and once we hosted a lot of state cops from New Jersey who were riding for Children's Cancer in the area. They all spend $100 each. As they settled in, they asked me about local rides. I ended up taking them on a tour around the area. That group later went to an event at the Harley-Davidson shop in Barre and they invited me to come along. I brought syrup and was able to sell it out of the tailgate of my truck. The first day of the event I sold $1,400 of product and I went back the next day and sold $500. That was a nice surprise. Like this group, I've met a lot of nice people through Harvest Hosts. I really enjoy giving them samples and tours of the sugarhouse and sugarbush. Sometimes I've taken people out on my side- by-side or snowmobile. A lot of folks get a lot of enjoyment out of that experience.
What are your plans for the future?
DON: No major changes, just keep on doing what I am doing. I have the max number of taps that I can possibly have. Maybe I'll bring in sap from somewhere else and produce more syrup or maybe do a few more Farmer's Markets. Who knows?
CORY: Don, I appreciate your time. Thanks for a great interview.
DON: Anytime! Thanks for reaching out.