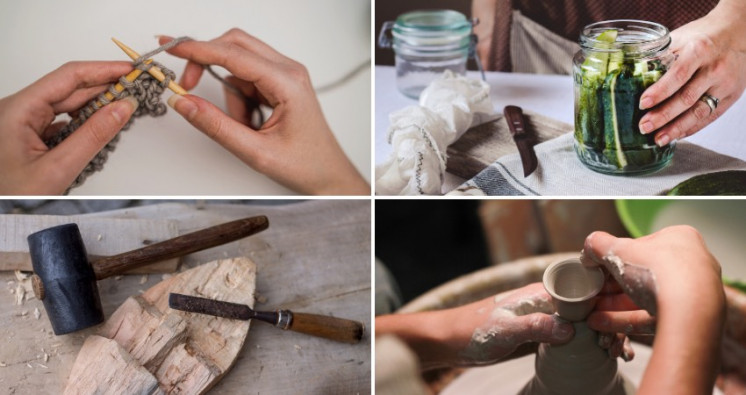 Here at DigInVT, we love the holidays. The season is an opportunity to indulge in delicious, local foods, sip on all the warm drinks (boozy or otherwise), and purchase handmade gifts from Vermont's talented local makers for our loved ones.
If you haven't quite finished your holiday shopping, check out one (or many) of the holiday markets below. They'll have just what you need for the family members or friends left on your list. Plus, you'll be shopping from small businesses and supporting our state's artisans and entrepreneurs. And shopping with a locally crafted beverage in your hand is sure to put a holiday spring in your step.
---
SILO Distillery, Windsor
Holiday Pop Up Market | Thursday, December 12 | 4:00pm - 7:00pm
Relax, listen to music, and have a nice cocktail, all while buying local and supporting your community. SILO will be serving up specially priced cocktails, offering 10% discount on all merchandise in their store (not including spirits), and featuring some of their great holiday gift package options. You won't want to miss it!
Vendors: Ambrosia Chocolates and Confections, Bradford Builds, Just the Right Light - Teal Parker Photography, Luce Farm, New England Hot Fudge Company, Shulamit Jewelry, Vovo's Table, Stewart Maple, VT Wicks, and Katelyn Elizabeth Jewelry.
Bristol Village
Eat, Drink, and Be Merry | Friday, December 13 | 5:30pm - 9:30pm
Join the community for shopping, festivities, and most all, music, at a new event in Bristol! Visit three unique locations on Main Street (Vermont Tree Goods, Bristol Cliffs Cafe, and Tandem) for a terrific selection of local well-known musical acts, with accompanying wines, ciders, and delicious eats.
Hotel Vermont, Burlington
Mini Holiday Market | Friday, December 13 | 5:00pm - 9:00pm
Make your way down Cherry Street to celebrate local makers at Hotel Vermont with their annual Mini Holiday Market! Get in the holiday spirit with a Lake Champlain Chocolates hot chocolate bar, holiday records, and drink specials at Juniper.
Vendors: Little Citizen, Bleu Northeast Seafood, Wild Mountain Ink, Wild Hart Distillery, Vert Mont Perfumery, and Sugarhouse Ceramic Co.
Harry's Hardware & The Den, Cabot
Cabot Holiday Festival and Outdoor Market | Saturday, December 14 | 12:00pm - 5:00pm
You'll be enveloped in holiday cheer in traditional German Weihnanchtsmarkt style with food and art vendors, holidays decorations, comfort food, pretzels, and local beverages! The Cabot Artisans Gallery will also have extended hours to provide for those last minute Christmas shopping needs.
Sterling College, Craftsbury
Craftsbury Holiday Farmers Market | Saturday, December 14 | 10:00am - 1:00pm
Stock up on local foods and crafts for your holiday feasting, fill your winter cupboards, and shop for gifts at this annual Holiday Farmers Market! Enjoy lunch and free live music while you shop. 
Foam Brewers, Burlington
Holiday Maker's Market | Sunday, December 15 |10:00am - 2:00pm
Shop for unique and meaningful holiday gifts. Foam Brewers will be serving bagels and, of course, beverages starting at 10:00am while 7+ local makers will be selling their goodies. Get that holiday shopping out of the way.
Vendors: Flatlander Supply Co., Wit & Woven, The Tipsy Pickle, Mean Folk, Zenbarn Farms, Derek Rice, and Gwen Child Jewelry.