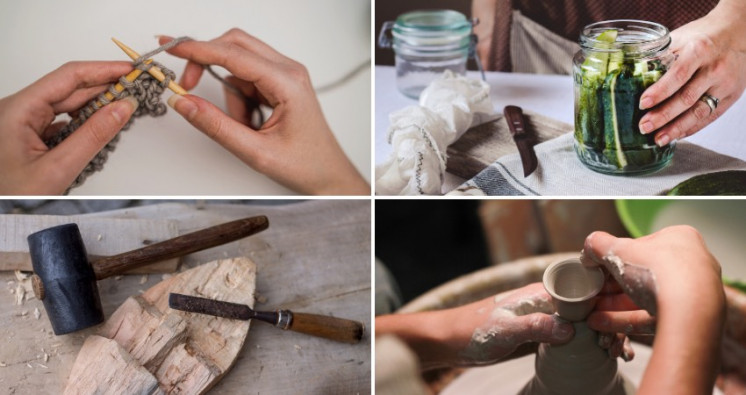 Here at DigInVT, we love the holidays. The season is an opportunity to indulge in delicious, local foods, sip on all the warm drinks (boozy or otherwise), and purchase handmade gifts from Vermont's talented local makers for our loved ones.
If you haven't quite finished your holiday shopping, check out one (or many) of the holiday markets below. They'll have just what you need for the family members or friends left on your list. Plus, you'll be shopping from small businesses and supporting our state's artisans and entrepreneurs. And shopping with a locally crafted beverage in your hand is sure to put a holiday spring in your step.
---
City Hall Park, Burlington
BTV Market| Fridays, Saturdays & Sundays through December 23rd | Fri.: 2:00pm - 6:00pm ; Sat.: 12:00pm - 6:00pm ; Sun.: 12:00pm - 4:00pm
Building on 20+ years of BCA Holiday Artist Markets and the Love Burlington Winter Market, Love Burlington is excited to join forces with BCA and turn the fun up to a whole new level this year. The BTV Winter Market hosts a rotating group of 20 local artists, makers, and food vendors bringing the spirit of the season to the park November 19th - December 23, Fridays - Sundays (with some exceptions on opening and closing weekend).
Lake Morey Resort, Fairlee
Holiday Market| Saturday, December 10 | 10:00am - 4:00pm
Local vendors from the Upper Valley and beyond gather to show and sell their artisan wares, providing a central location for community-conscious holiday shopping. Kids' activities, delicious food and festive drink specials, as well as a visit from Santa and horse-drawn carriage rides. A festive start to the holiday season.
Hotel Vermont, Burlington
Hotel Vermont Holiday Market| Saturday, December 10 | 11:00am - 3:00pm
Make your way down Cherry Street to celebrate local makers at Hotel Vermont with their annual Holiday Market! Not only will they fill the HVT lobby will holiday cheer this year, but they will also be spilling over into the function space at the Courtyard next door! Food trucks, warm beverages, a scavenger hunt to win an overnight at HVT and an incredible line up of vendors will make stopping by both spaces worth it.
Sterling College, Craftsbury
Craftsbury Holiday Farmers Market | Saturday, December 10 | 11:00am - 2:00pm
Stock up on local foods and crafts for your holiday feasting, fill your winter cupboards, and shop for gifts at this annual Holiday Farmers Market! Enjoy lunch and free live music while you shop.
Foam Brewers, Burlington
Holiday Maker's Market | Tuesday, December 6 - Wednesday, December 7|4:00pm - 8:30pm
The Foam Maker's Market is back! Last year was such a success they're doing 2 days this year with even more vendors! Like last year, they'll be taking over both the brewery and Deep City. Support local makers and artisans by shopping for unique and meaningful holiday gifts.
Burlington Beer Company, Burlington
Holiday Smatterings Market Series| Sunday, December 11th|12:00pm - 4:00pm
BTV Flea x BBCO are collaborating to offer a series of markets during the holiday season where you can shop and explore new vendors locally. They will be transforming BBCO's spaces to invite you to enjoy their beer while browsing the market. Hang out and stay awhile as you appreciate what each vendor has to offer, all set to some Sunday jazz!
The Den at Harry's Hardware, Cabot
Holiday Festival and Outdoor Market | Saturday, December 17 | 11:00am - 4:00pm
Join The Den at Harry's Hardware for their 5th Annual Holiday Festival and Outdoor Market, in the style of a traditional German Christmas Market. They aim to envelop you in holiday cheer with food and art vendors, holidays decorations, comfort food, and of course Vermont Craft beer. Music is back inside the Den this year for the event.
Hula, Burlington
Huladay Market | Saturday, December 17 | 2:00pm - 8:00pm
The market will feature over 60 vendors, highlighting Vermont based makers, artists, musicians, and food producers. Brio Coffee Bar will be open with your favorite coffee beverages, hot chocolate and more. The Spot will be serving local drinks, both alcoholic and non-alcoholic. Hot food will be available from Mulu's Catering, Sabah's House, Sustainable Kitchen and Syp Brand Pirogi. There will be live music featuring four local artists: Jeff Wilson and Tyler Lehren, Ira Friedman & DJ Blanchface!
The Essex Resort & Spa, Essex
Maverick Holiday Market | Saturday, December 17 - Sunday, December 18 | 10:00am - 2:00pm
Join Local Maverick on Saturday & Sunday, December 17th & 18th, for their Holiday Market in the Atrium at The Essex Resort & Spa!
There will be plenty of activity throughout the night with local food, drink, and craft vendors, a bar, a photo booth, free samples, music, and more! The event is FREE and open to all ages!