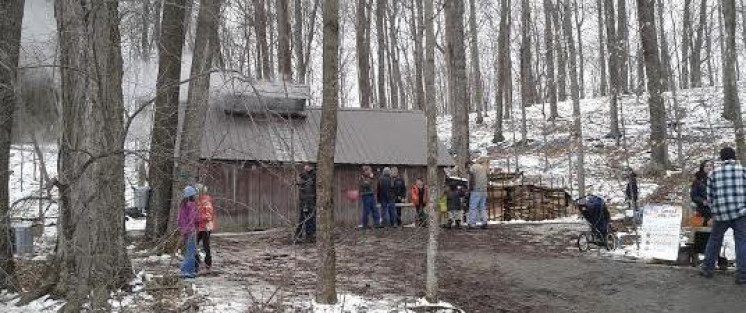 Vermont is my adopted home. I have lived here full time for 12 years, but spent my childhood in upstate New York. I'll admit I've been slow to accept real maple syrup into my culinary repertoire. My reluctance to embrace the culture and tradition of soaking one's pancakes in true, local maple syrup can only be attributed to the breakfast tables of my youth; crowded with Aunt Jemima and Country Crock. Food memories can be powerful and often determine how one crafts meals and diets for a lifetime. But, sometimes patterns are meant to be broken, so in that spirit, last March I took a trip to one of my favorite natural areas: Shelburne Farms.
The maple open house weekend is an annual event that takes place at a number of venues throughout the state where families can gather and learn more about the process of making maple syrup. Last March, it was cold and a bit icy. I wore a hat and belted wool coat, but chose a pair of non-sensible chuck taylors for this adventure. (Note: bundle up! Activities take place outside!) Early afternoon, when I arrived, the hill behind the main Shelburne Farms barn was bustling with activity. Children ran through the wooded paths looking for tokens stashed near maple taps to cash in for prizes at the information table.


I stopped there first where I was treated to a blind maple syrup tasting. I always find these valuable, whether they involve wine, beer, or syrup. The tasting was to distinguish between real and fake syrup. When I was provided my first syrup sample, I knew immediately it belonged on Bisquick pancakes (this was the fake syrup). Light in body and color with a saccharine flavor, I recognized the distinctive way the taste vanishes from the palate almost instantly. Which, of course requires that a quarter of a bottle be used on even the most modest Sunday breakfast. Then, came the real stuff. Depth in aroma and shade characterized this sample. The flavor was rich and multi-layered; I couldn't imagine drizzling more than a tablespoon over my stack of thick french toast.
I did well and was rewarded with a maple candy. What fascinated me the most, aside from viewing and hearing about the tapping process up close, was being able to enter the (toasty warm) sugar shack and see the maple syrup making process in action!
Up a steepish path, people sipped beverages around a small fire before heading further up the hill to meet the oldest resident owl of the farm.
On my ginger walk back toward the info table, I grabbed a few more maple candies for the road and left with a profound appreciation for the people who work so hard to produce this delicious resource from our environment. Now that the maple conversion is complete, maybe skiing will be next.
Corey Burdick is a freelance writer who has spent the last 10 years pursuing her passion for local, organic food and wine. She is a graduate of Mount Holyoke College and has her WSET Level II certification in wine and spirits from the Vermont Wine School. She has been published in The Burlington Free Press, Best of Burlington Magazine, and Edible Green Mountains.