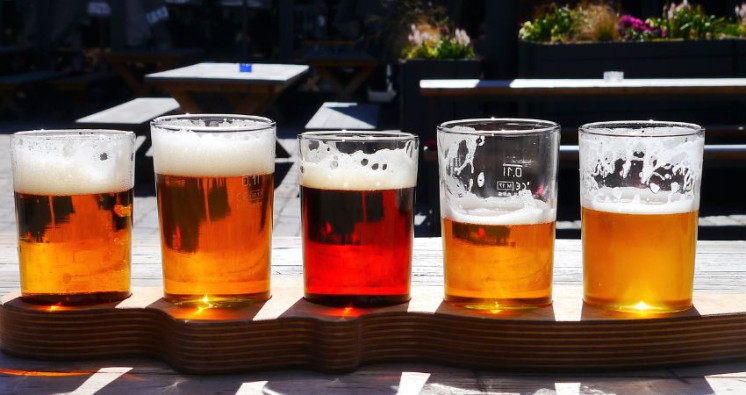 Over 1 million people visit Vermont's Breweries each year. The passport program acts as a guide for locals and tourists alike to track down that Beer Worth Finding and the team at The Vermont Brewers Association wanted to share some of the amazing stories people have had while taking the challenge!
Interested in reading the full interviews? Click HERE
Meet Tracy and Andrew!
Andrew and Tracy are in 1st place on the Vermont Brewers Association Passport Leaderboard having visited 72 Vermont breweries! They are both from Vermont and have turned the challenge into a family affair including their parents, sibling, and their daughter. They introduced their daughter to the world of Vermont craft beer at 14th Star Brewing when she was still bottle feeding and she even had her own paper passport for a little bit.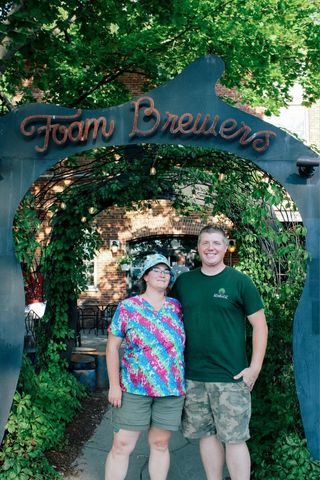 When did you start the passport challenge?
In college, Andrew used to frequent Vermont Pub and Brewery where his love of craft beer was formed and when the paper passport came out, he was able to complete it in one year. As soon as the digital passport came out, he completed it in 2 months! He keeps a spreadsheet of all of the breweries he has visited (254 across VT, NY, and NH!) with his own rating system and the beers he enjoyed there.
How did you meet?
They were both working at the hospital as biomedical technicians and they got married 9 years ago.
What was your favorite memory of the brewery passport challenge?
The couple went to Outer Limits when it first opened and checked in on the app to collect a stamp and realized that their closest competitors on the leadership board had checked in momentarily before and beaten them to the stamp.
What was your favorite beer along the way?
Tracy- A Brocklebank and Bent Hill Brewery collab, Otis and Tobin with sour cherries.
Andrew- Knight Slayer from Trout River Brewing Co.
Do you have any crazy stories from your adventures?
Tracy and Andrew love the passport program because it allows them to explore Vermont in new ways with the end goal of trying new breweries with a bit of competition to get to the top of the leaderboard. They often plan vacations and outdoor activities around collecting stamps and have found that it leads them to finding festivals and new adventures that they wouldn't have known about before.
What's the most recent brewery you have gone too?
Dirt Church
Meet Amy and Dylan!
Amy and Dylan are on the top of the passport app leaderboard having visited 71 of the member breweries in the past 4 years. Amy and Dylan met 4 years ago when Amy brought a 4 pack of Sam Adams Oktoberfest to a Halloween party and Dylan used the pick-up line "Oh, so you like craft beer?" It seemed to work and from there they took off on their adventures securing all of the brewery stamps on their passports.
When Dylan first moved here from Colorado, he went to Magic Hat Brewing with a few friends who suggested he grab a paper passport. After learning that the passport went digital, he downloaded the app and once he met Amy he told her about it and the competition began to get to the top of the leaderboard.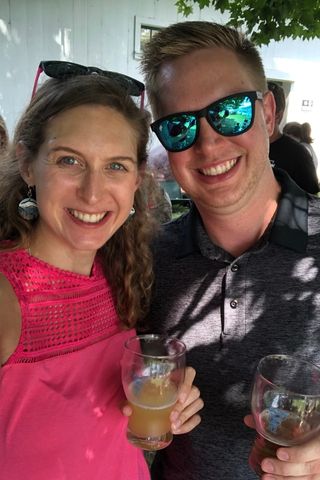 What are your favorite styles of beer:
Amy- Stouts
Dylan – Sours
How long did it take you to finish the passport challenge:
1 year, and they continue to collect more stamps as more breweries join the association
Top 3 memories of the brewery challenge:
Amy broke her leg skiing and despite having a broken leg, Amy was insistent on getting the Lawson's stamp and a beer before going to the hospital. This memorable experience kickstarted their ability to get all of the stamps in a year and their weekends changed from athletic adventures to beer drinking while her leg healed.
Bent Hill Brewery 5 year anniversary party. It was pouring rain and everyone huddled under the awning while pizzas were being made outdoors. Their favorite glass is from this day and it says "Get Bent" on it.
Amy and Dylan like to pair their brewery adventures with a hiking adventure. They hiked up Mt. Pisgah and then went to Kingdom Brewing. They loved that they got to meet and talk with brewery owners, Brian and Jen Cook.
What were some of your favorite breweries along the way?
Foam/House of Fermatology, Hermit Thrush, River Roost, Whirligig, Bent Hill, Four Quarters
What is the most recent stamp you got?
Dirt Church
Meet Ellen and Brad
Ellen and Brad got into craft beer at 14th Star Brewing when they were in their previous location and doing growler fills. They began chatting with the brewers and learning all about the craft beer industry, including the newest must try breweries in the state. Ellen and Brad live really close to 14th Star and feel a strong connection and love with them and some of their favorite beers along the way have been seasonal 14th Star beers.
Ellen says "I really feel like beer is a catalyst for connections; Starting a conversation with a stranger at the bar over preferred styles and favorite finds; Talking with bartenders and brewers about unique creations and what's coming out next. Even reconnecting people – my husband and I taking a long weekend to celebrate our anniversary traveling around the state to new breweries; Meeting friends or co workers at the end of a work day for a pint and conversation.
The brewery app I also believe has contributed a great deal to the individual brewery and also to Vermont by prompting people to travel, spending money in hotels, restaurants, breweries as well as exploring places they might not ever have gone to otherwise."
When did you start the passport challenge?
They started with paper passports and completed the digital passport in two years and are always on the look out for new breweries to pop up on the app.
How did you meet?
When attending Champlain College.
How many VT breweries have you visited?
71
What was your favorite memory of the brewery passport challenge?
One of their favorite brewery adventures was for an anniversary weekend where they started in Bennington and went up to Brattleboro. They spent an evening at Beer Naked and love how it overlooks the trees. They found it incredibly peaceful and relaxing and was the perfect place to embody the state of Vermont and the beers they were drinking.
What was your favorite beer along the way?
Ellen - 14th Star Paradise Sound
Brad - 14th Star Double Honey IPA
What do you love about the passport program?
Brad said "We love beer, we love to try new beer." The couple loves to travel around the state and get flights (and Ellen collects stickers) at breweries so they can sample everything on the menu.
What's the most recent brewery you have gone too?
Dirt Church