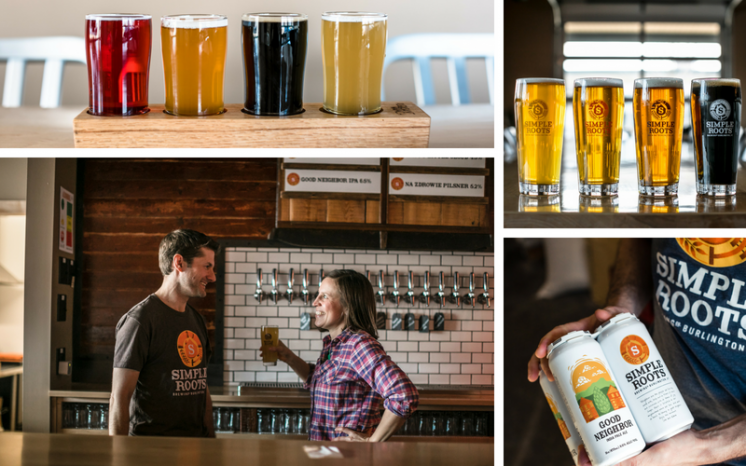 The Vermont brewing community is made up of a special group of people. You might have heard that Vermont has more beer breweries per capita than any other state in the country. We can thank Vermont for the rise of the hazy hoppy New England style IPA, but that isn't all we make - our beers feature everything from maple sap to local malts.  Vermont Brewers love to collaborate, and they aren't afraid to try new techniques and use out of the ordinary ingredients.
We asked Steve Parkes of Drop-In Brewing Co. in Middlebury and Dan Ukolowicz and Kara Pawlusiak of Simple Roots Brewing Co. in Burlington what it's like to be a brewer in Vermont.
The Vermont Brewers Festival is coming up soon. There are still tickets available. Learn about these talented brewers and make sure you say hello and taste their beers at the festival.
Simple Roots Brewing
Dan Ukolowicz and Kara Pawlusiak began Simple Roots in their Burlington garage in 2014.  They have since opened a tasting room in the Burlington's New North End where you can taste their classic and accessible beer styles that always have a twist.  
What is your favorite beer style?
To us beer is like music - it depends on your mood, the weather, activity. For example, Dan loves sitting by a fireplace in the middle of winter with a nice, malty barleywine but in the summer you would find Kara sipping on a nice tart Berliner Weisse or Gose.
What comes first when developing a new beer?
The hardest part - R&D, drinking a lot of beer of that style. It is very, very difficult as Kara and I have to drink beer, hang out, and laugh. Phew, once that's done we consider the tasting notes we want in our beer and develop the recipe from there.
Name a favorite beer that you have brewed?
Our Labor of Love Raspberry Sour - the first time we made this beer, Kara and I handpicked all 50 pounds of raspberries we put in a 3 bbl batch. Dan had a sunburn stripe down his left arm for weeks. When we pulled our cart up to check out, the 15-year-old girl just looked at us in shock and said, "You picked all those berries?! That's going to cost a lot of money?!" I assured her that we knew what we were getting into. The raspberries, along with kettle souring over multiple days, make this beer a Labor of Love.   
What is one of the most challenging aspects of being a brewer in Vermont?
The most challenging part is easily the more than a dozen taxes, permits, licenses, and other paperwork. I know, cry me a river.
What makes the Vermont beer community unique?
The brewing community here is fantastic. From the base of homebrewers to commercial brewers to beer drinkers, it's just a great communal aspect. I can text/email dozens of different brewers in the state with questions ranging from where do you get your cans to how did you get so much flavor from that hop and I'll get an answer within the hour. It's also great staying connected with the homebrewing community and our regulars at the taproom, talking about beer, recipes, etc.
Check out our profile of Steve Parkes of Drop-In Brewing Co.