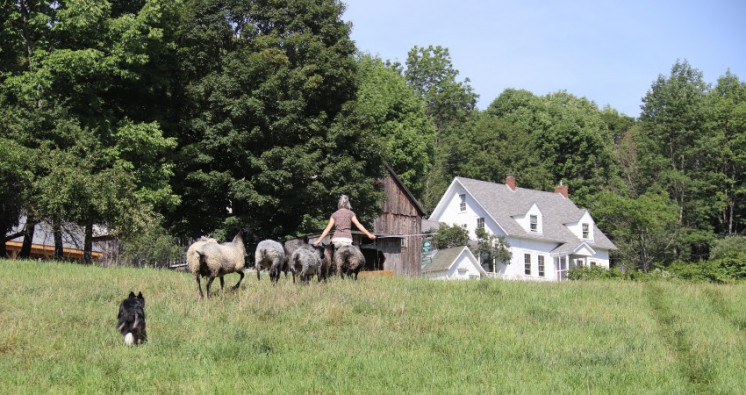 Farm stay experiences offer Vermonters and visitors alike an opportunity to discover life on the farm! From maple syrup and dairy to organic vegetables and pasture-raised meats, each farm that welcomes visitors hosts unique educational, relaxing, and fun activities. Guests can pet a farm animal, harvest their own food, learn about the farmers and hear their stories, take in the beautiful landscape, and enjoy nearby attractions including local eateries, outdoor recreation, farmers markets, and so much more.
DigInVT recently caught up with Kim and Chuck Goodling of Vermont Grand View Farm in Washington, VT and heard all about the history of the farm, the special flock of sheep that call it home, and their farm stay program.
Please share a little bit about the history of your farm and where it's located.
Grand View Farm, one of the earliest farms in the town of Washington, dates back to its initial purchase by Asa Bacon of Massachusetts in January of 1794. The farm remained in the Bacon family until 1858, when it was sold to Charles Abbott, passing later to his granddaughter and husband, Mac Royce. Under the stewardship of the Abbott and Royce families, the farm grew into a diverse agricultural homestead. In 1875, a sugar house was added to a growing number of barns and outbuildings. The following year, they produced the first maple syrup, much of which was sold to a hotel in Portland, Maine. Other sources of income came from apples, potatoes, turkeys, hay, wool and butter. They also hired out for logging, mowing, plowing, grave digging and the use of machinery. In 1885, the Abbotts built a new house right next to the original home using logs from a local mill. With the completion of the house in 1887, they named the property Grand View Farm.
With a desire to become involved in Vermont's agricultural history, we purchased the farm in 2004. As the fourth family to own Grand View Farm in the past 220 years, we worked hard to reestablish its rich agricultural history. When we moved in, the barn had not seen animals for over 50 years. Bringing a small flock of sheep with us to the farm, we built fences and shelters, and enriched pastures. We reclaimed the gardens and apple trees that had been neglected, and built a hoop house to extend our growing season.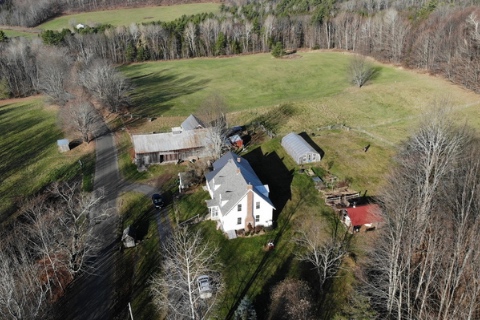 How did you get involved with farming and what's the most important thing you've learned along the way?
As a homeschooling family, our homestead became our classroom. We wanted our children to experience the many life lessons learned from raising your own food and caring for livestock. Everything we did originated from a desire to learn more about the agricultural roots that surrounded us. We began as a small homestead which grew through the years to what is now VT Grand View Farm.
When did you begin welcoming guests to your farm? And what made you decide that you wanted to launch a farm stay program on your farm?
We knew we wanted to welcome guests to our farm the very day we purchased it. Chuck and I had always had a desire to run a small bed and breakfast. The layout of Grand View Farm's farmhouse provided the perfect setup to allow us to do so. We were in the middle of our 18 year journey of homeschooling our three children and education was front and center of almost everything we did. The ability to share with others what we ourselves were learning was exciting. We began offering farmstay vacations, workshops and even summer camps for children and their moms.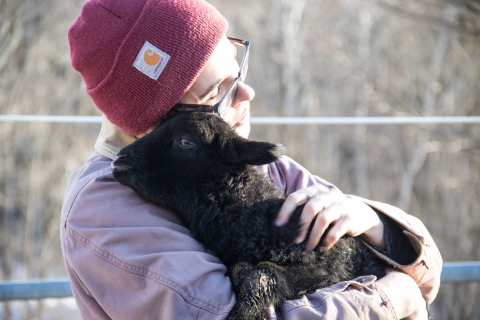 What are the accommodations like on your farm?
The 18th century farmhouse at VT Grand View Farm offers an authentic farm stay experience. The original part of the historic home is what is rented to guests. The Farmhouse Suite includes two bedrooms, a living room, a bathroom, and small kitchenette.
I want our guests to feel they have stepped back in time, sleeping on antique four poster beds. Our suite has all the charm of a farmhouse with wide board flooring, exposed beams, and a wood stove to keep warm.
What is one of the most rewarding aspects of being a farmer and hosting guests here in Vermont?
The most rewarding aspect of farming in Vermont and being able to share with farm stay guests is knowing that we are allowing others to experience firsthand rural farm life and make connections. People come to our farm for all different reasons, but the common factor between them all is the desire to make a connection between their own lives and the very products that they consume. There is nothing more rewarding than that "aha" moment when a guest helps put tomato plants in the ground, reveals a pea from within its pod, takes in the smell of manure as they help clean the barn, takes a sip of sap right from the maple tree, rests atop a mountain of hay bales they have just helped stack, holds a newborn lamb, embraces a newly shorn fleece, or meets the sheep for the first time in their hand-knit sweaters. It's an honor and blessing to be able to pass Vermont's agricultural traditions on to others.
What is one of the most challenging things about being a farmer and running a farm stay in Vermont?
The most challenging thing about being a shepherd, is that shepherding requires you to do hard things. Anytime you are responsible for life, you will face the heights of joy and the depths of heart wrenching sorrow. As a shepherd, I have ushered life into the world, and have made decisions about when that life will end. I have had to step out of my comfort zone and do things I never even thought possible to care for my flock.
The challenge of running a farm stay has been providing that perfect balance of sharing my life as a shepherd and knowing how much visitors want to experience and learn.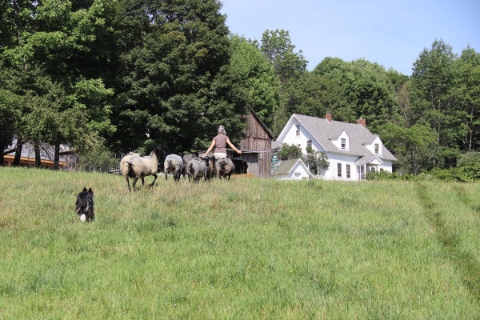 What is your favorite product you grow, raise, or make?
Ah, my favorite product we grow is our flock of sheep. We raise Gotland sheep which originate from Gotland, Sweden. They are a fascinating breed with a history entrenched in the Viking era. Their friendly curious personalities, delicate bone structure, and gorgeous silver curls won my heart years ago.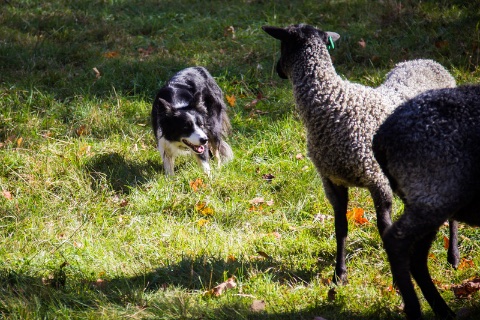 What kinds of activities can visitors to your farm expect to experience while staying there?
We offer agritourism on their farm, not to be confused with agritainment. We invite our guests to walk alongside us as we farm. Folks are invited to participate in whatever farm chores we may be doing for the duration of their visit. For some, they want to roll up their sleeves and be an active participant. For others, they wish to have an opportunity to watch and ask questions. So whether we're stacking hay, shoveling manure, setting up fencing, moving sheep, or hauling water and feed, guests are invited to come alongside us. What we do not offer is agritainment. We do not provide planned activities in a farm setting for their guests to plug into. Instead, we offer authentic farm life as it unfolds. We also offer fiber art classes to guests wanting to learn more about felting or wool processing.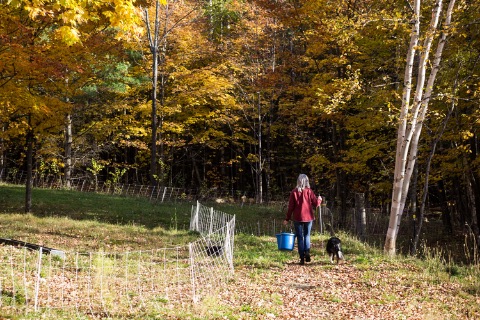 What is the most unique part of your farm stay? And what do you think your guests like most about visiting your farm?
I think the most unique part of our farm stay is that we offer a chance for our guests to step into authentic farm life. We tell our guests that "this is REAL Vermont." Our guests enjoy the peace and quiet, the amazing sweeping views of the Green Mountains, the dark starlit nights, and the opportunity to participate in farm chores. They love the quaint charm of our Farmhouse Suite and knowing they are becoming a part of the long history of our farm. They also love that our farm is situated in the middle of the state allowing for easily accessible day trips in all directions.
Are any meals included as part of your farm stay? If so, what is your favorite dish to prepare for guests and why?
We have found that our guests prefer to not be tied to a schedule that meal times place upon them. They prefer to linger in the comfortable beds and wake at their leisure. The kitchenette allows them to bring their own foods and prepare simple meals. I keep the kitchen stocked with simple breakfast foods and fresh baked goods, coffee, and tea. Friday through Sunday, we do give our guests the option of a full breakfast made with locally grown foods. We also have an outdoor grill that the guests love using, followed by a campfire at night.
Which Vermont farmers or farm stay hosts are you the most inspired by and why?
The single farmer who has taught me the most through the years is Jennifer Megyesi of Fat Rooster Farm. Jennifer gave us the confidence to raise our own livestock and to fully embrace Vermont agriculture and all that it offers.
Do you have any advice for the farmers out there that are interested in beginning to offer farm stays? Or those that are just starting out?
My advice to anyone thinking about starting a farm stay is to evaluate whether or not it is a good fit for themselves and their situation BEFORE starting out.
Do you have anything new or special planned for this year that you'd like to share?
VT Grand View Farm is so EXCITED to have had a 100% PURE Swedish Gotland ewe lamb born to us via embryo transfer this spring. The Gotland breed has been in an upbreeding program the past 14 years. This year, for the first time, pure Gotland embryos were imported by five farms in the United States. These embryo lambs are the start of an exciting adventure to establish a pure line of Gotland sheep in the US.
Kim also hopes to host some on-farm classes and workshops this year in felting and natural dye.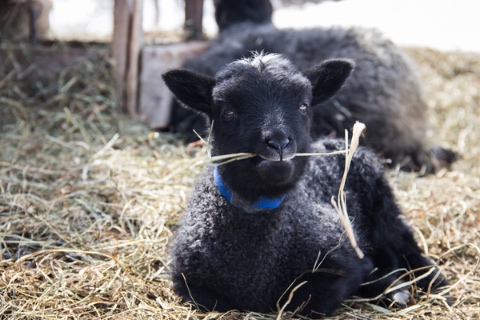 Anything else to add?
Kim offers online classes and mentoring to people who are shepherds, classes in branding and marketing for farm businesses, as well as classes in how to prepare your farm for your first flock of sheep and basic flock care. Her shepherd mentoring program is for all shepherds regardless of how long they have owned sheep. Through the program, Kim offers an extensive online resource library of materials for shepherds as well as bi-monthly "office hours" for further learning and support. More information can be found at vermontfarmschool.com.
To learn more about Vermont Grand View Farm and/or book a stay, check out their DigInVT Place page and visit their website: grandviewfarmvt.com.
Funding for this article was made possible by the U.S. Department of Agriculture's (USDA) Agricultural Marketing Service through grant
AM190100XXXXG100 . Its contents are solely the responsibility of the authors and do not necessarily represent the official views of the USDA.