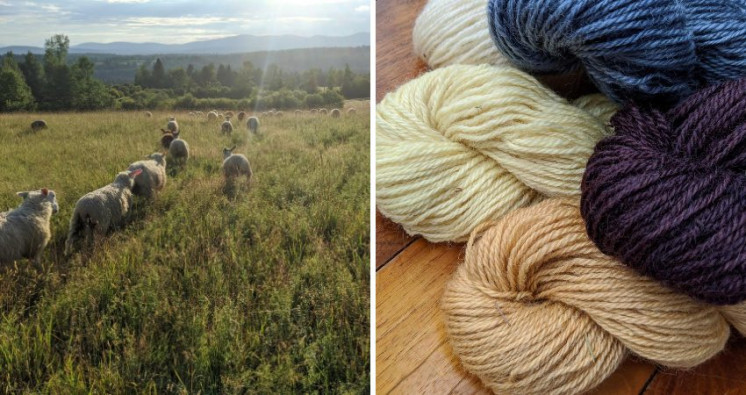 A newbie to Open Farm Week, Cloverworks Farm is a Vermont sheep farm that specializes in Bluefaced Leicester and Border Leicester sheep for wool, yarn, and lamb! At the farm, visitors can enjoy a tour of the flock and can browse the yarn and patterns offered at the farm store. But first, read up on how Farmer Katie got into farming and find out more about Cloverworks!
---
Please share a little bit about the history of your farm and where it's located.
Our farm is located in Albany, VT (though our mailing address is in Irasburg). As best we can gather, our farm was built to be a sheep farm in the 90s, but then the sheep never materialized. The house fell into foreclosure eventually. We have been repairing the house and recovering the fertility of the farmland neglected during years of haying without inputs.
How did you get involved with farming and what's the most important thing you've learned along the way?
I began farming after quitting human services for good in 2010. I've dragged my partner along for the ride! It's impossible to say what the most important thing I have learned might be. More relevant to me: I love the freedom and accountability of being my own boss and fully responsible.
What is one of the most rewarding things about being a farmer here in Vermont?
Vermonters support their local farms in amazing ways. I often see farmers in other areas struggling to convince their neighbors that it's worth paying an extra buck for truly fresh eggs. Here, Vermonters understand the value of fresh, local, real food.
What is one of the most challenging things about being a farmer here in Vermont?
It's pretty tough to plan around our increasingly extreme weather!
What is your favorite product you grow or raise?
Nothing makes March bearable like a barnful of bouncing lambs.
Which Vermont farmers are you most inspired by?
I'm inspired by my friends at Scuttleship Farm. Annie and Sean are about 10 years younger than us and 10 times more ambitious, to boot! I also admire all of the young farmers like Bianca and Evan at Swing Riot Farm who are making more with less while working off-farm to keep the lights on. If you have a dream, keep at it!
What are your plans for Open Farm Week?
We will have our outdoor yarnshop set up and will offer tours daily. We also have a beginning-shepherd brain-picking session for anyone considering sheep.
Daily Tours | August 10 - 16, 4:00pm
Cloverworks Farm welcomes you to visit and enjoy their flock of sheep as they graze amid the hills of the Northeast Kingdom. Visitors can meet sheep, learn about sheep and wool in New England, ask questions, and then return to the farmstand to check out their lovely yarns. This is a FREE all-weather, all-terrain tour. Visitors should wear closed-toed shoes suitable for walking. Please leave pets at home - the sheep and geese thank you! No need to pre-register, please arrive before 4:00pm as the tour will commence promptly.
Considering Sheep? Shepherd Brainstorm and Help Session | August 15, 2:00pm
Every year, Farmer Katie meets aspiring shepherds who just need a little more information to start their sheep venture. This session is for anyone considering sheep for any purpose who wants to learn a bit more. This FREE workshop will cover feed, shelter, pasture, financial calculations, common mistakes, and tips for success. Please wear closed-toed outdoor shoes and clothing and please leave pets at home - the sheep and geese thank you! No need to pre-register, but please arrive promptly, as this discussion will be on foot, moving around the farm.
Do you have a favorite recipe to share using products from your farm?
Due to COVID we are entirely sold out of lamb. For us, lamb is for customers and mutton is for shepherds, so we mainly eat mutton from culled adults. That said, my absolute favorite is mutton balls with Za'atar seasoning. Real Za'atar contains uncommon ingredients like sumac, so it's worth buying it mixed from a good spice company like Penzey's Spices. Mix a generous amount of za'atar with your mutton. Roll out golf-ball sized balls and grill. Serve in a pita with lettuce and tzatziki.