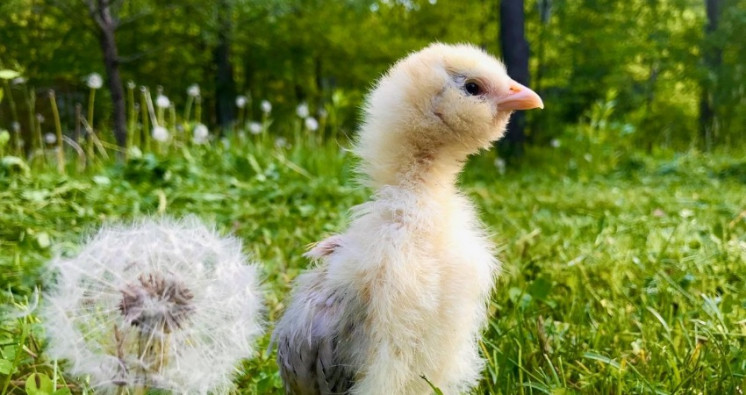 DigInVT is excited to welcome Sugar Feather Farm to this year's Open Farm Week! Specializing in rare, unique, and heritage types of fowl, including chickens, ducks, turkeys, guineas, geese, and quail, the farm also offers value-added products like non-GMO fresh fowl feed and honey from their own bees.
Read up on Sugar Feather and then tune in on Monday, Tuesday, and Thursday for their special Facebook Live events with Farmer Nicolle, who will share more about the farm, colored egg layers and unique types of fowl, and what it's like raising heritage fowl breeds.
---
Please share a little bit about the history of your farm and where it's located.
We started in 2018 with just a small collection of different types of chickens that we thought were really unique and different. From there we have just expanded our love for all things fowl and developed into a resource for consumers all over the United States who love fowl like we do! We are located in West Berlin, which is between Montpelier and Northfield - a very nice scenic drive but close to Interstate 89 - 1671 Chandler Road.
How did you get involved with farming and what's the most important thing you've learned along the way?
Farming just happened; we were not natural farmers or even raised with this in mind. We moved here from sunny Southern California, the land of beaches and 70 degree weather all the time, to a most radical change of nature, animals, and fresh air! We are entrepreneurs and enjoy starting new things. We also had a passion and vision for our relocation to Vermont. We wanted to do something related to nature and connect with the environment, and have a more peaceful lifestyle. We have learned that farming is HARD! I knew it, but didn't realize how much work it would be and so appreciate what it's like to do this.
What is one of the most rewarding things about being a farmer here in Vermont?
One of the most rewarding things is being able to simply enjoy the beauty of the state. And I like how farming is just interwoven into the state - it is natural and you can be yourself.
What is one of the most challenging things about being a farmer here in Vermont?
Building the connections and getting the word out about our vision and passion can be challenging.
What is your favorite product you grow or raise?
I can't pick between the different kinds of fowl types we have. That is way too difficult! But my favorite "product" is the egg hatching into a life, it is amazing.
What are your plans for Open Farm Week?
Lunchtime Live with Farmer Nicolle | August 10th, 11th, & 13th, 12:00pm
Join Farmer Nicolle of Sugar Feather Farm as she goes live on Facebook on Monday, Tuesday, and Thursday to share more about the rare, unique, and heritage types of fowl raised on the farm! Each Lunchtime Live will last for about 15 minutes. Specific topics are outlined below:
Monday: Sugar Feather Farm Background & Heritage Breed Fowl - Learn more about how the family got involved with farming, heritage breeds of fowl, and what's happening right now!
Tuesday: Egg Factoids and Fun for Kids - Nicolle will share a variety of egg colors and explain how the colors come to be, the breeds they come from, and the sizes of the eggs! She will also share some super cool and fun facts you didn't know about eggs, as well as some silly fowl breeds - sure to be fun!
Thursday: Raising Heritage Breed Fowl Q&A - Ever wondered how to care for heritage and unique fowl breeds for yourself? What types of fowl would work well for your environment and situation? This is the perfect time to ask a farmer in Vermont. Nicolle, the fowl guru, will answer your burning questions.
Do you have a favorite recipe to share using products from your farm?
Having eggs gives us so many options here on the farm. We typically use most or all of our eggs to produce babies. There are certain times of year we get to actually use our eggs for recipes and eating! Eggs are so versatile and can easily be used and incorporated into so many recipes.
This recipe below is just something I grew up with in my household. I was the oldest of five children and my mother always made creative, yet easy dishes. I remember as a child eating this classic dish any time of day, adding in any ingredients we had on hand. We had a limited food budget so eggs were both affordable and satisfying.
What I love about a frittata is the simplicity and it is so versatile to whatever you have on hand. The day I made this one, I only used four ingredients. I also just use whatever kind of eggs I have on hand. That day I had chicken. This would also work with any of the eggs we have here on the farm: duck, turkey, quail, and guinea. Yes, you can use all of these! The taste and texture might be slightly different but that is what makes it so fun! Enjoy this family favorite.
Equipment
cast iron skillet

immersion blender

bowl

spatula
Materials
12 

eggs - duck, chicken, guinea

 (if 

using duck eggs reduce the amount of eggs, if using quail increase)

1/2 

cup

 

red onion

 (

any type onion will do)

1

 tbl 

butter

1/2

 

cup

 

tomatoes

1 

cup

 

cheese

 (

shredded mozzarella or cheddar)

1/3

 

tsp

 

spices - any amount to taste
Directions
Gather eggs, any type. Crack and open eggs into a large bowl.
Heat up your cast iron skillet, when warm add butter.
Preheat your oven to 400 degrees.
Add in onion, garlic, and fresh tomatoes, sauté till onion is cooked.
Beat eggs with an immersion blender (our favorite choice), fork, or whisk
Add any spices you may like - salt, fresh pepper.
Add egg mixture to skillet and let sit for a minute till edges of frittata set.
Take pan and gently tip to one side, with spatula move the egg mixture very gently to the one side it is tipping towards, let sit for 30 seconds.
Then tip to another side, till you repeat all four sides of pan. Do this repeatedly till jiggly and slightly set.
Turn off burner, add in cheese, and add the pan to a preheated 400 degree oven.
Check frequently till set, take out, and let sit to harden. Enjoy!