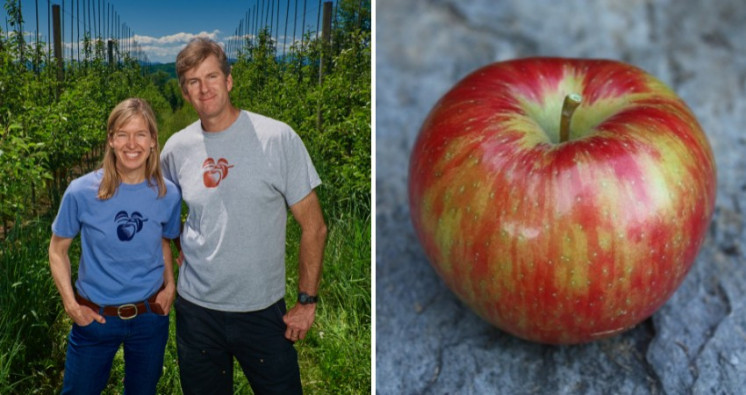 Throughout the summer and fall, Vermonters and visitors alike flock to our local orchards in pursuit of fresh fruit like cherries, plums, pears, and tasty apples, plus cider, donuts, and more! But who are the folks who grow these delicious fruits? And what goes on behind the scenes? Find out with DigInVT!
We recently heard from Chris Hodges of Sunrise Orchards in Cornwall. Learn more about the orchard and how the Hodges family got involved in growing tree fruit. This year marks the first season of pick-your-own at Sunrise! So be sure to stop by for all the apples, donuts, cider, and pies your heart (and belly) desires!
Please share a little bit about the history of your orchard and where it's located.
My husband's parents, Dee and Barney Jr. Hodges began planting Sunrise Orchards in 1974 on a former dairy and sheep farm in West Cornwall. My in-laws joined a thriving apple growing community in Addison County and grew the orchard to over 100 acres of mostly McIntosh, Cortland, Empire, and Paula Red apples, storing the fruit over the winter at the Shoreham Cooperative Apple Producer's Association (SCAPA) facility on Route 22A in Shoreham. My husband, Barney III, and I (Chris) took over operation of the orchard business in 2000 and added on-farm packing and direct store delivery, and developed our own brand as the "local" movement blossomed. We have continued this business model for the last 20 years and are adding retail pick-your-own to the mix starting this fall. Opening day will be August 28th, 2021!
How did you get involved with growing tree fruit and what's the most important thing you've learned along the way?
We met in 1989 while studying ocean biology and pollution aboard the SSV Corwith Cramer, a 134-foot-long brigantine that calls Woods Hole, MA its home port. After graduating college and trying out careers in geology and teaching, we followed our hearts back to my husband's family farm and were inspired by the entrepreneurial and environmental challenges and opportunities that growing food offers. Since that day, we've weathered many ups and downs but remain committed to responsible food production and land stewardship here in Cornwall. We have learned many important lessons along the way and two that top the list are:
1. Develop some kind of advisory group, whether it is an informal grouping or a board of directors or even a friend or two that you take a walk with on a regular basis. Having input from another perspective in the business world (even outside of the farming world) has been invaluable.
2. Focus on building relationships within your business. We have found time and again that strong, trusting relationships built on communication have helped us navigate the inevitable ups and downs that are common in a farm business.
What is your favorite apple (or other fruit) you grow and why?
We actually love all of our apples in different ways! As growers, we not only look at the eating or baking aspects of the apples such as flavor, crispness, and color, but we also appreciate the disease resistance of some apples, the ability to store for long periods of time, the vigor of the particular variety of tree or rootstock, and the different marketability of certain apples (think Honeycrisp!).
Can folks visit your orchard? If so, what can they expect when they do?
Yes! We have always welcomed visitors and have opened our orchard to cider tours during the fall months in the past. This year, we will be opening our new farmstand and offering pick-your-own! Our first day will be Saturday, August 28th!
Please follow us on Instagram and Facebook for updates throughout the summer and fall. We will have fresh picked apples, cider, donuts, and many other local Vermont products in our store and a beautiful ridgeline site for picking and walking. There are picnic tables for relaxing and enjoying the views of both the Adirondack and Green Mountains. We are excited about welcoming visitors to our farm!
What is your favorite thing to make with your apples?
We love apple pies here at Sunrise Orchards. I like to use a combination of varieties such as Cortland and McIntosh, or Empire and McIntosh. In the early part of the season from late August through early September, I often make an all Paula Red pie which is divine. Check out the recipe below, but make sure to come sample our pies and cider at the farmstand this fall!
Sunrise Orchards Apple Pie
6-8 servings
From Christiana Hodges, Sunrise Orchards
Ingredients--
Crust:
3 cups all-purpose flour
½ teaspoon salt, or more to taste
¾ cup vegetable oil (preferably canola)
8 tablespoons cold water
Filling:
8 large pie apples, such as Cortland, Empire, McIntosh, Paula Red, or a combination
1 cup sugar
3 tablespoons all-purpose flour
1 teaspoon cinnamon, or more to taste
3 pats butter (about 1½ tablespoons)
Instructions--
Preheat oven to 375˚F.
To prepare crust, in a large bowl, mix flour and salt together with a fork. Make a well in the center.
In a small bowl or 2-cup measure, whisk together the oil and water. Pour into the well in the dry ingredients, blending with a fork until it forms a ball (about 20 strokes).
Divide dough into two pieces, one slightly larger than the other. Roll each between sheets of wax paper to approx. 16-inch diameter.
To prepare filling, peel, core and quarter the apples, then thinly slice (about ¼-inch thick or less); place in a large bowl. Add sugar, flour and cinnamon; toss lightly to combine.
To assemble pie, press the larger dough round into a 9-inch pie plate. Spread apples evenly into crust, and scatter the butter pats over. Top with the smaller dough round, trimming to fit; crimp edges to seal. Pierce in several places with a fork and bake until crust is golden brown, about 1 hour.
Having an orchard is year round work. Do you have a favorite time of the year?
Spring is my personal favorite time of year. We are feeling hopeful, full of ideas, and rejuvenated from the off season. There is always more pruning to do, but the blossoming trees remind us that we aren't in charge and nature will keep moving forward from flowers to fruit.
What is one of the most rewarding aspects of being a tree fruit grower in Vermont?
My husband and I love growing food and trying to maintain the balance of responsible land management and profitability.
What has surprised you the most?
I think what is surprising is how much paperwork there is in farming! People are always surprised when I tell them that we spend half our time in front of computers!
What is one of the biggest challenges?
One of the biggest challenges is staying positive and maintaining the huge amount of creativity and energy required to operate a small business that is so tied to the vagaries of weather, insects, and disease. Climate change has posed frequent challenges for us over the last two decades that we have operated the farm and we expect that to continue. Solving new and old problems every year is both what keeps us coming back to running our own small business and what keeps us up at night.
Tell us about your crew - who are the people behind the orchard who help make it all happen?
We have an awesome work force this year! Jason Billings has worked at Sunrise Orchards for over 20 years and is an expert equipment operator, managing the 160 acres throughout all of the seasons. He is a true outdoorsman, literally spending most of his days outside all year round whether it is pruning, mowing, spraying, or working on his own garden and hunting and fishing all around Vermont.
Blake Harrison is a newer arrival (2020), but has already become an indispensable part of our team. Blake comes to us from Kent Ridge Orchard where he developed all the skills needed for managing an orchard and he has added to these skills in his short time at Sunrise. Blake is also a scholar of geography who often teaches courses at Middlebury College and is a volunteer firefighter for the Middlebury Fire Department.
Jack Brown is a junior at Middlebury College and lives locally in Cornwall. Jack started working during the summer of 2020 and learned many of the field jobs including insect trap monitoring, mowing, tree tying, and weed pulling. This year, he has advanced to equipment operator and he works alongside Blake and Jason, managing the mowing and spraying among many other jobs. Jack will be returning to Middlebury in the fall and he will be sorely missed- we are hoping he can help on the weekends for pick-your-own!
We also have three part time employees who enthusiastically show up and are willing to do whatever is needing to get done. Amelia Ingersoll and Dahlia Harrison-Irwin both hail from Middlebury and we are lucky to have their positive attitudes! Isaac Kaplan lives here at the farm and helps out when he can in between frequent cross country running team work outs! Last, but not least, we have a crew that arrives in the fall to help us pick and pack the apples, some live locally and others are from Jamaica. We couldn't harvest and distribute the crop without their help.
Do you have anything new or special planned for this year that you'd like to share?
Pick-your-own! Opening Saturday, August 28th! We'd love to share this beautiful place with you!