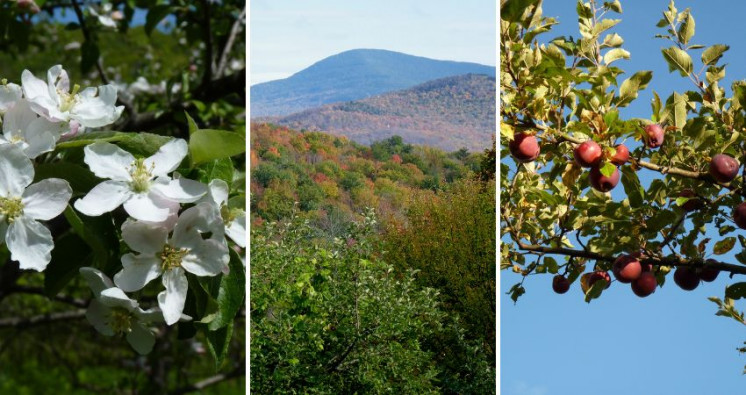 Throughout the summer and fall, Vermonters and visitors alike flock to our local orchards in pursuit of fresh fruit like cherries, plums, pears, and tasty apples, plus cider, donuts, and more! But who are the folks who grow these delicious fruits? And what goes on behind the scenes? Find out with DigInVT!
We recently heard from Bonnie Bordelon of The Farm at 84 in Jericho. Learn more about the orchard and Bonnie's apple growing journey. 2021 marks the grand opening of the orchard, so be sure to enjoy the apple picking, cider, and baked treats this fall. You can even stay at the inn on site all year round!
Please share a little bit about the history of your orchard and where it's located.
Our orchard was originally started in Jericho during the 1980s by Hans Dietsch and his family on the land of their residence. He had a very successful pick-your-own and direct sales business until around 2010 when he took ill and could no longer tend to the orchard. Folks might remember this orchard by its prior name, Overlook Orchard. Many Jericho residents have fond memories of taking childhood school field trips to the orchard as well as visiting with their parents.
In 2017, we purchased the property and the orchard had not been pruned or tended to for many years. It was so overgrown that I didn't really notice there was an apple orchard when I first saw the property. I knew nothing about apples but knew we had to bring it back to life… but this time as an organic orchard. I enlisted the consulting help of the top local organic orcharding expert, Todd Parlo, and have finally gotten the orchard back to a stable and productive state. We are also extending into berry production and it will either be exclusively for those staying at the Inn at 84 or at some point might be part of a pick-your-own also. Thus, the Farm at 84 now has a rebirth and 2021 is our opening year.
How did you get involved with growing tree fruit and what's the most important thing you've learned along the way?
I have been a gardener for 30 years working with ornamentals, Japanese maples, herbs, vegetable gardens, raspberries, blueberries, and fig trees – last tending these on our ¼ acre lot in Decatur, Georgia before relocating to Vermont in 2017. I love to grow food, cook, and feed people good healthy food. The opportunity to rehabilitate and keep an apple orchard was not on my roadmap until we happened upon this beautiful property. It has been overwhelming and I'm still learning and will continue to learn. The most important thing I've learned along the way so far is how much timing has to do with everything. My challenge is to best incorporate organic methods into growing healthy and delicious apples.
What is your favorite apple (or other fruit) you grow and why?
That's a very difficult question to answer as apples have so many different flavor profiles and facets. As far as the apples that we grow, my favorites so far are Macoun, Sweet Sixteen, Jonagold, and Golden Delicious, as they have more complex flavor profiles – not just sweet and crisp. Being a south Louisiana native, I seek out adventures for my taste buds. I'm also a sucker for a great Empire too. It makes a delicious single varietal sweet cider.
Can folks visit your orchard? If so, what can they expect when they do?
Yes, folks can visit the orchard. We will be open Saturday and Sunday only during apple season in 2021. We have not decided if we will include pick-your-own yet as our 2021 crop is a little light (which means 2022 will be booming). We will be selling fresh cider – some made from mixes of apples and some single varietal. We will be offering some tastings of the different ciders also. here will be apples for sale as well as apple baked goods and perhaps cider donuts. I am also a beekeeper and will have raw honey for sale. One thing visitors can expect is to have a fresh cider that far exceeds what they have had before – organic apples generate a less watered down cider that is full of flavor and awesome!
What is your favorite thing to make with your apples?
I love a good Tarte Tatin – it is a French classic that we will not be selling, as it is best fresh from the oven. We will have some pastries, apple cookies, and other sweets available for purchase that might change weekly based on the whim of the chef.
Having an orchard is year round work. Do you have a favorite time of the year?
My favorite time of year with the apples is apple blossom season in early to mid-May. The orchard is so beautiful when it's full of white-pink blooms and my bees are busy at work pollinating. I love to go outside and try to get some photographs of bees on blooms.
What is one of the most rewarding aspects of being a tree fruit grower in Vermont?
The most rewarding aspect is introducing folks to a healthier apple and the incredible difference in taste. They might not be the shiny, blemish free perfect supermarket apple but the flavor and quality is the best. For me, IPM (Integrated Pest Management) is not enough for this fruit in the "dirty dozen." I think our customers will also appreciate clean apples.
What has surprised you the most?
The amount of work it takes to manage and care for the orchard has been the most surprising.
What is one of the biggest challenges?
The biggest challenges are pest management and the terrain. Our orchard is on a hillside and working with the tractor is tenuous at best!
Tell us about your crew - who are the people behind the orchard who help make it all happen?
Right now, it is my wife and I primarily. We hire out pruning for the time being as we both work full time jobs. Friends and neighbors also help out. As we ramp up, I may add to the crew.
Do you have anything new or special planned for this year that you'd like to share?
2021 is our grand opening!
We also run a small Inn on the property with rooms with decks overlooking the apple orchard and mountains. Look us up on Facebook - @TheFarmat84 and @TheInnat84. Guests will be able to pick the variety of berries in season, walk through the orchard, and pick apples. There is nothing like waking up and strolling with a cup of coffee in hand picking fresh fruit for breakfast.