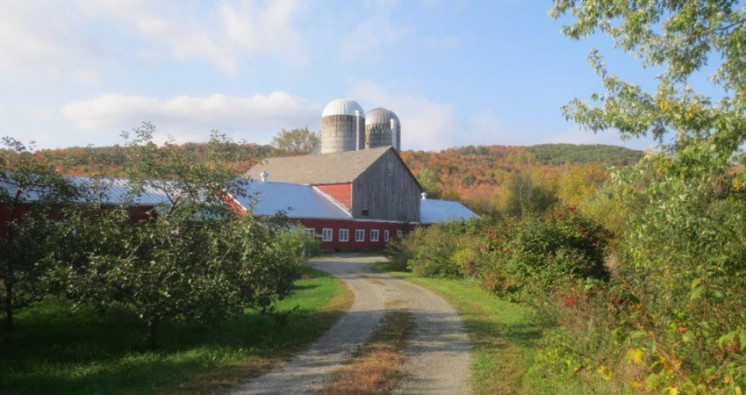 Throughout the summer and fall, Vermonters and visitors alike flock to our local orchards in pursuit of fresh fruit like cherries, plums, pears, and tasty apples, plus cider, donuts, and more! But who are the folks who grow these delicious fruits? And what goes on behind the scenes? Find out with DigInVT!
We recently heard from The Farm Between in Cambridge. Learn about the Farm's history over the past 30 years and how it serves as teaching laboratory for Sterling College today!
Please share a little bit about the history of The Farm Between and where it's located.
The Farm Between is located in Jeffersonville, Vermont, on the west side of the Green Mountains. It was founded in 1992 by John and Nancy Hayden. Since October 2020 the farm has been under new ownership and managed by Sterling College. Its 18 acres are a polyculture of fruit trees, berry bushes, perennial vegetables, native plants, and pollinator/wildlife habitat. Sterling College uses education as a force to advance ecological thinking and action, and the instructional site at The Farm Between serves as a teaching laboratory for students interested in perennial systems, agrobiodiversity, beneficial insect habitat, marketing, and value-added food production. The nursery, wholesale accounts, and value-added food production will continue to be an integrated part of curriculum and the College's work program. Students participate in all aspects of the farm such as crop management, research projects, value-added food production, and marketing and sales.
John and Nancy began growing fruit in the early 2000s when they added blueberries and black currants to their vegetable operation. In 2011 they switched to growing fruit full-time after Hurricane Irene wiped out one of their vegetable fields, and elderberries and aronia proved to be more resilient in that area. From this experience and since then we have learned that polyculture systems are much more adaptable to the changes in the climate that we are experiencing in Vermont and we hope to be an example that will shape how we design and manage more diverse systems in the future in our state and across the country.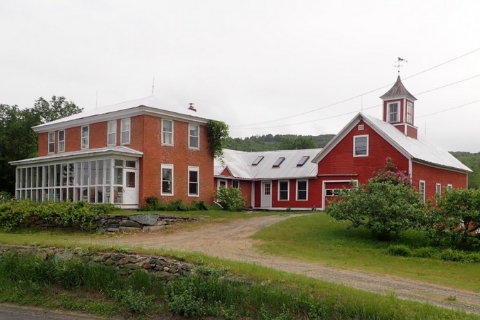 What is your favorite fruit you grow and why?
Black currants are a favorite at The Farm Between for their versatility and appeal in value-added products, and for their robust flavor. A favorite apple is Liberty for its disease-resistance, and because it makes a nice addition to cider.
What do you grow and how can folks visit?
Folks are welcome to come see what we have growing at the farm. We have a walking path that follows the perimeter of the farm through the main production area, past polyculture orchards and pollinator habitat, and across a stream. We also have a nursery that is open to the public on weekends in the spring, and by appointment in the summer and fall. We do not offer pick-your-own, as we are a small-scale operation and most of our fruit goes into value-added products.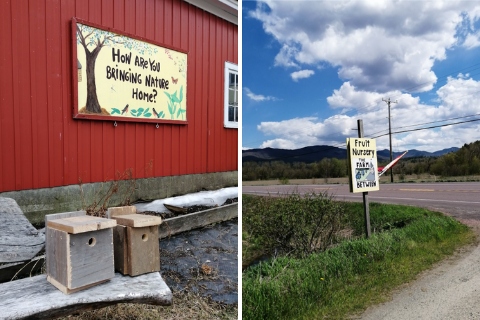 What is your favorite thing to make with your apples or other fruit?
We sell wholesale fruit, including apples and plums. We make various fruit ciders (with apples as the base), such as aronia, wild plum, and raspberry. We particularly enjoy making jam and syrups from black currants. Right now we do not have any value added products for sale - but look for that in the near future!
Having an orchard is year round work. Do you have a favorite time of the year?
The first warm days of spring, on snowshoes and carrying a pruning saw, are among the most pleasant of the year. And of course, it is hard to beat the feeling of abundance that comes during harvest time.
What is one of the most rewarding aspects of being a tree fruit grower in Vermont?
Following the rhythm of the seasons, from the dormant season to the awakening of spring, to summertime when everything is growing, to the fall harvest, is incredibly rewarding. It is also rewarding to know that so much abundance can be found in our own backyard. It is particularly pleasing to share our farm with all the other creatures that enjoy the abundance that it provides. We work hard to find a balance where both wildlife and humans enjoy the food we produce.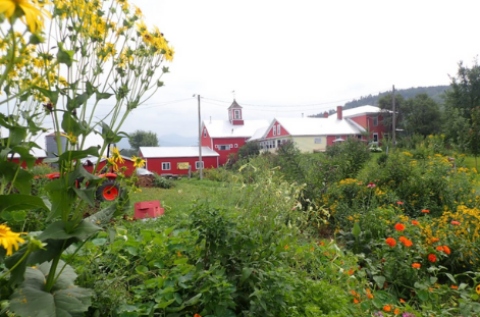 What has surprised you the most?
There are surprises around every corner. Every year is different as the plants mature and as we strive to increase our diversity. The biggest surprise is that a farm of only ~15 acres can produce so much life and abundance and 29+ crops.
What is one of the biggest challenges?
Unpredictable and changing weather conditions have caused challenges ranging from fruit set and pollination to increased pressure from pests and diseases. These factors have always been a challenge when it comes to growing fruit, but are increasing with climate change.
Tell us about your crew - who are the people behind the orchard who help make it all happen?
The Farm Between of Sterling College is run by a faculty coordinator, a farm manager, students who work throughout the year as part of the College's work program, and summer interns. We also have great support and encouragement from our Advisory Board; John and Nancy Hayden are both members and we benefit greatly from their continued involvement. The community around us has been very welcoming and supportive of the Sterling students.
Do you have anything new or special planned for this year that you'd like to share?
We hope to invite more of the community to the farm this coming year through workshops, evening talks, and classes.