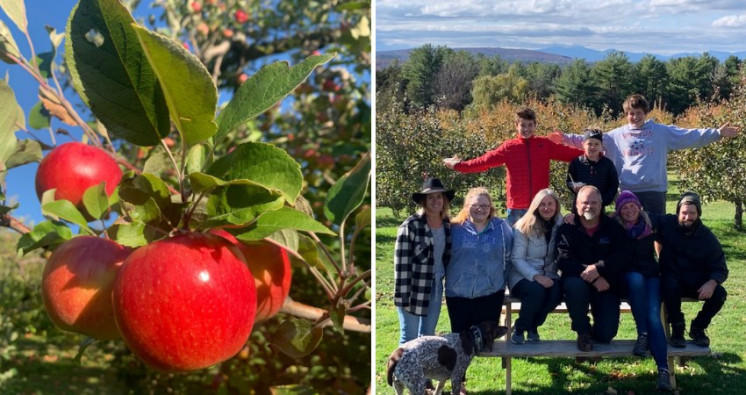 Throughout the summer and fall, Vermonters and visitors alike flock to our local orchards in pursuit of fresh fruit like cherries, plums, pears, and tasty apples, plus cider, donuts, and more! But who are the folks who grow these delicious fruits? And what goes on behind the scenes? Find out with DigInVT!
We recently heard from Jessika Yates of Yates Family Orchard in Monkton. Learn about how the Yates family got involved in growing apples, what you can expect when you visit each fall, and their special treat that combines maple creemees and cider donuts!
Please share a little bit about the history of your orchard and where it's located.
Yates Family Orchard is located at 1074 Davis Road on scenic Monkton Ridge. We have been told the first trees of this orchard were planted in the 1940s! Many of these trees still produce apples today and are pretty amazing to see. There have been a couple of orchardists prior to us who further established additional trees that are 20-40 years old. We continue to add more trees and are working to graft some of our older and unique varieties. To find us, our address is 1074 Davis Road, Hinesburg, VT, even though we are located in the town of Monkton.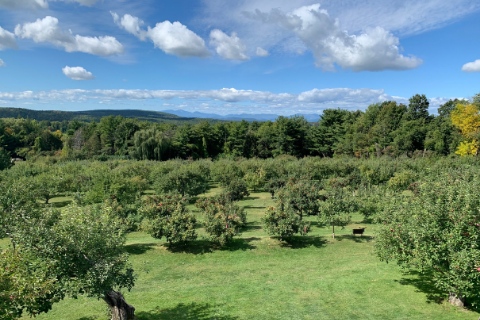 How did you get involved with growing tree fruit and what's the most important thing you've learned along the way?
In 2008, we were drawn to this amazing property with incredible Adirondack and Bristol Valley views. We purchased our house with some of the surrounding orchard and, due to the orchard history, first started with word of mouth pick-your-own (PYO) and small farm stand with an honor box. Through the years, we have purchased more of the orchard and expanded our operation and Orchard Stand. Probably the biggest thing we've learned along the way is that there is always something new to learn and ways to improve - from taking care of the trees, to growing apples and running our stand.
What is your favorite apple (or other fruit) you grow and why?
We grow 28 different varieties of apples, as well as a smaller crop of pears, plums, and peaches. Our favorite apple really depends on the week of the season. We get pretty excited to have the early season apples ripen and then move into the mid-season apples and then the late varieties. There is always something new in the orchard that we want to be sure you don't miss! But, if we really had to name ONE favorite apple, we would probably say the Northern Spy. This old, late season heirloom variety produces large, tangy apples, wonderful for eating and baking and exceptional for cider making.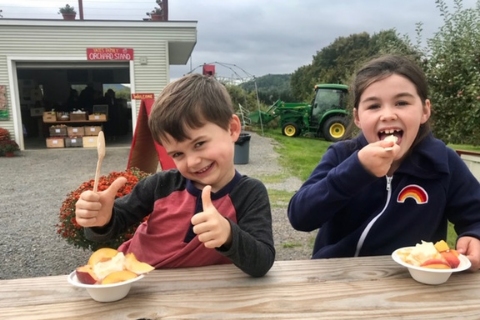 What do you grow and how can folks visit?
We offer a PYO operation with 28 different varieties that are easily accessible from our Orchard Stand. You can also find pre-picked apples, our orchard pressed cider, jams, and savory harvest preserves. The stand also offers artisan cheeses, meats, specialty hard ciders, pies, baked goods, our neighbors' raw honey, and maple syrup, as well as various local artists' and handcraft works. With so many amazing Vermont food producers and artists, our list of products is ever expanding. Not to be missed are our hand-cut, hot out of the fryer cider donuts. We also encourage you to try our signature Dreamee™ - one of our hot cider donuts topped with Vermont-made, all natural maple creamee (soft-serve ice cream). We have an area for kids to play, picnic tables, and orchard seating and invite you to come, relax, and enjoy your day here.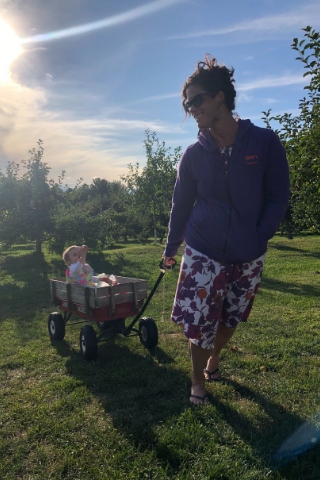 What is your favorite thing to make with your apples or other fruit?
We take great pride in our pressed cider. Each week, as different apples ripen, a different blend of apple varieties are chosen to be pressed, so each batch is unique. As the season progresses, the sugar content of the apples increases, sweetening and thickening the cider. This cider is a main ingredient in our hand cut cider donut recipe. We also use this cider to produce our cider vinegars and in our orchard made jams and savory harvest preserves.
Having an orchard is year round work. Do you have a favorite time of the year?
Every season has its unique differences and intensity. Of course, harvest season and inviting people to come and enjoy their day here is our favorite. In contrast to fall's activity, winter brings a peaceful solitude when we prune the trees and prepare them for the next season. Spring into summer is quite busy as we work to stay on top of the growing season and, since no two years are alike, we are always learning, adjusting, and learning more.
What is one of the most rewarding aspects of being a tree fruit grower in Vermont?
The most rewarding part is sharing the orchard experience with people who visit. We feel incredibly grateful to live in this place, have the opportunity to take care of these old trees and grow what we do. We are thankful to grow a sustainable product that provides a fun, outdoor experience, that makes folks happy and is healthy. On the Orchard Stand side of things, we appreciate that Vermont is so full of incredible small farms, food producers, and artisans. We are amazed by all the local products they create and feel privileged to be able to offer such products in our stand for people to enjoy.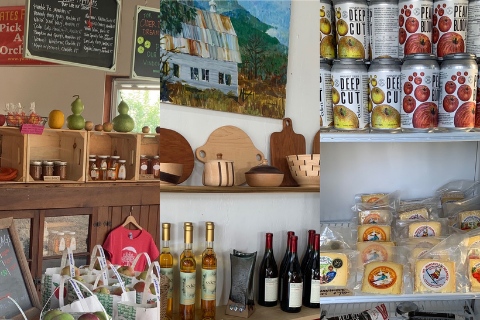 What is one of the biggest challenges?
Probably the biggest challenge is the gear up and being ready for our opening season. As our operations grow, this gear up really starts as we close one season and already start looking toward and planning for the next.
Tell us about your crew - who are the people behind the orchard who help make it all happen?
For about 8 months out the year Yates Family Orchard is truly run by our family - myself, my husband, and son. We prune, take care of the property and grounds, and grow the apples. During the summer we bring on staff to assist with our orchard made food products and getting ready for the season. We call the team that joins us the "Dream Team," for we are incredibly fortunate to have such a talented crew of dedicated and hard working people, many who return each season, work with us. Each person brings their unique talents to our stand and picking operation to make Yates Family Orchard what it is. We do our best to have a fun time in what we do and are so grateful for all the "Dream Team" does.
Do you have anything new or special planned for this year that you'd like to share?
We are really excited to be working on our Yates Family Orchard Dreamee event calendar. So far the music lineup includes:
9/19 - The George Petit Quartet
9/26 - Soulshine Revival
10/3 - John Lackard Blues Band
Stay tuned on our website and follow us on Instagram and Facebook for updates!