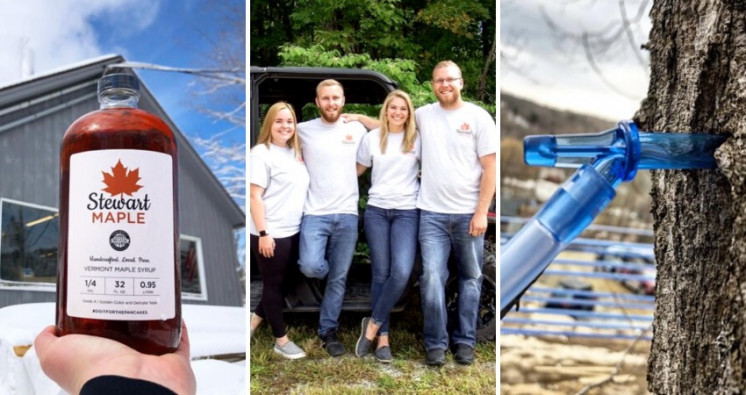 Is there anything more Vermont than maple syrup? We all look forward to those warmer winter days and cold nights because we know the sap will be flowing. The history, the community, the sweet flavor, the fact that sugaring happens only once a year - all of these things come together to make sugaring season a very special time in the Green Mountains.
At DigInVT, we love to share the stories of Vermont's food and farm community. We asked Alyssa Stewart of Stewart Maple what it's like to be a sugarmaker here in Vermont. If you missed tuning into DigInVT's Instagram on March 18th and 19th for Stewart Maple's story takeover, click the Stewart Maple highlight on our profile. They shared a day in the life from their sugarbush in Cuttingsville. #doitforthepancakes
With Maple Open House Weekend coming up in less than two weeks, be sure to make a list of sugarhouses to visit. Stop by, say hello, check out the sugarhouse, and have a taste or two of Vermont's liquid gold. This is your chance to learn about the tree to plate journey of our favorite sweet ingredient - pure maple syrup!
---
Where is Stewart Maple located?

Stewart Maple is located in our hometown of Cuttingsville, VT (a village of Shrewsbury, in south-eastern Rutland County). Our sugarhouse is located on the hill behind the historic John C. Stewart & Son Ford Dealership and our new marketplace, where all of our maple products are made, packaged, and for sale, along with other artisan Vermont products, is located just down the road at 5444 VT Route 103 in Cuttingsville.
What's the history of your maple operation?
Stewart Maple is truly a family owned and operated business. Elliott and Tanner Stewart, two brothers, grew up getting off the school bus and helping a neighbor during sugaring season to collect buckets of sap and hang out in the sugarhouse. In 2010 (when Elliott was 16 and Tanner was just 14 years old), they convinced their dad to help them build a sugarhouse of their own and tap the 2,150 trees in their backyard. From there, they grew their sugaring operation every year, embracing the latest technology in the industry to be efficient and sustainable, while leasing trees from neighbors and buying parcels of land to build a patchwork sugarbush that expanded their backyard into the 1,200 acres that we now call Stewart Maple.
Can you tell me a little bit about yourself?
Elliott and Tanner, the two brothers now in their mid-20s, manage the sugarbush and sugarhouse year round. Their parents, Mark and Gina Stewart, are also involved in the day to day operations, with Mark being the master carpenter who built the sugarhouse and the one who runs the evaporator. Elliott's wife, Alyssa (who went to high school with both of the Stewart brothers and remembers when they first got started with Stewart Maple) has taken the reins on Gina's maple cream and maple popcorn recipes and is now marketing them full time in the new Stewart Maple Marketplace, as well as online and in other stores around New England. It's a true family affair!
How did you get started in maple?
We are unique in that, while we are 7th generation Shrewsbury residents, we don't exactly have a family tradition of making maple syrup for centuries. While we can certainly appreciate  the heritage that is sugarmaking in Vermont, we are proud of our "futuristic" view in how to continue producing pure Vermont maple syrup but with the advantages of modern technologies, scientific studies of techniques, and innovative processes. Our passion and determination have allowed us to grow our sugaring operation to a full-time career for us.
How many taps do you have?
This year we tapped out at 36,000 taps (just a few more than where we started with in 2010!). We'll continue to make adding taps a priority in the coming years.
What do you enjoy about making maple syrup?
We are so lucky that we get to spend everyday outside in the sugarbush! Through all of the seasons we are constantly outside enjoying nature and connecting the world with the regionally abundant product that is maple syrup. It's especially satisfying to us that we have truly built this business, that now supports our whole family, in the backyard of our childhood home. We hope that as our families continue to grow we can share with them all of the great parts of growing up in Vermont nature and harvesting from the land that made our own childhoods so incredible.
What is one of the most rewarding things about being a maple syrup producer in Vermont? And why?
It's some of the hardest work you'll do, with us pouring our own blood, sweat, and tears into it every day of the year. The sap doesn't stop flowing because it's the weekend! And yet, in such a short amount of time we get to see all of our hard work pay off in the form of some of nature's most delicious liquids. The smell of maple syrup steam as it boils off the evaporator is a fulfilling feeling. And, of course, an unlimited supply of maple syrup on our kitchen counter everyday is rewarding in and of itself!
What are your plans for Maple Open House Weekend?
We hope that the weather will provide us with some sap flow and that we'll be busy working! Unfortunately, with some recent sugarhouse renovations, we aren't officially on the Maple Open House Weekend map, but we are always happy to give tours if we know you're stopping by! Otherwise, the Stewart Maple Marketplace will be open and likely holding some special samplings of some of our Vermont maple favorites for the festivities on March 21st and 22nd!
Do you have a favorite maple recipe that you'd like to share?
If it can be made with maple syrup, you can bet we've tried it! A family favorite is on homemade pizza. Here are two great ways to sweeten up your pizzas!
1) The Stewart Bros Pizza: Olive oil and garlic sauce base (brush all over) topped with mozzarella cheese, bacon, chicken, thinly sliced apples, and caramelized onions. Drizzle with maple syrup and bake at 475°F for 10-15 minutes.
2) Sweet and Spicy Buffalo Chicken Pizza: Mix your favorite buffalo sauce in a 1:1 ratio with maple syrup. Spread across dough and top with mozzarella cheese, chicken, and bacon and bake at 475°F for 10-15 minutes. 


These are two great choices for the whole family!