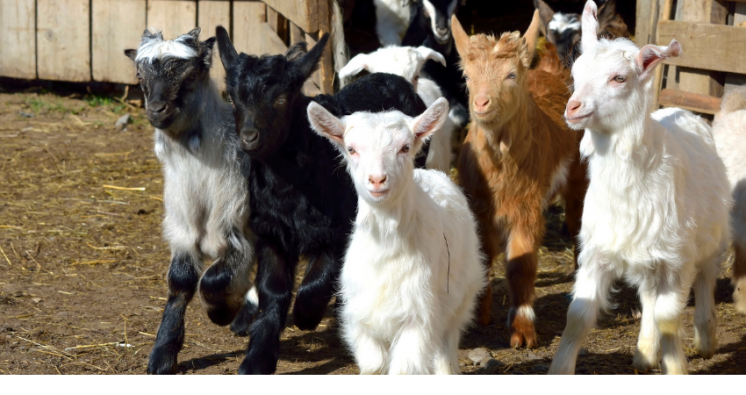 As part of the DigInVT Holiday Gift Guide, our team has come up with some great local gift options for the children in your life! Find books, experiences, sweet treats, and more from Vermont and teach your little ones about the importance of buying local from a young age.
Farm Memberships
Gift your family a membership to Billings Farm & Museum in Woodstock, Shelburne Farms in Shelburne, or Retreat Farm in Brattleboro so they can enjoy fun on the farm all year long. Membership is a little different for each one, but typically it includes admission for an entire year and lots of other perks! Children can explore the farm, interact with the animals, and learn about growing food and raising livestock - it's fun, educational, and will allow them to create lasting memories right here in Vermont.
Gingerbread House Kit
If you're looking to get your gingerbread house bake on, follow the Vermont Country Store Home Sweet Home recipe and head to their website or straight to the candy counter in their shop in Weston or Rockingham for all the Christmassy candies for decorating.
King Arthur Baking Co. has a complete kit with a gingerbread mix, templates, icing, decorating bags and tips and even some extra cookie cutters. Couldn't be more festive!
Why start from scratch when Stowe Bee Bakery & Cafe has all the makings of homemade gingerbread house ready for assembly? Complete with royal icing, sprinkles and candy, this ready-to-assemble kit is a sweet gift for a little one.
Books
Get the little ones in your life a book at their reading level about maple sugaring! Sugaring by Jessie Haas and Sugar on Snow by Nan Parson Rossiter are a couple favorites and are both available from the Vermont Bookshop in Middlebury! Huck's Way Home by Kristina Rodanas is another great kids' book! Based on a true story of bravery, the book follows the journey of a week old steer who ran away within minutes of his arrival at Billings Farm.
Christmas Cookie Baking Mixes
Surprise your little baker with a Cookie Baking Mixes from King Arthur Baking Company. This is a fun activity to do together! King Arthur ships right to your doorstep, including a detailed recipe with step by step instructions, any special tools you'll need, and all the pre-measured dry ingredients. You just need to supply your own dairy, eggs (may we suggest local?), and oils. They couldn't make it any easier to have a fun baking day and create tasty cookies. Check out their online shop to add on some matching aprons.
DIY Lip Balm Kit
Gift the child(ren) in your life a DIY Lip Balm Kit from Railyard Apothecary in Burlington! This is another fun project you can do together. The kit includes every single thing you need to make your own lip balm, including the tubes, labels, ingredients, and more. Bonus - it makes 13 tubes of lip balm for under $20! Do it over December vacation or save it for a rainy day.
Sprout Jar Lid & Seeds
Help your little one become a little farmer! Pick up a wide mouth Mason jar, order the Sprout Jar Lid and Spicy Salad sprouting seeds from High Mowing Seeds, and you're good to grow!
Apparel and Accessories
We can't get enough of Vermont's cutest baby and kids' clothes. From the Big Picture Farm's Super Soft Goat Onesies to the classic Shelburne Farms T-shirt featuring Tracey Campbell Pearson's Brown Swiss Cow. Visit your favorite farm, restaurant, or food/beverage producer's website (using the Places feature on DigInVT.com), and see if the have any children's merch options! This goat night light from Big Picture Farm will have your little one dreaming farmlife!
Hot Chocolate Party
What's better than a cup of hot chocolate? A hot chocolate party! Gather local hot chocolate fixins and throw a little party for the kids in your family! We recommend the hot chocolate mix from Lake Champlain Chocolates and fancy hand-crafted marshmallows from Nomadic Kitchen. Mix it up with some local dairy, and top it off with Cabot's whipped cream. Gift each child a fun mug to sip it out of - check out the offerings from the UVM Bookstore. Our favorite is an udderly fun cow mug from the Vermont Country Store.
Mushroom Grow Kit
This is such a fun gift idea! Vermont's FUNJ Shrooming Co. offers a variety of grow kits in their online shop, which include blocks of substrate inoculated with mushroom mycelium. Kids can mist their blocks and watch the mushrooms grow, and then harvest and eat them! And these are no ordinary mushrooms - Pink Oyster, Lion's Mane, and Blue Oyster are all very cool looking and delicious. Hint - this also makes a great gift for a mushroom-loving adult!
DIY Wool Crafting
Pick out some yarn or needle felting crafting kits from Nova Natural Toys & Crafts, based in Shelburne! Each kit comes with a kid-friendly needle or loom and fiber material for one project! Pick out a skein of local yarn (or a few) in their favorite colors from Cloverworks Farm, Green Mountain Spinnery, or Knoll Farm so they can continue crafting once the initial starter material is used up.