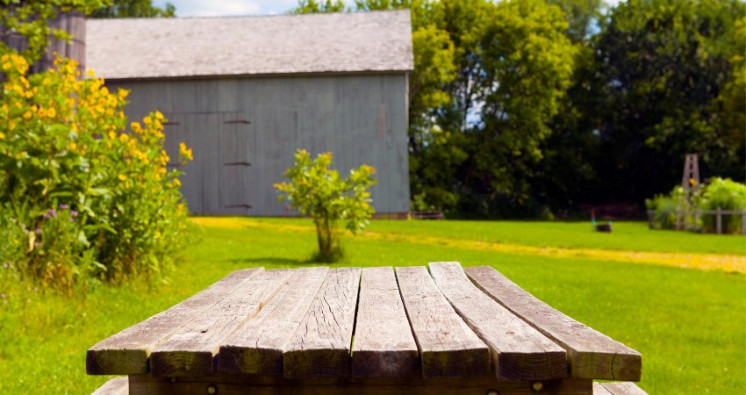 This is a beautiful time of year and Vermont Open Farm Week is a great time to enjoy the outdoors while also exploring farms across the state. Plan a picnic at these farms during Vermont Open Farm Week and enjoy the view!
---
Aug 16, 2020

11am — 2pm
Bring a blanket and a socially distanced picnic lunch to enjoy the exquisite views of the Worcester Range and the Adirondacks. Watch Heritage Highland cattle grazing on the hillside from the oldest registered herd of Highland cattle in the United States. Family units may pet or comb a Highland calf, taking turns to be respectful of social distancing. Beef will be available for purchase on-site if desired.
During Open Farm Week, take in the beauty of the Taconic Mountains, and this historic 210 year old farm built around 1810. Enjoy a walk and a picnic! See the sheep in the pasture, the chickens, and walk through the fields growing heirloom produce. The hike will take you to one of the best spots on the farm: the 100 year old orchard. Here you can take in the incredible views of the mountains and nearby Lake Bomoseen while you enjoy an optional picnic that can be purchased ahead of time and picked up prior to your hike. Picnic lunches will include everything you need for a lawn picnic, prepared by the Farm Manager and Executive Chef - just bring your own blanket.
During Open Farm Week, explore Philo Ridge Farm with a guided tour and learn about their regenerative agriculture practices, including rotational grazing, high rotation vegetable growing, and the importance of compost. Children and families are welcome. Tours will be by reservation only, Thurs - Sun. Visit their website for more details!
While you're there, order lunch from the walk up window and enjoy a picnic at the very farm where the ingredients are grown! Check out their outdoor dining safety tips in preparation. The Philo Ridge Farm Market is currently open Thurs - Sun. Please refer to their website for updated menu/hours.
---
These farms are also open for picnicking this month.
Bring some food and enjoy the grounds, animals, and gardens at Billings Farm. Surrounded by more than 200 acres of cropland and the Mount Tom forest, Billings Farm & Museum provides visitors with a unique window into rural Vermont farm life. Check out the Walking Trail, a gentle one mile loop through the farm field and along the picturesque Ottauquechee River that flows through the village of Woodstock, Vermont. Inquire at the ticket desk in the Visitor Center for directions to the trail.
What better way to enjoy someone's company and celebrate the beauty and bounty of this land than with a picnic? Choose a Picnic Basket online, tell us when you want it, then come pick it up with your Day Pass at the Farm Store and enjoy a special spot on our 160 acres of high meadow, gardens, and woodsy glades. (Please give us date and time in the checkout comments box.) Knoll Farm is a natural place for a picnic! Spectacular mountain views, wide open fields or shady sitting rocks, gardens and handmade buildings, birds and sheep.
Come stay a while. Bring a picnic and a bottle of wine, create your own romantic date here. Our farm has amazing views for miles around of both the US, as well as Canada. We have 10 acres for you to explore and endless special spots for that perfect photo moment, as well as various seating for picnicking or just relaxing. Walk the lavender labyrinth (lavender blooms in July, August, and September)!
Bring a picnic to enjoy on Farmhouse Square. Mindfully walk among the vegetables, herbs, and flower beds in the Hope Garden's labyrinth paths or take a longer hike on one of the trails. The Community Farm and Forest is open dawn to dusk, 7 days a week. Please read our current safety guidelines before visiting and note that the barn and all buildings are closed, and no facilities are available.
Walk the trail and find a shady picnic spot on our gorgeous 1,400-acre working farm along the shore of Lake Champlain. Parking is at the Farm Store and people can walk to their desired location. Order picnic items in advance from the Farm Store and pick up curbside to enjoy on the farm, or to take home when leaving. Choose from Shelburne Farms award winning cheddars, prepared foods from the Inn Kitchen, vegetables and berries from the Market Garden, and many Vermont products. Please note, the buildings are not open and we do not have restrooms available. Please see our Covid page on the website for more details.
Funding for Open Farm Week was made possible by the U.S. Department of Agriculture's (USDA) Agricultural Marketing Service through grant
AM190100XXXXG100 . Its contents are solely the responsibility of the authors and do not necessarily represent the official views of the USDA.