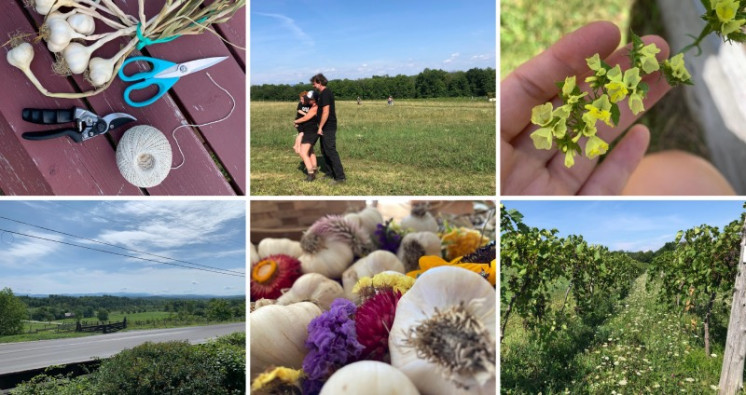 We just celebrated the sixth annual Vermont Open Farm Week and what a week it was! Farmers throughout the state worked tirelessly to provide guests with incredible, accessible experiences, whether in-person or online - and the response was fantastic.
Vermonters took advantage of this opportunity to find some farm adventures, and folks from near and far could tune in to virtual events to experience the fun from home.
Whether farms hosted workshops, tastings, or tours, each event was successful in bringing people closer to Vermont's working landscape and offered a unique glance into our state's diverse agricultural communities.
If you missed out, you can always use DigInVT.com to find farms open to the public and food and farm events across Vermont.
The Open Farm Week organizing committee was lucky enough to visit some first-time participant farms and a few of our old favorites. Below are just a few of our favorite pictures of the week.
---
City Market partnered with June Farm for a Pick & Design Your Own Market Bouquet class!
Folks got to learn how to make Buddha Bowls with City Market and the Intervale Center!
Greenfield Highland Beef invited visitors to their farm for Picnic & Petting!
Morse Brook Farm offered herding demonstrations, tours, wagon rides, and goat yoga during Open Farm Week!
Lightfoot Farm had a great turnout for their farm tours!
Ellison Estate Vineyard invited folks to their vineyard to learn about Vermont's growing wine industry and the wines they're releasing this fall!
All week long, visitors were invited to enjoy a walk and farm-fresh picnic at Frog Hollow Farms!
In addition to posting daily Open Farm Week updates on their social media accounts, Last Resort Farm made a virtual garlic braiding tutorial and folks could tune in anytime during the week to participate!
Philo Ridge Farm shared so much about the history of the farm and all the plants and animals that call it home on their farm tours.
---
To read more about some of this year's Vermont Open Farm Week newcomers, click the Meet the Farmer links below:
---
A huge thanks to ALL participating farms, the Vermont Open Farm Week organizing team, and our generous sponsors for making the week a success.
Vermont Open Farm Week is a collaborative statewide agritourism project organized by members of the Vermont Farm to Plate Network including City Market, DigInVT.com, Shelburne Farms and Farm‐Based Education, NOFA‐VT, University of Vermont Extension, Vermont Agency of Agriculture, Food & Markets, Vermont Fresh Network and the Vermont Department of Tourism and Marketing.
DigInVT.com is an online agritourism platform, run by a partnership of local nonprofit organizations, and virtual home to Open Farm Week. Vermont Open Farm Week is made possible by the generous support of its Premiere Sponsor, City Market/Onion River Coop & Media Sponsor, Front Porch Forum.
Funding for Open Farm Week was made possible by the U.S. Department of Agriculture's (USDA) Agricultural Marketing Service through grant
AM190100XXXXG100 . Its contents are solely the responsibility of the authors and do not necessarily represent the official views of the USDA.