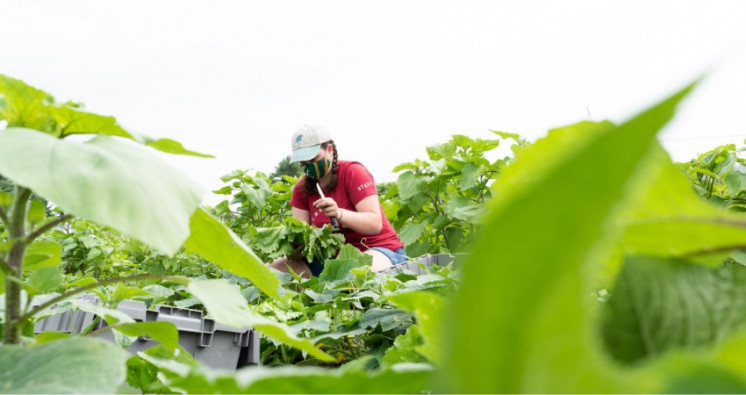 We have so many fun, unique, and educational events lined up for Open Farm Week 2020! In an effort to limit capacity, some of our participating farmers have asked visitors to pre-register for their events. Planning ahead is key to making sure you don't miss out. The offerings listed below have registration requirements, so check 'em out, make reservations, mark your calendars, and get excited!
---
NORTH
Ellison Estate Vineyard, Grand Isle
Visit Ellison Estate Vineyard for a guided tour of their 10 acre vineyard and 50 acre property! Guests will learn about Vermont wine as a growing industry and the cold-climate grapes that thrive in Vermont, and get to hang with the sheep at the end of the tour. Participants are welcome to meander in the vines and paths on the property and may also bring a picnic and enjoy the breathtaking views of Lake Champlain and mountains. Ellison Estate Vineyard is very family friendly - there will even be an art table for the kids - and the winegrowers are happy to talk about farming, grapes, winemaking, and wine. Ellison Estate is excited to welcome the community to their farm!
The Farm at VYCC, Richmond
Visit the Farm at VYCC (Vermont Youth Conservation Corps) for a guided farm tour including a look inside the historic West Monitor Barn, a walk along a mowed pathway featuring views of the production fields and the beautiful landscape, delicious fresh food and drink samples, and so much more. In addition to learning about the barn's history and VYCC as a whole, hear from the Farm Manager about the farm's production, get an overview of Health Care Share from the Community Health Program Manager and a partner from the University of Vermont, and listen to high school age workers themselves detailing their VYCC work experience. The tour will culminate with attendees helping to pack VYCC's nationally recognized and award winning weekly share! Most stops along the way will include a food and drink sample prepared by VYCC's in house food program team!
Philo Ridge Farm, Charlotte
Explore Philo Ridge Farm with a guided tour and learn about their regenerative agriculture practices, including rotational grazing, high rotation vegetable growing, and the importance of compost. Children and families are welcome.
Pomykala Farm, Grand Isle
Join the Healthy Roots Glean Team for their weekly glean in honor of Vermont Open Farm Week! The Glean Team rescues quality vegetables and fruits from farms and redistributes them to charitable food sites. On Tuesday, join in the fun at Pomykala Farm in Grand Isle! First, Farmer Ben will greet you with an introduction to Pomykala. Then, you'll be a part of the glean. After you help out with gathering all the extra veggies, be sure to purchase some from their self-serve farmstand to take home!
CENTRAL
Frog Hollow Farms, Hubbardton
Come take in the beauty of the Taconic Mountains, and this historic 210 year old farm built around 1810. Built by one of the Hubbard Family members, it is one of the original homesteads in what is now known as Hubbardton. The walk will take you through Frog Hollow's 45 acres of farm fields and pastures, sharing some of the history and what Farmers Jason and Janis are doing to restore the buildings and the land. See the sheep in the pasture, the chickens, and walk through the fields growing heirloom produce. The hike will take you to one of the best spots on the farm: the 100 year old orchard. Here you can take in the incredible views of the mountains and nearby Lake Bomoseen while you enjoy an optional picnic that can be purchased ahead of time and picked up prior to your hike. Picnic lunches will include everything you need for a lawn picnic, prepared by the Farm Manager and Executive Chef, just bring your own blanket.
Green's Sugarhouse, Poultney
Head out to Green's Sugarhouse in Poultney to see and experience the entire maple syrup making process with an experienced sugar maker as the tour guide! The tour will be both outdoors and indoors, so be sure to dress appropriately for the weather. Before you leave, stop by the sugarhouse store and get some pure Vermont maple goodies to take home.
Lightfoot Farm, Northfield Falls
Visit Lightfoot Farm for a FREE tour of the fruit, berry, and nut orchard, herb drying greenhouse, flower drying barn, and herb and flower beds. There will be time for those interested to tour the maple barn and the two acre maple operation. Farmer Carol will demonstrate how the herbs are harvested and dried. Be sure to dress appropriately for weather. Their delicious Taste of Summer iced tea and other refreshments will be available.
Root 5 Farm, Fairlee
Wear your walking shoes and head to Root 5 Farm for a FREE guided tour of their organic vegetable fields and greenhouses for Vermont Open Farm Week!
Vermont Grand View Farm, Washington
Join Kim and Chuck Goodling for a virtual tour of Gotland Island, Sweden, as they introduce you to the county of origin for their flock of Gotland sheep. You will learn about this amazing breed of sheep, the island's rich Viking history, the amazing regional landscape, and the many artists who call it home. Kim and Chuck have traveled to Gotland, Sweden several times to learn from the shepherds there about Gotland sheep. They also lead tours to Gotland for a full immersion into the Swedish agricultural life on the island.
Have you thought about starting your own sheep farm business? Do you already have a sheep farm and want to move from hobby farm to farm business? Join Kim Goodling, Shepherd, Teacher, and Consultant, for a virtual workshop on Starting Your Sheep Farm Business. Kim will cover three steps towards starting your farm business, setting goals, products to promotion, and identifying your ideal customer. Kim directs Vermont Farm School where she teaches and provides mentoring, business coaching, and consulting for other shepherds.
VT Grand View Farm in Washington will be hosting farm tours and wood-fired pizza on Sat, Aug 15 at 2pm and 4pm. Come meet the flock of Gotland sheep and learn about their amazing qualities and about raising sheep on a hillside farm. The tour will take you through fields, trails, and atop to the highest point for a grand view of the Green Mountains. Cameras welcome! We will end at the family garden and outdoor wood-fired pizza oven where you can purchase a pizza. Bring along a blanket to sit on and a beverage and enjoy eating a picnic on the lawn.
It's family felting fun time! Visit Grand View Farm to learn a new craft with the whole family in their airy farm studio! They will be teaching private beginning felting workshops to your family (2-4 people), on a first come, first served basis. You will learn some of the basic properties of wool and then each participant will complete either a small wet felted vessel/pouch or a needle felted mural. Afterwards, you can browse the farm store and say hi to the sheep!
SOUTH
Morse Brook Farm, Putney
Morse Brook Farm in Westminster will be hosting tours and hay wagon rides Mon - Wed and Sat - Sun of Vermont Open Farm Week. Take in one of the best views in Southern Vermont while learning about what a day in the life is like for Farmers Katrina, Liz, and Matt! Contact them directly ahead of time to let them know you're visiting by calling 802-518-2155 or emailing [email protected].
Farmers Liz and Al have owned sheep since 2009. They first had sheep and goats on a Massachusetts Audubon Society property near Boston, doing invasive species management, and then bought a farm in New Hampshire in 2012. Last year they combined forces with friends Katrina and Matt to establish Morse Brook Farm. They are new to Vermont, but love it here. Liz manages the sheep with Border Collies. For Vermont Open Farm week, Liz and her dog, Poe, will be doing herding demonstrations. Learn about these amazing dogs, their history, how they are trained, and how they make sheep management easier on the farm! Contact them directly to reserve a time by calling 802-518-2155 or emailing [email protected] at least a day in advance.
Participate in a socially distant outdoor goat yoga class at Morse Brook Farm during Vermont Open Farm week, weather permitting. This event will not be held if it's raining. Please contact Morse Brook Farm directly to register by calling 802-518-2155 or emailing [email protected]. If you can't make the class in person, stay tuned on their Facebook page. They'll be posting the video after the class! Rain Date: Sunday, August 16, weather permitting.
Retreat Farm, Brattleboro
Located on ancestral Abenaki lands, Retreat farm is a historic farm that originally provided food and therapeutic experiences in nature for patients at the nearby Brattleboro Retreat. You are invited to enjoy a guided tour featuring friendly farm animals on pasture, historic architecture, and gardens where Retreat is growing food to share with their community. Afterward, enjoy a picnic on the historic 19th-century Farmstead, walk the pollinator pathway to the Meadows waterfront trail, or discover something new while exploring many miles of relaxing trails.
Scott Farm Orchard, Dummerston
Eden Cider produces artisanal "harvest" ciders in Northern Vermont. Every year, Scott Farm Orchard grows and supplies Eden with the best heirloom apples to create their unique blends. For this virtual event, you will register with Eden Cider and pre-order a "tasting kit" (three 375ml bottles & a Scott Farm tasting glass). You will then join other people on Zoom for a guided tasting and discussion of three different artisanal hard ciders made by Eden with Scott Farm Orchard apples.
Funding for Open Farm Week was made possible by the U.S. Department of Agriculture's (USDA) Agricultural Marketing Service through grant
AM190100XXXXG100 . Its contents are solely the responsibility of the authors and do not necessarily represent the official views of the USDA.