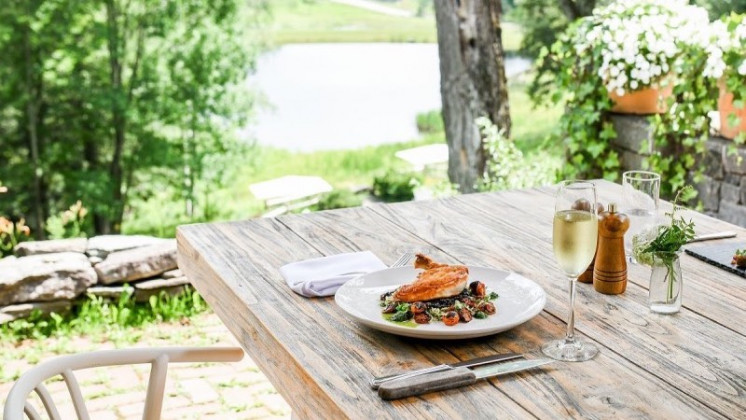 Summer is here! During the warmer months, Vermonters flock to the nearest eateries with outdoor seating. This year, this type of dining is even more popular (and important) due to the state's pandemic-related health and safety guidelines. Throughout the past few months, restaurants have had to be creative - shifting indoor dining to takeout models, exploring pick up and delivery options, and re-opening for dining at partial capacity. Now that we can safely venture out to our local restaurants, we've rounded up just a few of our favorite dining options! This is not an exhaustive list by any means. Be sure to check in with the locally owned restaurants in your area to see what the offerings are, order up your favorite dish, and continue to show your support.
Please visit the social media pages and websites of the restaurants below to ensure you have the most up to date information about hours, reservation requirements, etc.
---
Brattleboro
We are so excited to see that Dosa Kitchen was able to take advantage of Brattleboro's recently approved parklet program! In addition to takeout, Dosa Kitchen is now offering safe outdoor seating in the parking spaces in front of their restaurant on Elliot Street. Artists are also involved in the creation of the parklets, in hopes of making them about "beauty and whimsy." So head to Brattleboro and get your dosa fix!
Burlington
Hotel Vermont's new restaurant, Brick, opened at the end of May. This eatery has an outdoor kitchen and bar with courtyard dining. The menu focuses on pizzas, seasonal vegetables, burgers, and local beverages. We can't wait to try it!
Congratulations to Farmers & Foragers on their new permanent location for the summer - Burlington Harbor Marina, between the fishing pier and the Coast Guard building! They are also one of Vermont Fresh Network's few food truck members. Take in the views of Lake Champlain while enjoying local food and drink under a sailcloth tent. It doesn't get any better than that!
A Church Street classic, Sweetwaters has ample outdoor seating with umbrellas. Reservations are recommended but they always save a few tables for walk-ins. The patio is dog-friendly, too!
Manchester
The Copper Grouse is known for their comfortable outdoor dining areas. Sip a local beverage on the front porch or enjoy a full service dining experience on the patio. If they're all booked up, you can always order takeout! Don't miss the strawberry shortcake prepared with Vermont berries.
Middlebury
We love to see restaurants working together for creative solutions to pandemic-related business challenges! And that's exactly what happened here. Two Brothers Tavern and their sister establishment, Notte, have very limited room for outdoor seating on their side patio. In a community-minded gesture, their neighbors at Otter Creek Bakery offered the use of their patio for additional dining during dinner hours. Now, guests can dine on either patio or get the "best of both menus with one easy ordering process" for takeout and enjoy at home!
Many local businesses and community members came together to support Fire & Ice Restaurant as they constructed their new outdoor dining space! Guests can make reservations for the new inviting deck in advance - weather permitting, of course.
Norwich
The Norwich Inn has reopened with a focus on patio dining! On weekends, the full dinner menu will be available, while Monday through Thursday, they'll be serving up small snack-style plates. The Inn will also be partnering with Dan and Whits (located next door) to host some food trucks - more details coming soon!
Randolph
Black Krim now has five tables available for outdoor dining in front of the restaurant on Merchant's Row. Though not required, the Tavern asks guests to reserve their table or place their takeout orders a day in advance if possible, to help with planning and prepping. The menu changes weekly - that's how seasonal the ingredients are!
St. Albans
14th Star is a great dog-friendly option! They have created a spacious, shady beer garden in their parking lot. Guests can purchase 16oz cans of delicious local beer produced on-site and order food from Grazers, who will then deliver it to your table.
Stowe
Edson Hill is open again for both lodging and dining. Their covered patio is the perfect place to enjoy a summer meal. In addition to patio dining, guests may also choose to picnic on the secluded 38-acre grounds. More details coming soon!
Waitsfield
If you've never visited the original American Flatbread at the Lareau Farm in Waitsfield, now is the time! You can enjoy your pizza in the on-site pavilion, complete with a new summer bar and beautiful scenery. We're excited to see Alchemist Heady Topper, Zero Gravity Green State Lager, and Frost IPA on the current beer menu!
Waterbury
Check out Hen of the Wood's new patio at the Waterbury location! Have a delicious meal and take in beautiful views of the river. It'll be open on days with good weather, so call ahead to reserve!
Windsor
Enjoy a unique dinner at Windsor Station. They are offering "trackside" dining - meaning you'll dine right next to the railroad tracks. And if you're lucky, maybe you'll get to see (and hear) a train going by!
---
Cover photo: Luv Lens for Edson Hill