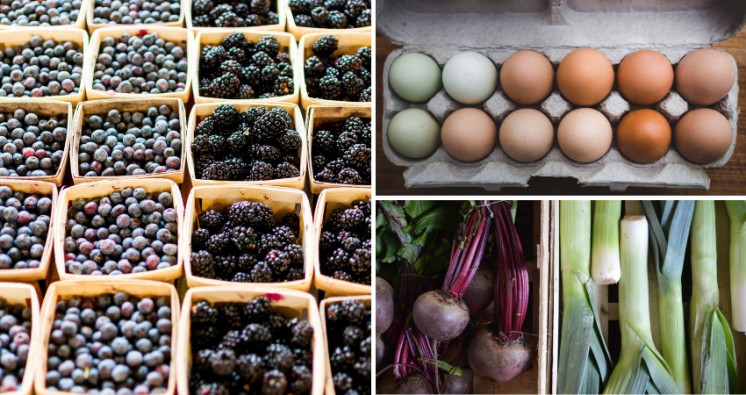 The weather is getting warmer, Vermont's lilacs are blooming, and everything is turning green. These are not just the signs of late spring, but the start of the outdoor farmers market season! Visiting a farmers market is a great way to explore a region, discover new foods, and bring home a basket of ingredients to inspire your next meal.
Here are some of the things you can expect to find on your next trip to the farmers market: fresh vegetables and fruits, pickles, jams, maple syrup, cheese, crafts made by Vermont artisans (think pottery, jewelry, soaps, fiber arts), spirits, prepared foods, and more! It's a great place to find gifts, too.
So whether you're a Vermonter or a visitor, you'll enjoy exploring all the great offerings from the Green Mountain State's farmers and makers at a nearby farmers market!
Prepare before you visit...
Know the health & safety protocols
Farmers markets are currently operating under Vermont's Universal Guidance. Check out a summary below:
Stay home if sick.
Ensure six-foot spaces and uncrowded places.
Practice good hygiene.
Think before you travel.
For the full Universal Guidance, please click here.
Please keep in mind that this Universal Guidance serves as a baseline, so individual farmers markets are free to take additional safety precautions.
Chat with a farmer or two
This is one of the best parts of visiting a farmers market! Don't be afraid to ask questions - vendors are happy to share the stories behind their products - their favorite ways to use the vegetable you may not be super familiar with, the cider that pairs best with their cheese, which of their tomato varieties are best for making salsa...it's a great opportunity to learn and taste something new!
Find out what else is happening in the area
Our DigInVT events calendar is ramping up for the summer! Check it out and coordinate your farmers market trip with a fun food and farm related event. You can also follow one of the Trails on our site, or make your own! It will even populate a Google Map for easy navigating. There are so many things to do.
On each DigInVT farmers market profile, scroll down and see the nearby places, because you may just find something else you won't want to miss. For example, if you're visiting the Waitsfield Farmers Market, you will also want to check out the nearby Mad River Taste Place.
Bring a cooler & a basket or reusable bags
Be ready for an adventure! No matter which farmers market you decide to visit, don't forget to bring a cooler with ice packs. Even if you don't think you'll need it, you never know when you'll find the perfect cheese! And you won't want to cut your day trip short to get all that delicious local food into your fridge.
Enjoy hands-free shopping by bringing a basket or reusable bags for your purchases.
Check to see which forms of payment are accepted
These days, most farmers markets accept debit/credit cards, Farm to Family, Crop Cash, and EBT/SNAP. But it's always best to check so there are no surprises. Almost all of the farmers market profiles linked below include this information. As always, we recommend checking the farmers market's website or social media for the most recent information prior to visiting.
---
Find one by county and enjoy the bounty Vermont's warmer months have to offer. Reminder - please be sure to check the farmers market's web and social media pages prior to visiting for the most up-to-date information.
Addison
Middlebury Farmers Market - Wednesday, 9:00am - 12:30pm (June 16 - October 13); Saturday, 9:00am - 12:30pm (May 1 - October 30)
Vergennes Farmers Market - Thursday, 3:00pm - 6:00pm (June 17 - October 7)
Bennington
Arlington Village Farmers Market - Friday, 4:00pm - 7:00pm (June 18 - Sept 17)
Bennington Farmers Market - Saturday, 10:00am - 1:00pm (May 1 - October 30)
Dorset Farmers Markets - Sunday, 10:00am - 2:00pm (May 9 - October 10)
Manchester Farmers Market - Thursday, 3:00pm - 6:00pm (May 27 - October 7)
Caledonia
Danville Farmers Market - Wednesday, 9:00am - 1:00pm (June 9 - October 6)
Hardwick Area Farmers Market - Friday, 3:00pm - 6:00pm (May 21 - October 8)
Lyndon Farmers Market - Friday, 3:00pm - 6:00pm (June 4 - October 8)
Peacham Farmers Market - Sunday, 12:00pm - 3:00pm (June 6 - August 29)
St. Johnsbury Farmers Market - Saturday, 9:00am - 1:00pm (May 8 - October 30)
Chittenden
Burlington Farmers Market - Saturday, 9:00am - 2:00pm (May 8 - October 20)
Jericho Farmers Market - Thursday, 3:00pm - 6:30pm (May 27 - October 7)
Old North End Farmers Market (Burlington) - Tuesday, 3:00pm - 6:30pm (June 22 - October 26)
Richmond Farmers Market - Friday, 3:00pm - 7:00pm (May 28 - October 15)
Shelburne Farmers Market - Saturday, 9:00am - 1:00pm (May 29 - October 9)
Winooski Farmers Market - Sunday, 10:00am - 2:00pm (June 6 - October 3)
Franklin
Fairfax Farmers Market - Friday, 4:00pm - 7:00pm (June 11 - September 24)
Montgomery Farmers Market - Saturday, 9:00am - 1:00pm (June 26 - October 2)
Northwest Farmers Market (St. Albans) - Saturday, 9:00am - 2:00pm (May 15 - October 30)
St. Albans Bay Farmers Market - Thursday, 4:30pm - 7:30pm (May 27 - September 16)
Grand Isle
Champlain Islands Farmers Market (Grand Isle) - Saturday, 10:00am - 2:00pm (May 22 - October 30)
Champlain Islands Farmers Market (South Hero) - Wednesday, 3:00pm - 6:00pm (May 26 - September 15)
Lamoille
Morrisville Farmers Market - Saturday, 9:00am - 1:00pm (May 22 - October 9)
Stowe Farmers Market - Sunday, 10:30am - 3:00pm (May 16 - October 10)
Orange
Chelsea Farmers Market - Friday, 3:00pm - 6:00pm (May 21 - September 24)
Randolph Farmers Market - Saturday, 9:00 am - 1:00 pm (May 29 - October 2)
Orleans
Craftsbury Farmers Market - Saturday, 10:00am - 1:00pm (May 22 - September 25)
Glover Farmers Market - Sunday, 11:00am - 2:00pm (June 13 - October 3)
Newport Farmers Market - Wednesday, 9:00am - 2:00pm (June 2 - October 13); Saturday, 9:00am - 2:00pm (May 15 - October 16)
Rutland
Brandon Farmers Market - Friday, 9:00am - 2:00pm (June 4 - October 8)
Fair Haven Farmers Market - Thursday, 3:00pm - 6:00pm (May 20 - October 28)
Killington Farmers Market - Friday, 3:00pm - 6:00pm (July 2 - October 8)
Rutland County Farmers Market - Wednesday, 3:00pm - 6:00pm (May 12 - October 27); Saturday, 9:00am - 2:00pm (May 8 - October 30)
Vermont Farmers Market - Wednesday, 1:00pm - 5:00pm (May 19 - October 30); Saturday, 9:00am - 2:00pm (May 8 - October 30)
Washington
Barre Farmers Market - Wednesday, 3:30pm - 6:30pm (June 2 - August 28)
Capital City Farmers Market (Montpelier) - Saturday, 9:00am - 1:00pm (May 1 - October 30)
Northfield Farmers Market - Tuesday, 3:00pm - 6:00pm (May 18 - October 12)
Waitsfield Farmers Market - Saturday, 9:00am - 1:00pm (May 15 - October 16)
Waterbury Farmers Market - Saturday, 9:00am - 1:00pm (May 15 - October 16)
Windham
Greater Falls Farmers Market (Bellows Falls) - Friday, 4:00pm - 7:00pm (June 18 - September 24)
Brattleboro Area Farmers Market - Saturday, 9:00am - 2:00pm (May 1 - October 30)
West River Farmers Market (Londonderry) - Saturday, 9:00am - 1:00pm (May 29 - October 9)
Putney Farmers Market - Sunday, 11:00am - 2:00pm (May 30 - October 31)
Townshend Farmers Market - Friday, 4:30pm - 6:30pm (May 28 - October 8)
Windsor
Hartland Farmers Market - Friday, 4:00pm - 7:00pm (May 7 - September 24)
Mt. Tom Farmers Market - Saturday, 10:00am - 2:00pm (May 22 - October 16)
Norwich Farmers Market - Saturday, 9:00am - 1:00pm (May 1 - October 30)
Rochester Farmers Market & Exchange - Friday; 3:00pm - 6:00pm (June 4 - October 15)
Royalton Farmers Market - Thursday, 3:00pm - 6:00pm (May 27 - September 9)
Woodstock Market on the Green - Wednesday, 3:00pm - 6:00pm (June 2 - October 13)