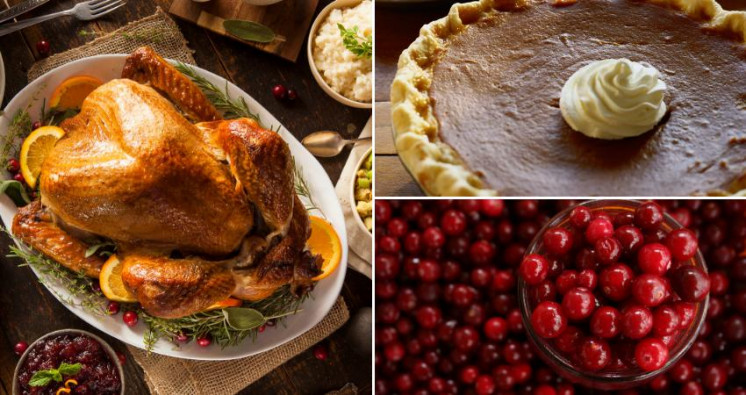 At DigInVT, we like to eat and drink local. As you're planning your Thanksgiving and holiday menu, don't forget to pair it with a local beverage. Our Vermont cidermakers and winemakers produce the perfect beverages for a holiday feast.
Below are a few of their recommendations for making your meal unforgettable.
---
Eden Ciders is a boutique winery in the heart of the Northeast Kingdom. The folks at Eden focus on artisanal beverages that reflect the heritage and climate of this beautiful region. Eden's Retail Director, Adam Goddu, paired Eden ciders with each course.
Welcome cider/cheese course - "Eden Ciders Brut Nature is a bone-dry, Champagne method cider that spends over a year on the lees creating a nuanced mouthfeel that's the perfect welcome for your guests and a delightful pairing with any creamy, brie-like cheese."
Entree/Main - "Eden Ciders Guinevere's Pearls - part of Eden's Cellar Series (limited production, specialty releases), is an off-dry cider made from 100% Northern Spy apples. Balanced acidity and residual sugar provide great structure for a cider that's made for roast meats. It will knock it out of the park whether you're doing a traditional turkey or ham, game meats...anything!"
Dessert - "Windfall Orchard Ice Cider - this blend of over 30 varieties of apples comes from Brad Koehler's incredible collection of heirloom and cider apples in Cornwall, VT. Enjoy it with any assortment of Thanksgiving pies, an after dinner cheese board, or drizzle on some local ice cream!"
Visitors can sample Citizen Cider's seasonal limited releases, along with the flagship ciders, at their tasting room on Pine Street.  
"Of course AmeriCran is the perfect combination with your Thanksgiving meal. Made with cranberries from Vermont Cranberry Company in Fletcher, VT. Super dry and extra tart, it pairs well with any dish at the Thanksgiving table - a nice balance from the savory dishes and a refreshing cider to add to any meal!" 
The team at Stowe Cider is always developing unique recipes that you won't find anywhere else. Ciders range from dry and preservative-free to others containing local fruits, and hops, as well as unique barrel-aged offerings. Tuned Up is a cider you can enjoy at any point in the meal. As you can see the folks at Stowe Cider pair it with cranberry topped cheesecake. 
"Tuned Up is a dry, hazy cider made with cranberry and orange, coming in at 5.5% ABV. Fruit aromas fill the nose and upon first sip, a mild tartness tightens taste buds before the subtly sweet and complementary flavors of apple and orange hit."
Located in a restored 1875 carriage barn on the picturesque 5th generation Boyden Farm, the folks at Boyden Valley Winery and Spirits craft a variety of award-winning wines, ciders, and spirits that support sustainable agriculture and local farms. They offer a variety of experiences including tastings and free tours of the production facility.
"Crafted with locally grown cranberries from the Vermont Cranberry Company, the Boyden Valley Winery Cranberry Wine makes the perfect pairing with turkey for the Thanksgiving table! Try it with some lime seltzer or champagne for a fun spritzer that pairs great with cheese for a appetizer or after dinner digestif."
"Glögg is a red wine mulled with cinnamon, clove, cardamom, and orange peel – simply heat it up and serve it hot! Based on a traditional Swedish recipe, the Boyden Valley Winery Glogg is the perfect warm beverage to enjoy around a fireplace after a heavy Thanksgiving meal or pair it with your favorite Thanksgiving pie for dessert."
Maquam is a small Vermont family-owned winery producing limited-production non-grape fruit wines. You can find their wines at retail locations around the state.
"Maquam's Blueberry and Vermont Maple Syrup wine is tart with a smooth maple syrup finish that pairs nicely with appetizers, including baked brie with fruit, bacon appetizers, and fried ravioli. Maquam's Pear wine is a light easy-going white that pairs wonderfully with Thanksgiving dinner and Maquam's Apricot dessert wine complements desserts such as pecan pie, cheesecake, and is excellent drizzled over ice cream."
Formerly a dairy farm, a sheep farm, and a vacation home, Montview is now a vineyard and winery. Montview Vineyard broke ground in 2008 and the farmers, Olivia and David Tillman, originally sold grapes to other wineries while they perfected their winemaking skills. In 2018, they became fully licensed and officially opened to the public. 
Olivia Tillman says.... "For Thanksgiving we think you should greet your guests with our Pas De Duex which has a unique orange glow, just right for the season. This wine is the winner of a silver medal and "Best Vermont Wine" at the Big E Wine Competition held annually in Springfield, Massachusetts. Pas De Duex is a dry, crisp, fruity wine which is a blend of Frontenac Gris and Prairie Star cold hardy grapes."
Main Course: "Our Prairie Star is what we recommend to serve with your main course of traditional turkey.  Prairie Star is a very light white so to add some interest we aged it in oak barrels for 3 months. As a result of the aging process, we have a lovely light, dry white wine with a hint of oak that will compliment your Thanksgiving feast."
Dessert: "We recommend a wine that has been served over ice as a sangria at our summer dinner and at room temperature as an after-dinner wine. Our Vermont Sangria is a blend of our Marquette wine and Vermont maple syrup. The two ingredients compliment each other producing two unique drinks depending on the temperature. We served the Sangria at room temperature with a flourless chocolate torte covered in a raspberry sauce at our October dinner to rave reviews."
These are just a few of the great locally produced beverages that we have in Vermont. We recommend visiting the many cideries, breweries and wineries in the state to find your favorite.