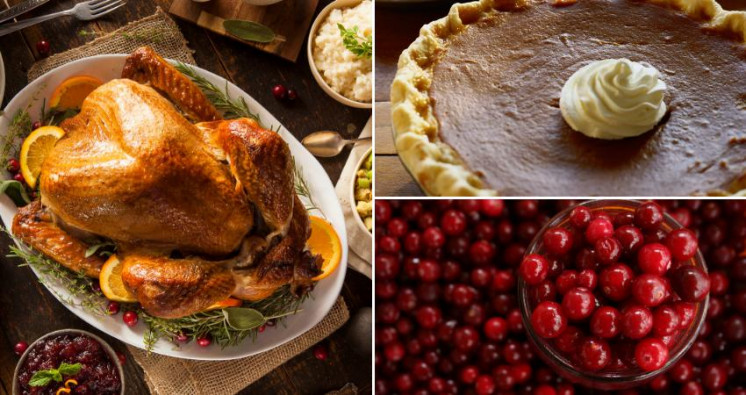 We firmly believe in the saying what grows together goes together. As you're planning your Thanksgiving and holiday menu using locally grown ingredients, don't forget to pair it with a beverage locally produced in Vermont . Our cidermakers and winemakers produce the perfect beverages for a holiday feast. We went to the experts to get their take on the perfect pairings for the flavors of the season.
Below are a few of their recommendations for making your meal unforgettable.
---
Eden Ciders is a boutique winery in the heart of the Northeast Kingdom. The folks at Eden focus on artisanal beverages that reflect the heritage and climate of this beautiful region. Eden's Retail Director, , paired Eden ciders with each course.
In 2023 Shelburne Vineyards and Iapetus wines merged with Vermont cider company Eden Specialty Ciders. Together, they champion Vermont wine and ciders through dedication to terrior Together they pave the way for new co-fermentations and learning new ways to interact with our land using low intervention, sustainable agricultural practices. Riley Duffie of the Eden and Shelburne team shares pairings with a few menu items
Welcome appetizer course
Oysters on the half shell
"Franklin Pet Nat Bubbly fruitiness paired with delicate funk is the perfect pairing with briney oysters!"
Sides
Roasted Butternut Squash and pecans Iapetus Figure 2 Pet Nat - bubbles and acidity balance the richness of roasted squash--fruity top notes dance against a nutty backbone, picking up the pecan notes.
Wild Mushroom Risotto Shelburne Vineyard Louise mineral driven and clean, a great contrast to earthy and creamy mushroom risotto.
Dessert
Pumpkin cheesecake Eden Ciders, Barrel Aged Northern Spy Ice Cider - silky, chardonnay barrel aged Northern spy ice cider is the perfect decadent accompaniment to fall baking spice paired with the creamy richness of a pumpkin cheesecake.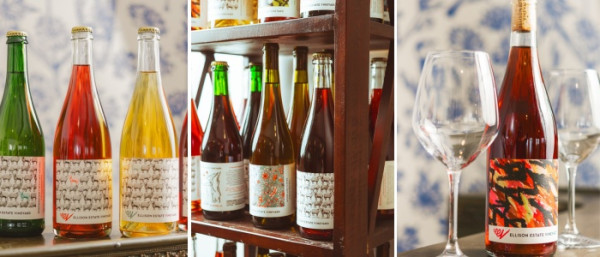 Ellison Estate Vineyard is a regenerative farm in the Lake Champlain Islands. Kendra & Rob Knapik and their small team, including a flock of sheep that help them tend to the land, craft dry, Old-World style natural wines. When you taste these wines for the first time, you will realize the future is bright for Vermont wine. Winemaker Kendra Knapik shares her pics for your next special meal.
Welcome Appetizers
About half of Ellison Estate's production consists of sparkling wines, and they recommend starting off the feast with some light festive bubbles. Regeneration 1, a pétillant naturel of Louise Swenson, will prime your palate and no doubt compliment any appetizer spread. This light bodied bubbly is delicate, but textural with hints of fresh pineapple. If you prefer pink bubbles, you can't go wrong with Regeneration 2, also a pétillant naturel of primarily Louise Swenson, but with a little Marquette blended in. Think strawberry & brown sugar, candied cherry, and dried pineapple.
Main Dish
Zora George, 100% St. Croix rosé, has been a staple Thanksgiving pairing for EEV for years now. This deeply hued rosé with vibrant cherry fruit and racy acidity provides perfect balance for the richness of a Thanksgiving meal and all that butter! If you are looking for some red festive bubbles, (think dry lambrusco), Regeneration 5, pétillant naturel of 100% Marquette, is always a hit on the Holiday table as well.
Dessert
Renewal M, a deeply hued rosé pétillant naturel of 100% Marquette, provides the perfect ending and pairing to all that pie or an elegant after dinner cheese board. For those white wine lovers out there, don't forget Asters & Clover, 50% La Crescent & 50% Louise Swenson, a wine that could elevate any course with its balanced acidity, beautiful aromatics and lingering mouthfeel.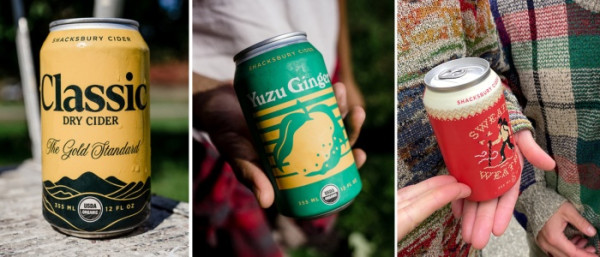 Shacksbury is a cidery located in the Champlain Valley of Vermont, a place defined by community and an outdoor active lifestyle. Vermonters thrive on nature. Shacksbury is no exception. They make complex ciders that are always pushing forward, while never straying far from that natural beauty their home state is known for.
Welcome Appetizers
Start the meal off right with the bright notes of Yuzu Ginger - Fresh and zesty with notes of wild honey.
Main
Classic - The gold standard for a New England dry cider. Dry but balanced, fruit-forward with a crisp finish.
Dessert
Sweater Weather - Cozy 8% barrel aged cider with warming fall spices.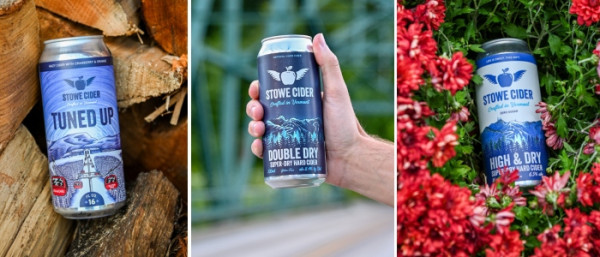 The team at Stowe Cider is always developing unique recipes that you won't find anywhere else. Ciders range from dry and preservative-free to others containing local fruits, and hops, as well as unique barrel-aged offerings. General Manager Brianna Wilson shares a few ciders that would be welcome at everyone's table.
Welcome appetizer
High & Dry: Our classic super dry cider; light & bubbly. No sugar. Just apples.
Sides Cranberry Sauce
"Tuned Up is a dry, hazy cider made with cranberry and orange, coming in at 5.5% ABV. Fruit aromas fill the nose and upon first sip, a mild tartness tightens taste buds before the subtly sweet and complementary flavors of apple and orange hit."
Dessert
Topping it off with our Double Dry cider - the nightcap you didn't know you needed.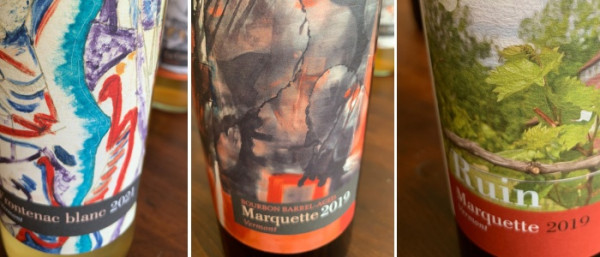 Isle La Motte Winery is a small vineyard, just under two acres located on a lovely area of Isle La Motte, Vermont. Winemakers Jamie and Steven Foley with their dogs Flash and Ketch predominantly grow Marquette grapes and LaCrescent cold hardy varietal grapes with Frontenac, Frontenac Blanc, and Louise Swenson varieties mixed in for complexity. Their releases this season will include a Marquette, a white blend, a rosé, and a bourbon barrel-aged Marquette.
Jamie Foley says...
Our Frontenac blanc, as an appetizer wine, tastes of grapefruit with subtle notes of pineapple and loam, finishing with hints of vanilla. This wine would pair well with sharp cheeses, apple, nuts and prosciutto. Our full bodied and robust bourbon barrel-aged Marquette is packed with black current and cherry flavors with a dry, smoky finish. This wine would pair well with a pecan pie or chocolate cake. Of course, our stand-alone Marquette red, medium-bodied and dry would pair well with any main course. A mix of spice and cherry, it finishes with a bit of sweetness. We've since sold out of our 2019 shown here, but we do have our 2020 release available.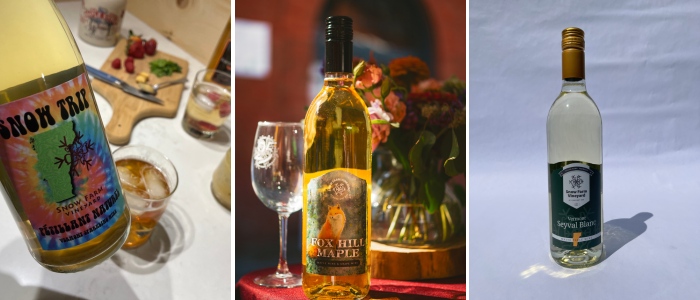 Snow Farm Vineyard is Vermont's first commercial vineyard & winery producing craft wines from the heart of the Champlain Islands since 1997. The microclimate of the Champlain Islands, permits the growth of cooler climate, vinifera grapes like Riesling. In addition to cold hardy french hybrid varieties like, Vidal Blanc, Seyval Blanc, Leon Millot and Baco Noir.
Fox Hill Maple wine. Dessert. Pair with desserts like pecan pie,pineapple upside-down cake, or apple crisp. Nice hints of caramel and Butterscotch. Smooth hints of maple that doesn't overpower the wine but
gives it a distinct maple characteristic.

Seyval Blanc wine. One of our most popular wines and a favorite of our head winemaker. Dry, nicely balanced, light, yet fruity. Can be compared to a zesty Sauvignon Blanc wine. A refreshing crispness that appeals to wine drinkers looking to pair with thanksgiving dishes. Pairs well with moist white turkey meat, cranberry and scalloped potatoes. Sip a chilled glass to enjoy the fruit aromas and the melon and lime flavors.

Snow Trip Pet Nat wine. Snow Farm's Pétillant Naturel, or Pet Nat, is made with our Seyval Blanc grapes and is made naturally by bottling before complete fermentation. It is unfiltered and the natural yeast sediment can be shaken into the wine and consumed, or the wine can be poured off the sediment. Crisp apple and pear flavors. Pairs well with appetizers like soft cheeses or shellfish, but a Pétillant Naturel can also pair with a full meal and will make great cocktails.

Snow Farm Distillery Gin. Appetizer hour right through dinner. The base alcohol for this gin is made onsite with our very own grapes and with Juniper berries that grow wild on Snow Farm land. Smooth and easy to drink, enjoy on its own or in your favorite cocktails. Try it in a cranberry gin fizz!
"Snow Drop Gin" Cranberry Gin Fizz
Single serving



Ingredients:
6 oz cranberry juice
3 oz. Snow Farm Distillery gin
2 oz. simple syrup
Seltzer water to top off

Directions

In a shaker half-filled with ice cubes, add cranberry juice, gin, simple
syrup, and shake. Pour into a rocks glass over ice and top off with
seltzer water.
These are just a few of the great locally produced beverages that we have in Vermont. We recommend visiting the many cideries, breweries and wineries in the state to find your favorite.