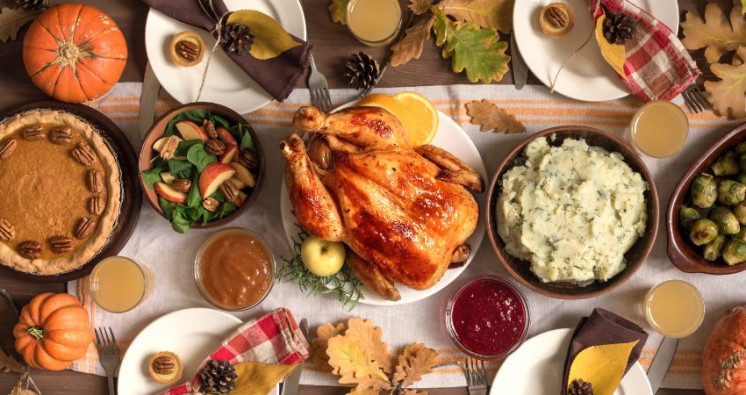 Thanksgiving is just around the corner and we all have a lot of planning to do. Whether you are hosting the big meal or you're visiting someone else as a guest, gatherings can be challenging for guests as well as hosts who have food allergies and/or dietary restrictions. We want everyone to enjoy a wonderful locally grown meal, so we spoke with an expert about planning a holiday menu for a range of dietary needs.
Vermont Fresh Network member Silvio Mazzella and the team at the Gold Barn-award winning Jules on the Green restaurant in Essex, believes everyone deserves to eat according to their personal preferences. The restaurant has won regional and national awards for their food allergy innovation, and for their use of local ingredients in the menu. Whether someone avoids a certain food or ingredient out of preference or necessity, Jules on the Green's kitchen us allergy-aware and 100% peanut and tree nut free. Their flexible menu allows customers to request accommodations to their order to meet their dietary preferences and requirements.
Silvio shared some of his kitchen's tips with us, for hosts and guests with allergies and/or dietary restrictions as they plan for Thanksgiving.
Do not panic.
Silvio: "This is becoming more and more the norm. You can have a wonderful tasty traditional thanksgiving dinners with accommodations for guests. The holidays is just one of those times when we can help people. We have worked to make our restaurant friendly to all sorts of diets. This is just who we are. While there can be complexity to cooking for guests who have a food intolerance or allergy, the first step is not to worry. You need to understand what the restrictions are and not be intimidated by them. You can work around them. If it is one type of food vs. two types of food, which can offer complexities."
90% of food allergies are from the following list:
Milk
Eggs
Fish
Shellfish
Tree nuts
Peanuts
Wheat
Soy
Sesame
"Mainly people hear about gluten and tree nut allergies and one of the most challenging allergies is soy," Silvio said. "I don't know how many people understand how many ingredients are derivatives of soy. You can stay farm fresh and you make a nice hardy stock. Use it to Brine and baste your turkey….Use spices and herbs safe for your guests and thickeners safe for the gravy. For example tapioca, rice flour and xatham gum."
It's important to be aware of the ingredients in any store bought items. Although it can be convenient to purchase chicken or turkey stock for your menu to use in stuffing, gravy and turkey basting, many commercially produced stocks include gluten and soy.
*Pro Tip: Make your own stock using fresh vegetables and poultry a week prior. It freezes well, so you'll have it on hand when you need it.
Choose sides that are easily adaptable
"You have someone who loves green beans, but your usual recipe may use almonds and butter (tree nuts and dairy)," Silvio said. "It is easy to make a serving that is sauteed in olive oil use olive oil and fresh herbs."
There are many different types of allergies related to the Nightshade family (which includes tomatoes and eggplant). If you have a traditional side dish that includes tomatoes or eggplant, be sure that your guests are aware of the ingredients. If you are a baker, consider purchasing a gluten free pie crust for one of your pies and using tapioca as fruit pie thickener. Another option is to ask guests bring their favorite dessert that aligns with their dietary restrictions.
*Pro Tip: Cook the same dish in separate pans trading out the ingredient that your guest is sensitive or allergic to.
Don't sleep on beverages.
Are you planning a special cocktail for the day? Not all alcohol is safe for allergies. Some vodka is made with wheat and some gins contain almonds. As long as you understand what the restrictions are, you can adapt.
*Pro Tip: Ask your guests to BYOB, and/or bring beverages to share with other guests. This can be a fun way to explore beverages you may not have tried before.
It is ok to order out.
Many businesses in Vermont include menu options that are specific to certain dietary needs. Jules on the Green offers many options for Thanksgiving dinner depending on your menu preferences and dietary restrictions.