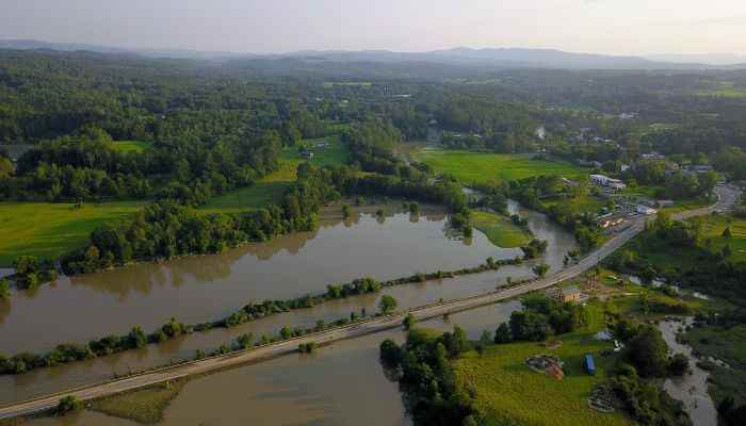 The damage from this week's floods has been devastating to businesses, farms, and communities all around the state. Despite the seemingly continuous news of damage all across Vermont, it has been moving to experience the outpouring of support towards those connected to Vermont's food system and immediate community.
We wanted to shine a light on some of the ways individuals and businesses are supporting their communities during these challenging times. And, in turn, share some ways that you can support the restaurants and farms who are giving so much to their communities.
Note that this list is not exhaustive. We're fortunate to live in a state where so many people and businesses have rallied to support those who were most impacted. We can't include them all in a single blog post! This list is simply a compilation of some of the things we've seen happening through our Network. That said, if there's anyone you think we should add to the list, whether for recognition or support, email [email protected].
This post was published on Monday, July 17th, but will be updated as new information presents itself.
Support efforts in the community:
Sweet Relief Fundraiser
Pastry chefs from across Vermont have come together to put on the Sweet Relief Fundraiser Box series. These boxes feature random assortments of pastries lovingly made and donated by some of our favorite pastry programs in the state. All proceeds will be donated to the NOFA-VT Farmer Emergency Fund. Featured chefs and makers include Amanda Wildermuth of Honey Road, Haute and Heady, Sarah Howley of Only Cannoli, Laura Schantz of Hen of the Wood, Eric Hodet of Adventure Dinner, and many more.
On Monday, July 17th, Barr Hill and Lawson's Finest are partnering up to raise funds for flood relief efforts. From 4:00pm - 8:00pm, enjoy cocktails, beer and bar snack specials with members of the community. $5 from every Lawson's Finest beer, $5 from every Montpelier Mule, and $10 from every Bee's Knees to-go with be donated to flood relief efforts.
Prohibition Pig restaurant and brewery in Waterbury served lunch to volunteers helping with cleanup efforts around town earlier this week. Despite suffering devastating losses in their own space, they've continued to selflessly support other businesses and individuals in their community. Hen of the Wood Waterbury, also owned by Pro Pig owner Eric Warnstedt, is also donating 10% of Friday night's sales to the Waterbury Food Shelf.
Stowe Street Cafe started the week by offering free coffee and kindness to anyone who could safely come to their space. They've since offered their Airbnb for free as safe housing for displaced Waterbury residents, and organized funds to support the Waterbury Food Shelf and their own "pay it forward" meal program. Venmo @stowestreetcafe to support the fund.
The Woodstock Inn & Resort remains indefinitely closed, due to damage to the town's water system. However, Chef Matthew McClure is hosting a series of prix fixe popup dinners over the weekend (July 14-16) at Saskadena Six ski area to support the Woodstock community. They'll also be making a generous donation to VFN, to support our work as we help farmers and restaurants access the resources they need.
Foam Brewers launched a new beer called Strange Weather, in anticipation of the storm hitting Vermont on Monday. Once the full impact of the storm became clear, they made the decision to donate $1 from every beer sold this week to the Vermont Flood Response and Recovery Fund and NOFA-VT's emergency farm fund.
Brownsville Butcher and Pantry had prepared food to cater the Vermont 100, a race that ended up being canceled. They opted to donate all the food they prepared for the event to individuals facing food insecurity during this time of need, and worked with a variety of aid groups in the area to distribute good, healthy food to those in need. They're also managing their own community fund, to allow them to provide direct support to anyone in need.
MKT: Grafton canceled their Friday and Saturday night dinner service, in order to focus their time and resources on helping others who were impacted by the flood. They've started a fund to support staff and family who were displaced from the neighboring town of Cavendish, and plan to host a popup dinner fundraiser soon.
Kayla from Salt & Bubbles in Essex is working with other businesses in the Essex Experience to organize a clothing drive, as well as a fundraising event on July 19. Visit the Essex Experience on Wednesday evening for a silent auction and raffles from several local businesses to raise funds for flood relief.
Black Flannel is donating $1 from every pour of their Disco Montage IPA to the Vermont Emergency Relief & Assistance fund. They're also joining Salt & Bubbles and several other businesses in the Essex Experience for Trucks Taps & Tunes, and will have a tasting booth where a percentage of the proceeds will be donated to flood relief.
Wolfpeach
Though not a restaurant, Wolf Peach's products are a favorite among Vermont's bartenders and chefs alike. Wolf Peach is partnering with Juniper at Hotel Vermont to do a special sale onsite, during which 100% of their profits will be donated to NOFA-VT's farmer emergency fund. (P.S. - Wolf Peach will be sampling their Nectar of the Gods and Mermaid Dust at VFN's Annual Forum Dinner on August 6! Please consider attending to support VFN, as we work to strengthen Vermont's food system and help farms and restaurants access resources they need.)
Restaurants in need of support:
Pearl Street Pizza in Barre suffered $20,000+ of damage due to flooding. Their prep kitchen in the basement was home to vital equipment, dry goods, and food storage, the vast majority of which was lost. Donations to their fund will directly contribute to bringing their staff back to work, and getting their dough operations back underway. In the meantime, Pearl Street Pizza remains open for takeout pizza, pasta, and cocktails.
Mojo Cafe in Ludlow ended up under 4 feet of water, and is closed indefinitely while they assess the damage and make repairs. They do not currently have a fund set up for repairs, but gift cards can be purchased on their website.
Prohibition Pig is among the Vermont restaurants who were hit hard by recent flooding. In an effort to keep their staff employed, their business family intact, and the cleanup efforts going: this GoFundMe has been started to direct funds directly to the people keeping their endeavors going during the path to recovery.
This Montpelier fixture was hit hard during the recent flood that ran through the Vermont state capital. In order to support their dedicated staff, who function like family, the owners of Three Penny Taproom have started a GoFundMe to ensure that their staff are monetarily support during their flood recovery efforts.
Farms in need of support:
The Intervale Center
The wonderful community hub and center for many locally loved farms flooded almost entirely, and many farmers suffered a 100% crop loss. You can donate to The Intervale to support their farmers.
Pitchfork Farm
One hundred percent of Pitchfork Farm's 22 acres was underwater for an extended period of time during the floods, and as a result, they lost the entirety of their crop. They've set up a fund to source donations and support from the public. Donate here.
Diggers Mirth Collective Farm
Diggers Mirth suffered total crop loss and damage to much of their equipment. With the possibility of replanting remaining unclear, The Diggers could use support through the effort of their GoFundMe to keep their dedicated team afloat.
June Farm
June Farm suffered 100% crop loss in the devastating hours between Monday and Tuesday's flooding events. This fundraiser has the capacity to soften some of the devastation of recent as business owners and employers and more importantly, good people and good friends.
New Farms for New Americans
This farming endeavor is community-based gardening and agriculture program for refugees and immigrants in Vermont. The tremendous efforts of these affiliated farmers have been lost following the recent flooding events. Please consider donating to this effort for the needs of its farmers and the community offered by New Farms.
Additionally, NOFA-VT has set up an emergency fund for Vermont farms. Donate here.
Other things you can do to help support your community in the aftermath of the flood:
Share links to fundraiser events and crowd-funded campaigns on social media.
Purchase gift cards for impacted restaurants.
Visit and eat at restaurants in your community that remain open.
Shop at your local farmers markets and farm stands.
Fill out NOFA-VT's volunteer form, to help a farm in your area if they have a need.
Photo credit David Warshow @dwarshow on Instagram