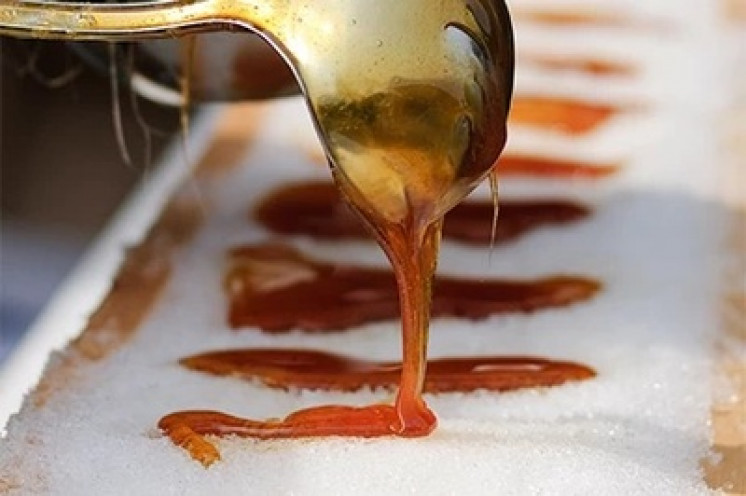 Vermonters are lucky to have local maple on tap year-round (no retailer or restaurant would be caught dead with anything less than real Vermont maple syrup), but once a year we go maple-crazy. During Maple Open House Weekend, March 24th and 25th, sugarhouses all over the state open their doors for visitors to see the sap boil in action and try the sweet treat.
Activities run through the weeks before and after while the season in full swing. We've got 10 ways to help maximize your maple experience.
1 - Pancakes, duh
Sure, there's bread and butter or peanut butter and jelly but they cower in the shadow of pancakes and maple syrup. Have you ever had pancakes with fresh maple syrup at the sugar house? Try Georgia Mountain Maples in Milton, Merck Forest and Farmland Center in Rupert, or Smith Maple Crest Farm in Shrewsbury for an authentic pancake breakfast.
2 - Have a tiny adventure
Most maple events by nature are kid-friendly, but the Audubon Center in Huntington is offering a mini journey from sap to syrup just for preschoolers.
3 - Learn the history
Sugaring is a time-honored tradition and the experts with the Middletown Historical Society can tell you all about it at their 30th Annual Maple Festival. They'll even be demonstrating early maple sugarmaking in a cast iron kettle over an open fire!
4 - Add cheese!
Different tastes from the same place usually pair perfectly. This is definitely true of maple and cheese. Try it for yourself at Sugarbush Maple and Cheese Farm in Woodstock or Boston Post Dairy in Enosburg.
5 - How about beer (and ice cream) or cider!?
Switchback Ale is celebrating Maple Open House Weekend with maple ice cream floats! Enjoy a scoop of creamy vanilla Lake Champlain Chocolates ice cream in Switchback Ale with maple syrup drizzle on top. Cream soda versions available too. Just down the street, stop into Citizen Cider for a special release of Tree Tapper with Runamok Maple!
6 - Run for it
Rock Point School in Burlington is hosting a 5k through the sugarbush topped off with a maple brunch that's sure to motivate your race! All proceeds benefit their educational sugaring operation.
7 - Make it a party
Everyone needs some excitement towards the end of winter - maple to the rescue! Boyden's Annual Maple Festival offers food vendors, demos, and tastings at their beautiful event barn and sugarbush in Cambridge. Or head to Woodstock for Maple Madness on the green during the day and moves to a tasting of maple delights from Woodstock-area chefs at night!
8 - Hike, ski or snowshoe
Hillsboro Sugarworks opens their hiking trails for Open House Weekend with coffee and maple treats upon your return. If the snow is in our favor, skiing and snowshoeing at Morse Maple Farm in Montpelier is exactly what's in order.
9 - Wine + Dine
Did you know that Maple Open House Weekend coincides with Vermont Wine Week? Double your locavore celebration with a visit to a wine and sugarmaker like Boyers Orchard in Monkton or Snow Farm Vineyard in South Hero. Looking for a dinner? The Reluctant Panther in Manchester is hosting a maple-themed dinner celebrating sugaring season paired with Vermont wine and ice cider. Cocktails more your fancy? Dine on top of Vermont at Stowe's Cliff House Restaurant for their Vermont Maple House Distillery Dinner.
10 - Maple Munchies
Each sugarhouse has a secret recipe like Silloway Maple in Randolph whose traditional hot dog sap boil each year for Open House Weekend draw crowds or Jed's Maple in Derby with their unique and delicious wood-fired maple pizza (they also have a maple museum!).
Bonus - SUGAR. ON. SNOW.
Each sugar shack has their own way of serving this sticky iconic treat. We recommend making a sugar on snow sugar shack track to sample as many as you can! Start with a central location like wonderful Brookfield Bees and take it from there . . .