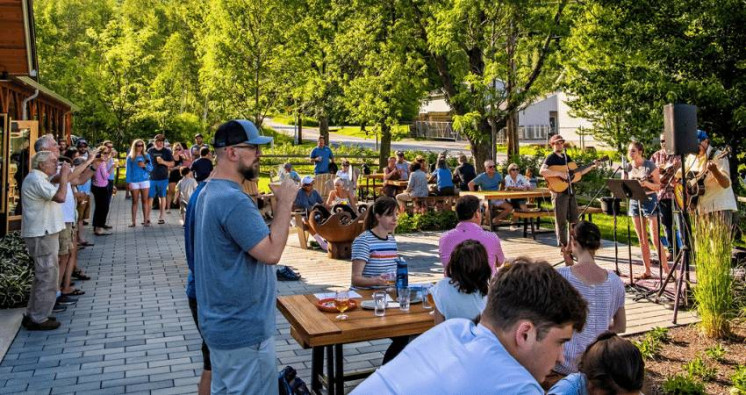 Where is the summer going? It's hard to believe we are almost midway through July. That means you need to get outside and enjoy all the great weather while you can. There are so many restaurants where you can eat and drink outdoors. Is there anything better at this time of year?
So sit back, relax with your favorite beverage and we'll help you get outdoors this summer.
(photo by Snow Farm Vineyard)
Visit the vineyards for music and wine
Enjoy a glass of Vermont wine while listening to the music in the vineyard where the grapes were grown. Many of our vineyards offer a weekly concert series. This summer, visit a different vineyard each week and enjoy!
Lincoln Peak Vineyards - Sunday sessions, Snow Farm vineyard - Thursday night concert series, Huntington Vineyards - Sunday suppers, Shelburne Vineyards - Bluegrass & Barbecue
(photo by Whetstone Station Restaurant and Brewing)
Kickback and enjoy a brew
Breweries and cideries across the state offer an outdoor option in the summertime and for some the patio is open year round with a firepit. From the gorgeous views over the Connecticut River at Whetstone Station Restaurant and Brewing in Brattleboro to Idletyme Brewing Company's dog friendly patio right off the Stowe Bike Path to Lawson's Finest Liquids brand new Taproom in Waitsfield, many offer a place to relax and enjoy a brew with very good eats. Build a trail of your favorites to try this summer!
To market to market
Farmers markets are a great place for a quick meal. All our markets offer tasty prepared foods. Trust us, you'll eat well. So next time you're planning your market trip, bring a blanket, buy a fresh lemonade and have a picnic.
(photo by Edson Hill)
Dinner on the patio
If it is a special occasion many of our fine dining restaurants open up their patios when it turns warm. From Bistro de Margot in Burlington to the Inn at Shelburne Farms in Shelburne to Edson Hill in Stowe. You can have a special night out while dining under the stars with your favorite person.
Special events on the farm
The 5th annual Vermont Open Farm Week is coming up soon. And many of our farmers are offering special dinners and tasting that you can't miss.
Maple Wind Farm - Fried Chicken Dinner, Pigasus Meats - Grillin' and Chillin' Farmstand Grand Opening, Green Mountain Girls Farm - Farm Supper, Tour and Concert, Snug Valley Farm - Evening Walk and Burger Night, Flatlander Farm - Summer Celebration, Cate Hill Orchard - Georgian Farm Feast