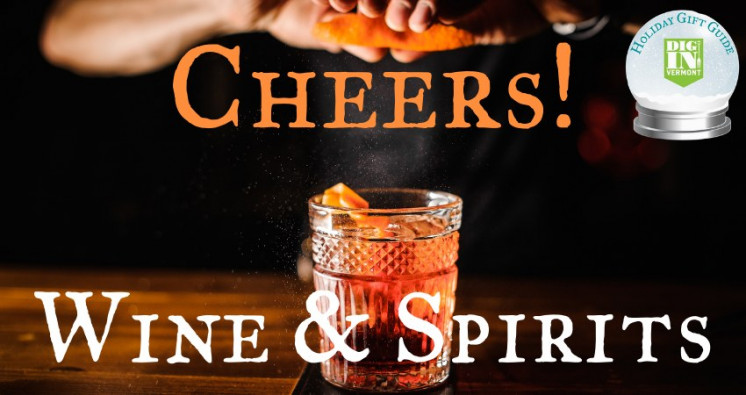 As part of our DigInVT Holiday Gift Guide, we present to you some wine and spirit ideas! Our Vermont makers offer many wonderful products rooted in the land to gift to family and friends. Bottles of wine or favorite spirits have always been not only easy presents to give, but this year allow people to celebrate safely at home. Additional distillery and winery holiday ideas are below!
Please check about shipping, curbside pick up, or local delivery with each business.
Gift a Bottle
Search our website for DigInVT wineries and distilleries to shop online, find their products in local stores, or arrange for curbside pick up. Our members make beverages perfect for apéritif, happy hour, dinner pairings, dessert, and more.
Drink Kits & Mixers
Make drinks at home with your loved ones. Try watching some cocktail-making videos to learn how! Appalachian Gap Distillery has several cocktail videos. Many of our members have recipes on their websites, too.
Cocktails To-Go
Perfect for an adult stocking stuffer or family happy hour at home, some Vermont distillers offer pre-mixed and packaged cocktails.
Caledonia Spirits creates new cocktails each week and classics include Barr Hill Bee's Knees and Cat's Pajamas at their Gin Lane To-Go.
Mad River Distillers offers ready-to-drink Old Fashioneds in 3 different flavors.
SILO Distillery has ready-to-drink Maple Manhattans, Lavender Cosmos, Maple Whiskey Sours, and Blue-B Trap (SILO gin and Blake Hill blueberry shrub).
Holiday Glögg
Gift the ingredients for a glögg (a traditional warm Nordic spiced and mulled drink for the winter)!
Wine Clubs
Gift someone wine all year long! Purchase a wine club membership:
Related Artisanal Products
Gift Boxes
Many of these producers expertly create hand-selected gift boxes or baskets. Check their websites!
Sanitizer
Our state's distillers stepped up this past spring and shifted their production to produce hand sanitizer. This is truly a unique and artisanal gift for 2020!
Barr Hill has been making hand sanitizer, in partnership with other local businesses, since the beginning of the pandemic for healthcare workers and their customers.
Saxtons River Distillery makes sanitizer in southern Vermont.
SILO Sanitizer uses Vermont grain.
Glassware + Barware
Many of the above mentioned Vermont businesses offer branded glassware, like rocks glasses, shot glasses, martini glasses, wine glasses, even mason jars and flasks. Check their websites! See Barr Hill's enamelware tumbler, Moscow mule mug, honey bear glass, shakers, jigger, and basic cocktail tools. If you have someone with a UVM connection on your list, check the UVM gift site for branded barware, like shot glasses and a sommelier corkscrew.
Apparel
Gift hats, t-shirts, and hoodies! Mad River Distillers has a great selection, including "Drinking Buddy" dog bandanas and tees of all sorts, plus metal shot glasses. We also love the Fable Farm Fermentory logo on their blue t-shirts.
Pairings
Boyden Valley Winery has the perfect pairing of red wine and Lake Champlain Organic Chocolate in their classic black gift box.
Shelburne Vineyard also sells other local products online to pair with a wine purchase, like Shelburne Farms cheese, Blake Hill Preserves, and shortbread. Also see their Happiness Boxes, which contain cheese, crackers, charcuterie, and more.
Snow Farm Vineyard will create a custom gift basket with local maple syrup, chocolate, jams, pasta, and meats, to go with their large variety of wine, accessories, and more.
Books
This DigInVT Holiday Gift Guide was made possible by support from the new UVM Office of Engagement. The office is the University's "front door" for private, public, and non-profit entities looking to partner with UVM to address community needs.