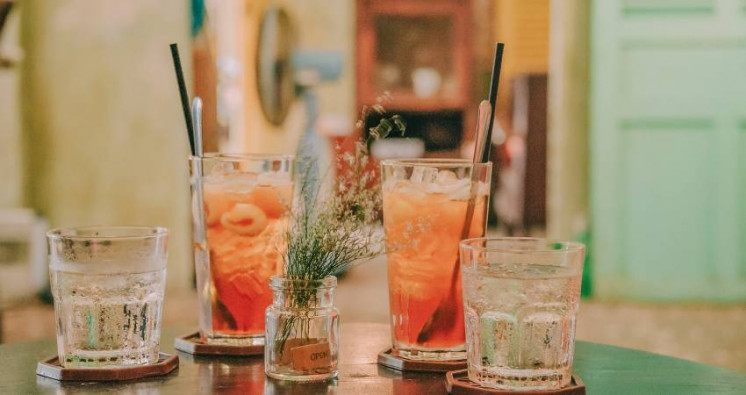 In the springtime, we all get an itch to spend time with the friends we haven't seen in a while and enjoy the return of the bees and the warmth of the sun.  Whether you've spent the day working in the yard planting your own garden and you want to relax on the porch, or want to hang out at your favorite spot to meet friends you haven't seen since the snow melted, enjoy a springtime cocktail that celebrates local ingredients and the season.  Here are some recipes from DigInVT members, Caledonia Spirits, Three Penny Taproom, and Wunderbar.
Caledonia Spirits - Hardwick
Caledonia Spirits is a craft distillery based in the Northeast Kingdom of Vermont. They partner with local farmers and beekeepers to source organic grains and raw honey for their spirits. Every year Caledonia Spirits highlights the importance of honeybees for our food and farms with Bee's Knees Week. This year Bee's Knees Week is Sept 23rd - 29th. Want to learn more? Caledonia will be opening their new Montpelier distillery this June and Beverage Director Sam Nelis is busy on their cocktail menu.
When the sun's out and the bees are buzzing, how about a nice G & T?
Barr Hill Gin & Tonic

 

2 oz Barr Hill Gin

Top with Craft Tonic - we recommend Fever Tree or Q!

Pour Barr Hill Gin over ice in a tall glass then top with tonic. Add garnish.

 

Classic G&T: Garnish with a lime or lemon wedge

Spruced Up G&T: Try garnishing with different seasonal fruits and herbs

like strawberry, raspberry, rosemary, and thyme! 

 
Three Penny Taproom - Montpelier
Three Penny Taproom illustrates the harmony of flavor inherent in the pairing of honest food with honest beer.  Wes Hamilton of Three Penny pairs Bar Hill Gin and a special Hill Farmstead beer to make a unique cocktail that you're sure to enjoy.
Convivial Revival

1.5 oz Barr Hill Gin
2 oz Hill Farmstead Convivial Suarez
1 Egg Yolk
Grated Nutmeg

A one of a kind, complex craft cocktail. Honey and herbal notes shine through with the Barr Hill Gin that is uniquely complemented with a tart funk bite from the Hill Farmstead Convivial Suarez. The addition of the egg yolk elevates this cocktail by creating a silky mouthfeel one would not expect with these flavor combinations. A dusting of freshly grated nutmeg adds a nutty aspect that helps bridge the divide of the tartness and the herbaceous aspect of the beer and gin respectfully.
Wunderbar is a tapas style bar with lots of small plates to share and experience. They have a great craft beer list as well as biodynamic wine and cocktails featuring local spirits and ingredients. Remy Walker of Wunderbar shares their Vermont take on the classic whiskey sour.
VT Sour

2 oz WhistlePig PiggyBack Rye Whiskey 

.75 oz fresh lemon juice

.75 oz your favorite VT maple syrup

Egg white

Combine all ingredients into a cocktail shaker. Fill with ice and shake vigorously until your arms fall off (roughly 30 seconds).

Double strain into a chilled coupe and garnish with dehydrated lemon wheel and 3 dashes of bitters.

Enjoy!