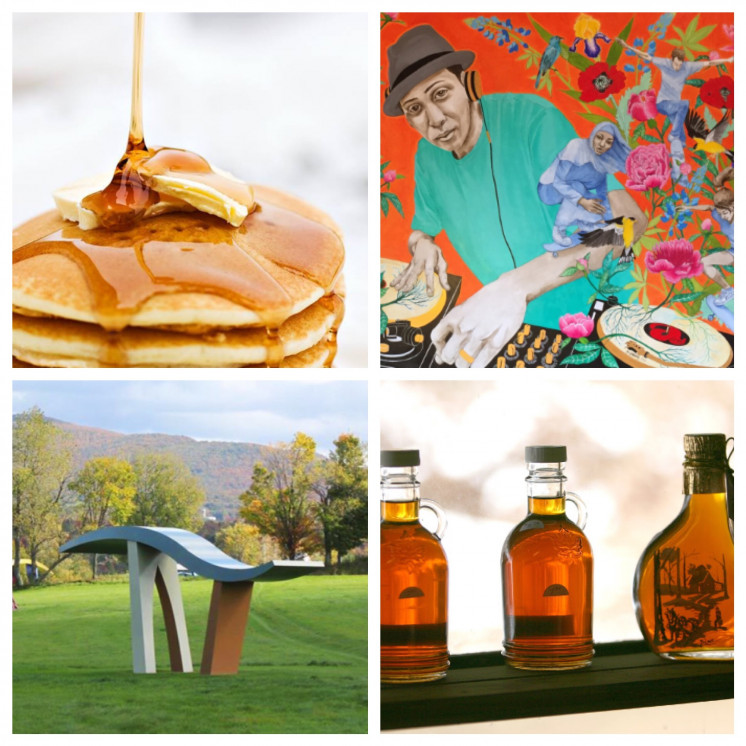 This article was originally published by our friends at the Vermont Arts Council.
In the Green Mountain State, sweet signs of spring include maple forests awakening and a plethora of outdoor art awaiting visitors.
With more than 3,000 sugarmakers in residence, Vermont is the top maple syrup producer in the United States, generating over one million gallons annually. This year, pair visits to the state's famed maple sugarhouses with outdoor arts exploration. From Maple Open House Weekend, March 25-26, to the Vermont Maple Festival, April 22-24, the opportunities for exploring Vermont Arts and savoring the season are as ample as maple is sweet.
The state's arts stats are equally as impressive as its maple mastery. Vermont ranks third in the nation for artists as a percentage of the workforce, second for writers, and eighth for musicians and photographers.
Enjoy the outdoors this spring by feasting on both the artistic and the agricultural bounty of Vermont. You may even feel inspired to practice your own art skills by drawing, painting, or photographing Vermont's maple and country scenes. Share using the hashtags #VTarts and #VTmaple; we'll repost some of our favorites!
Highlights, north to south include: 
St. Albans
St. Albans is well-known for hosting the Vermont Maple Festival, which takes place annually in April. Locals know that there's an artistic ode to sugaring in town: a 6' by 16' mural titled "Sugaring Off" by Phillip Von Saltza can be found in the town's Federal Building. Visitors can also enjoy "Haying," another onsite mural by the same artist. Both were New Deal paintings commissioned in 1939.

Beginning in spring 2017, visitors to Saint Albans will be able to watch art in action by way of multiple murals springing up on downtown businesses and in public parks across the city. Visit www.stalbanscommunityarts.com for updates.
Nearby sugarhouses:
Branon Family Maple Orchards, in Fairfield and Bakersfield, are seventh generation maple producers. Nowadays, they're utilizing 18 solar panels across the sugarbush, or as they say, "tapping the sun." Nearby and open for Vermont Maple Open House Weekend are Bouchard Family Dairy in Franklin and Leahy's Maple Farm in St. Albans. 
Jeffersonville & Enosburg
Jeffersonville has two new public art gems, which also hold the title of the largest painted murals in the state. Front and center at a busy roundabout in town, you'll see the North & South Silos, murals painted by Artist Sarah Rutherford. The North Silo represents the summer and autumn seasons, with an elder male farmer depicting the current or past generation. He looks towards the child on the South Silo, a representation of the future generation on a backdrop of winter and spring. Both feature state symbols such as the hermit thrush and red clover. 
Also nearby and worth coming back to visit when it's open in summer, Cold Hollow Sculpture Park in Enosburg Falls, features 50 massive and masterful sculptures by David Stromeyer amid old farm meadows and hay fields. 
Nearby sugarhouses and maple shops:
At Snowshoe Pond Maple Sugarworks in Enosburg Falls, Barbara and George Salg have been producing maple products for generations. In Jeffersonville, at Marsh Family Sugarworks, Diane and Ryan Marsh manage over 10,000 taps. Both will be open to visitors during Vermont Maple Open House. Sweets shoppers will delight in a visit to the Vermont Maple Outlet on Route 15 in Jeffersonville.
At Boyden Valley Winery & Spirits in Cambridge, Maple Open House activities include free sugar on snow. See their sugarhouse in full swing and sample syrup inside. Maple butter yeast donuts will be available for purchase - but not for long! Inside the winery, enjoy maple cocktails, tours and tastings of maple wine and maple cream liqueur.
Burlington
Public arts abounds in Vermont's Queen City, hundreds of acres of sugaring are just a short drive away.
Along the waterfront, one new mural the city is proud to tout is the Andy A-Dog Williams Skatepark & mural celebrating his life, made by his long-time girlfriend and tattoo artist Jozie Furchgott Sourdiffe.
The Church Street Marketplace has multiple sculptures and murals to enjoy along its pedestrian-only street. A highlight is the "Everyone Loves a Parade!" mural by renowned Canadian muralist Pierre Hardy, widely known for his inventive and detailed large-scale pieces. Grand Master Samuel de Champlain leads the charge as the scene depicts an evolution in time along Church Street. Notable and everyday Burlingtonians, downtown businesses, and iconic images of the past 400 years can be distinguished in the elaborate illustration. 
Nearby sugarhouses:
Those willing to drive just 15 minutes from Church Street can meet sugarmaker Fred Bell at Backyard Boilers in Colchester. Hours are limited to a small window of the year, but during open house, visitors can watch traditional methods of sugaring on a "gentleman's farm" with chickens, geese, and ducks. Maple syrup, maple candies, and maple butter will be for sale.
At Shelburne Farms' 15-acre sugarbush, sap is collected using modern plastic tubing and about 50 metal buckets, the latter of which are primarily educational. In 2016, they produced 600 gallons of pure maple syrup, which is sold at the Welcome Center and Farm Store. Proceeds are reinvested into farm-based education programs for students, families, and educators.
Montpelier
Visitors to the State capital can stop at the Vermont Arts Council on State Street. Open to the public, tourists and locals alike can explore the Council's year-round outdoor sculpture garden. A public/private collaboration, the sculpture garden features rotating two-year exhibits of contemporary sculpture by Vermont artists. Designed in 2002 by Burlington landscape architects H. Keith Wagner and Associates, it offers a place to picnic or engage in quiet reflection in Montpelier's downtown. 
Onsite, you'll also learn about the Vermont Arts Council's mission to "advance and preserve the arts at the center of Vermont communities," and its vision to build "a Vermont where everyone has access to the arts and creativity in their life, education and community."

A quick walk around downtown Montpelier with reveal several new arts initiatives, like the murals and art installations along the walls of businesses, bridges, and sidewalks of Langdon Street. 
A nearby sugarhouse you'll want to visit is Morse Farm Sugarworks and Nordic ski area - a 200-year-old family sugaring operation led by the inimitable Burr Morse. Open and serving maple creemees year round, Morse Farm offers free sugar house tours and tastings, a country store, multimedia displays in a real woodshed theater, nature trails, and an outdoor farm life museum. Sprinkled throughout the grounds are whimsical wooden folklife characters carved by Burr himself.
Rutland
Rutland's extensive arts scene features public art and outdoor exhibits. In West Rutland, The Carving Studio and Sculpture Center has a contemporary sculpture garden situated at an historic marble quarry, where you'll often see artists in residence and workshops in action. Just down the road, explore the West Rutland Art Park's outdoor sculptures. In downtown Rutland, start your arts immersion at Castleton's Downtown Gallery and continue to several public murals that delight unexpecting travelers.
Nearby sugarhouses and maple festivals:
At Green's Sugarhouse, nestled in Finel Hollow in Poultney, the tradition of maple sugaring has been passed down through six generations. Though open year round for tastings and guided tours, Pam Green recommends calling ahead at 802-287-5745. The whole sugaring process - from their 5,000 trees to the jug on your table - can be seen during Open House Weekend. 
At the Poultney Maplefest Craft Fair on March 25, Vermont artisans offer handmade crafts and locally-produced art, including painted sap buckets, yarn, knitted items, jewelry, greeting cards, sachets, photographs, art glass, wood and tin products.
Manchester
Home to the largest sculpture garden in the state, the Southern Vermont Arts Center offers outdoor art plus an historic mansion and art gallery. SVAC's stunning sculpture park and gardens provide a mix of culture and contemplation for art lovers and outdoor enthusiasts alike. With commanding views of the Green and Taconic Mountains in all directions, the park offers more than 120 acres of forest-land and trails, a perfect spot for cross-country skiing, snowshoeing, picnicking and dog walking. 
Nearby sugarhouses and maple shops:
Dutton Berry Farm has three well-known farm stands across Southern Vermont where you can purchase maple syrup and other specialty products. Visitors will love seeing the sugarhouse in operation at the Manchester location, where each year, they put out more than 3,000 taps. The farm is open seven days a week.
Wild Farm Maple is an old hill farm on the lower slopes of Mount Equinox, chopped out of the wilderness at the end of the 18th century. The Clay family arrived to restore the property in the 1960s and began producing maple in 1972. They welcome visitors during Vermont Maple Open House weekend.
If Vermont's sweet season and arts have piqued your interest, visit Vermontmaple.org and VermontArtsCouncil.org.