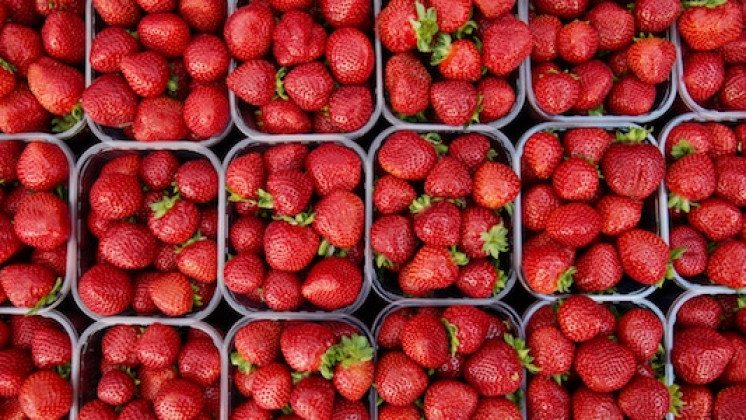 There are certain times of the year that are extra special and Vermont strawberry season is one of those times. It's the first fruit to ripen in the spring (rhubarb is a vegetable, after all). It is a fruit that heralds the end of school and the beginning of summer freedom.
There is nothing like strawberry shortcake made with berries still warm from the sun and fresh cream from a local dairy. Do you have a favorite Pick Your Own spot? You can find that classic combination at the many Vermont strawberry festivals happening in June. 
For the last 23 years, Sam Mazza's farm stand has been holding its annual Strawberry Festival. Families attend yearly to enjoy all sorts of dishes devoted to the noble strawberry - strawberry shortcake, strawberry donuts, strawberry milkshakes, strawberry fudge, chocolate fudge dipped  strawberries… There are fun and games for the whole family, including pony rides, a petting zoo, and Joey the clown.
Saturday, June 22nd, 2019; 11:00am - 4:00pm
The annual Strawberry Festival at Wellwood Orchards will be a day of music, fun for the kids, tractor rides, and of course, strawberries. Visitors can plan a picnic to take in the beautiful views, shop at the country store, and peruse the vendors who will be setting up for the day. The strawberry fields will be open for picking. Don't forget to bring your camera. 
Saturday, June 22nd, 2019; 10:00am - 3:00pm
The Middletown Springs Historical Society has been presenting the strawberry festival for over 44 years. The festival features delicious strawberry shortcake made with fresh local strawberries, homemade biscuits, vanilla ice cream and whipped cream. Local artists and craftspeople will be displaying and selling their work. Acoustic music and children's activities included!
Sunday, June 23rd, 2019; 2:00pm - 4:00pm 
It's Monkton's annual Strawberry Festival Fundraiser! Named for the strawberry shortcake sold during the festival, made from strawberries grown and harvested in Monkton, the Strawberry Festival is also an annual used book sale. All proceeds from this festival go directly to the library.
Sunday, June 30th, 2019; 10:00am - 2:00pm
Does your town or nearby farm host a strawberry festival?  We'd love to add it to this list!