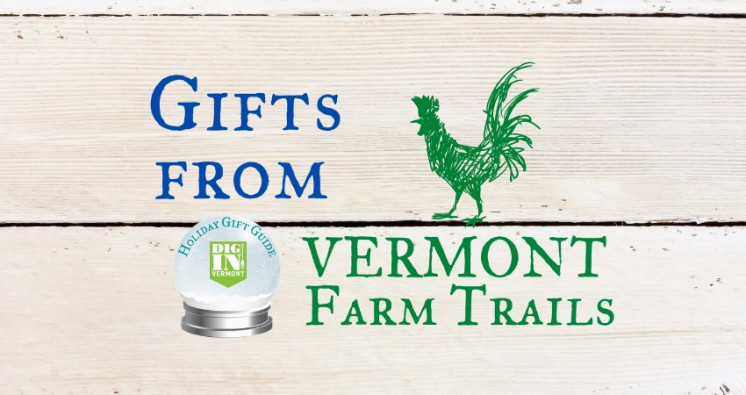 The Vermont Farm Walk Trail network is a brand new initiative of food, farming, and agritourism organizations to create a directory of walking trails on farms across Vermont. In honor of this new project, we've put together a list of gifts as part of the DigInVT Holiday Gift Guide that are perfect for sharing with friends and family so they can explore Vermont's farms and perhaps plan a future trip to explore the trail network. (And, if you know a walker who would like to learn more and explore Vermont, drop a Walkers Guide to Vermont into their stocking!)
Hildene, The Lincoln Family Home is a 412 acre estate and campus in Manchester Village, built by President Lincoln's son, Robert, in 1905, and home to three generations of Lincoln descendants.Twelve miles of well-maintained and varied terrain trails lead guests across the campus. Fans of history, cultural heritage, agriculture, and environmental sustainability have plenty to experience during their visit. The trails are also open during the winter, and snowshoe and ski rentals are available. For those cross country ski friends that live in the area, Hildene offers free cross-country skiing with a Hildene membership which makes a great gift. The online museum store is a treasure trove of gifts that range from the historic and the artistic to products like wool and cheese from their farm.
Lavender Essentials of Vermont is a lavender farm nestled in the Northeast Kingdom. Take in 360 degree views of mountains, lakes, and Canada. A labyrinth, informational placards, seating areas, volleyball, badminton, and kite flying are all part of experiencing the farm. We can all do with a little relaxation and the Lavender Essentials online store is ready to help. You can build your own box of gifts that include soaps, scrubs, and lotions scented with lavender grown on site. Don't forget to add a bottle of lavender maple syrup. It is lovely drizzled over vanilla ice cream. You can also make your holiday gift last a little longer with a bi-monthly Lavender Subscription gift box.
The trails wind through meadows, pastures, forests, and the lakeside with beautiful views east to Camel's Hump and the Green Mountains (from Sheep's Knoll spur off of the Farm Trail), and stunning views to the Inn, Lake Champlain, and Adirondack Mountains from the top of Lone Tree Hill (a moderate climb, totally worth the effort). You'll often see cows and sheep grazing. Send a Shelburne Farms Breakfast Box to help someone you know start the day off right. The Breakfast Box includes everything you need to fuel up before a hike - 1-Year Shelburne Farms cheddar, Vermont maple syrup, North Country Smokehouse bacon, buttermilk pancake mix, raw Vermont honey, raspberry jam, orange & whiskey marmalade!
We couldn't have a Vermont farm trail without including a maple sugar maker! Silloway Maple's trails are used for working in the sugarwoods. During your stroll you can see majestic maples and other tree species, varieties of ferns and wildflowers, and the amazing network of saplines that carry the sap from each tree to a large tank at the foot of the woods. Their maple sugar coated almonds are super addictive and we love their t-shirts - "Silloway Maple, Wood Fired, Solar Powered, It Runs In The Family." Plan a visit during Maple Creemee season, and you won't regret it.
The trail at Scott Farm loops around a wetland that hosts a rich diversity of fauna and flora. Established in 1791, Scott Farm is on the National Register of Historic Places. Beyond its historic significance and beauty, visitors can enjoy 40 acres of orchards and discover over 125 varieties of heirloom apple varieties and fruits. Surprise your family with a summertime visit and stay at Rudyard Kipling's home, Naulakha.
This DigInVT Holiday Gift Guide was made possible by support from the new UVM Office of Engagement. The office is the University's "front door" for private, public, and non-profit entities looking to partner with UVM to address community needs.