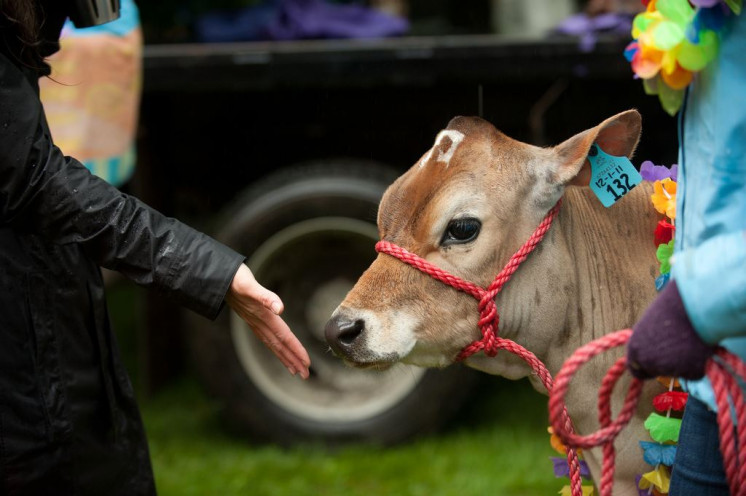 Vermont has a lot of can't miss experiences.  Enjoying your first maple creemee of the season, apple picking in the fall, visiting a maple sugar house -  these are classic ways to enjoy a true taste of the season and the place.  The Strolling of the Heifers in Brattleboro is another classic and uniquely Vermont experience that rates as one of Vermont's Top 10 Summer Events! 
The 18th annual Strolling of the Heifers Festival will be June 7, 8 & 9, 2019 with the world-famous Strolling of the Heifers Parade stepping off at 10:00am sharp on Saturday, June 8, 2019. The heifers are at the front of the Parade, so don't be late.  This year's theme is Farmers Are Our HEROES!
ALSO PRESENTING:  The Slow Living Expo, downtown Brattleboro, on Saturday June 8th.
WHAT'S A HEIFER?  The answer is simple: A heifer is a young cow who has not yet had a calf of her own. And who is very cute, as you will see at the Parade.
BEST VIEWING:  Anywhere along Brattleboro's historic Main Street, or at the Brattleboro Common.
PARKING:  There are parking lots served by shuttle buses off Route 91 Exits 1 and 2. Downtown parking is limited, and some streets are subject to towing. Check the main website for parking details. 
BEFORE THE PARADE:  Arrive early, enjoy Brattleboro shops and eateries that open early.
AFTER THE PARADE:  Follow the crowd and stop by the Slow Living Expo for food, fun, entertainment and informative exhibits. The festival continues til 4:00pm.
Schedule of Events
FRIDAY, JUNE 7:
Friday Evening Festival – Brattleboro, VT
At the River Garden – 157 Main Street AND on the Brattleboro Common at Park Place
Food and craft vendors, entertainment of all kinds, face painting, music and dancing, and fun for all ages. Plus final judging of the Great New England Coffee Cakes & Sweet Breads Competition, Specialty Food & Alcohol Vendors at the River Garden! Bring your appetite!
SATURDAY, JUNE 8:
The Strolling of the Heifers Parade Brattleboro, VT
10:00am sharp, up Main Street. The heifers lead the parade, so don't be late! NO DOGS, PLEASE!
Pre-parade entertainment! 
Slow Living Expo
9:00am – 4:00pm, Brattleboro Common and Linden Street. 
The Expo features local food producers, regional craftspeople, lots of musical talent, continuous shows by the New England Center for Circus Arts, and much more !! 
(presented by our farming friends) — Western Ave. Brattleboro, 9:00am - 2:00pm
SUNDAY, JUNE 9:
Famous Farmers Breakfast
9:00am - 1:00pm., at the Marina Restaurant (off Putney Road, just north of the West River Bridge in Brattleboro)
This bike ride  includes challenging climbs, exhilarating downhills and of course, beautiful Vermont scenery. Vermont's most challenging dirt road cycling rides — 15, 30 or 60 miles (plus family-friendly 3-mile Round Mountain hike). Beginning and ending at Robb Family Farm, W. Brattleboro. Register here.
One-hour tours are being offered at 9:30am, 11:15am, 1:00pm and 2:45pm. This schedule allows sufficient travel time between tours from one farm to the next. Not all times are available at each farm. 

Farms on this Year's Farm Tour: 
Bunker Farm, Dummerston, VT
Scott Farm, Dummerston, VT
Full Plate Farm, Dummerston, VT
Rebop Farm, Brattleboro, VT (No Dogs Allowed on the Tour)
Robb Family Farm, Brattleboro, VT
Miller Farm, Vernon, VT