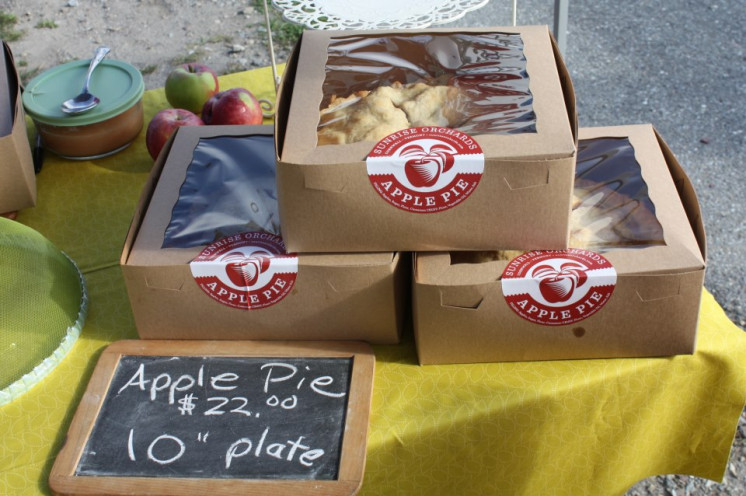 Chris Hodges learned to make her famous pie from her mother who, she believes, found her recipe in Woman's Day magazine many years ago, but what make the pie so special is the fresh apples from the orchard where Chris and her husband Barney live with their family. Chris and Barney took over the Sunrise Orchard in Cornwall ten years ago, but Barney had lived there his whole life-it was his parents who planted the trees in the 1970's.
 
What's exciting right now?
The excitement is all ours! Chris has offered up her apple pie recipe to share with all of us!
 
Chris bakes her pies with her children-they like to taste the cinnamon sugared apples and the trimmings from the crust as she cooks. Her apple secret? "I use about 9 medium-sized apples, and I always combine varieties if I can. When we are out of Paula Reds, I use McIntosh and Cortland together. You can use many kinds of apples for pie, I think combining a tart variety with a sweet one works well." For Chris' full recipe, click here, but you can also buy an original "Sunrise Apple Pie" at the Middlebury Farmer's Market on Saturday mornings through October.
Chris' Apple Pie!
Filling: 9 apples, peeled, cored and sliced, one cup sugar, 1 tsp. cinnamon, 3 tbsps. Flour.
Crust: 3 cups flour, ½ tsp. salt, ¾ cups canola oil and 8 tbsp. cold water.
Combine all filling ingredients in a bowl and set aside.
Combine flour and salt in a bowl and combine oil and water in a measuring cup. Mix flour mixture and oil/water mixture together with a fork until just mixed, and then divide into two balls. 
Roll each out between wax paper and use one for the bottom, put filling in, place two patties of butter on top and put the top crust over it all. 
 Bake at 375 for about an hour.