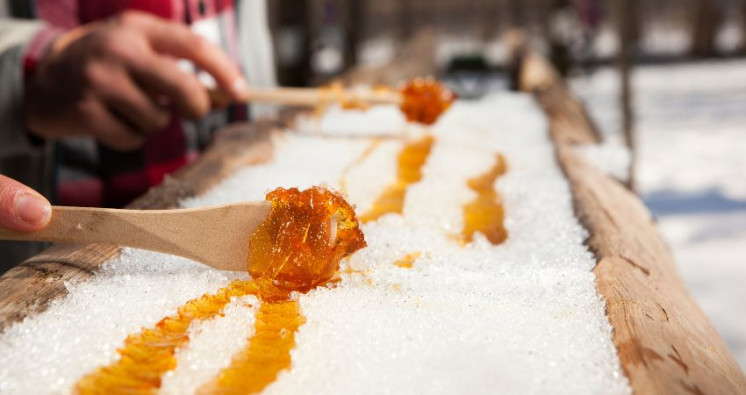 When people think of Vermont, they think of maple syrup, and for good reason! Pure maple syrup was a must on the DigInVT Holiday Gift Guide. It makes a great gift any time of the year, but especially around the holidays. So order up some of the good stuff and ship it to everyone you love! It's the sweetest gift around - go for the classics or try something new.
Classic Maple Products (Syrup, Cream, Sugar Candy, Nuts, etc.)
There are so many ways to enjoy local maple, and here at DigInVT, we love them all! Whether they go for a classic pancake breakfast, enjoy baking with maple, or have a sweet tooth, your loved ones will be happy to receive these special products. The Vermont Maple Sugar Makers' Association (VMSMA) has an online store with lots of maple merch, including the Official Vermont Maple cookbook!
And did you know that UVM has the Proctor Maple Research Center, which is dedicated to contributing to the success of the maple industry through research, demonstration, and education? Pretty cool! You can buy their organic maple products from the UVM Bookstore.
Sweet Reads
No maple gift is complete without the Official Vermont Maple Cookbook. Get it for just $2 from the VMSMA's online shop! For even more maple recipes, try Morse's Cooking with Maple, which boasts 114 pages of recipes and tales from Morse Farm Maple Sugarworks. Or, from Bragg Farm Sugarhouse & Gift Shop, order The Vermont Maple Festival's Blue Ribbon Recipes, which has over 200 tried and true recipes from several of Vermont's "maple families." Vermont food blogger, Katie Webster of Healthy Seasonal Recipes offers her book, Maple, 100 Sweet and Savory Recipes featuring Maple Syrup.
Stay at a Maple Farm
Book a farm stay getaway in the springtime and see sugaring in action! This would be a fun couple's or family gift. Stay in an old farmhouse and enjoy made to order breakfast at Couture's Maple Shop and Bed & Breakfast in Westfield. At Shearer Hill Farm Bed & Breakfast in Wilmington you can participate in each part of the sugaring process (if you visit during the season), including gathering sap and stoking the fire, or just sit back and enjoy the boiling conversations with Sugarmaker Bill.
Infused Maple Syrup
Try a new twist on an old (albeit amazing) classic! Infused maple syrup is a unique and delicious gift. Some of our favorites are The Whole Woods line from Baird Farm. Flavors include foraged mint and spruce tip. Runamok Maple also has a whole line of delicious infused flavors. You can't go wrong with the cinnamon and vanilla. Or try something out of the box like lime leaf or smoked chili pepper! Runamok Maplealso offers sparkle maple syrup! This gift is perfect for the little one's on your list, they will love shaking the syrup to see the sparkles and pouring it all over their pancakes or waffles. If you have multiple little ones on your list, they also sell them in mini bottles and are the perfect stocking stuffer!
Maple Condiments
Here at DigInVT, we love our condiments. We simply can't get enough of the Butternut Mountain Farm sweet maple mustard - order it online from Marvin's Country Store - or really anything from Jed's Maple! Slip a jar of one of their delicious condiments into every stocking this holiday season, or go for the Maple Grilling Box for the grill master in your life. Don't snooze on the award-winning Smoked Maple Barbecue Sauce from Sugar Bob's Finest Kind, either. Show those out-of-state relatives that you can enjoy maple on more than just pancakes!
Maple Merch
Get some maple themed apparel for your loved ones so they can share their love for maple with the world! For a classic vibe, it doesn't get better than the Vermont Maple trucker hat or t-shirt from the VMSMA online shop. If you're looking to support a specific sugar maker, Baird Farm has some great apparel options. We love the Eat Pure, Stay Wild flat brimmed hats and the beanies (one of every color, please)!
Maple Beverages
A boozy (or not) beverage made with pure Vermont maple syrup is a fantastic and easy gift. The most difficult part is going to be deciding which ones to choose! There are so many delicious options, we had to break it down a little bit.
For the wine lover:
Fernleigh Cellars - Maple Wine and their Tapper's Mead with Vermont honey and maple sap
For the beer fan:
For the cider drinker:
For the spirit connoisseur:
For the ones that don't drink: