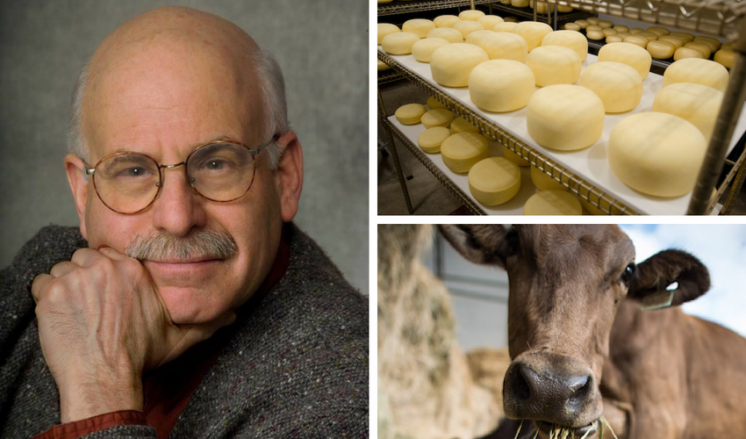 Would you travel for cheese? Jeffrey Roberts sure would and he has. Author of the "Atlas of American Artisan Cheese" and his latest book "Salted and Cured: Savoring the Culture, Heritage, and Flavor of America's Preserved Meats," Jeff stopped by the DigInVT offices and shared his thoughts on a wide range of topics, food history, artisan food, Vermont cheese and his upcoming summer cheese tour through Vermont.
A long time advocate of artisanal foods from around the world, and a long time resident of Vermont, Jeffrey has seen the rise of Vermont's artisan food producers and played an important role in increasing the profile of our state's award winning cheeses and cheesemakers.
It was in graduate school in Philadelphia when Jeffrey first started to explore food beyond his family's table. Later, after joining the Navy, he had the opportunity to visit Greece, Spain, Italy, and Scotland. During his travels, Jeffrey discovered that "the simplicity of perfectly grilled octopus, a hunk of freshly made feta cheese and dish of perfectly cured olives is all that you need." It was about simple food using the freshest ingredients, a passion he brought back to the United States.  This reflects the experience of many others, like Vermont Creamery's Alison Hooper who spent time on a French farm in her 20's and brought back her knowledge of cheesemaking to Vermont.
Today this lens still shapes Jeffrey's activities, including his recent project the "Summer of Love" Vermont cheese tour hosted by Jeffrey, Tenaya Darlington (aka Madam Fromage)  and Anna Juhl of Cheese Journeys. This nine day tour will take travelers for a week through the state tasting cheese, visiting cheese makers, touring farmers markets, and enjoying the best of Vermont's artisan food.
"So it's bookended. On one end is the Vermont Fresh Network Annual Forum, which is a fabulous event, then they'll visit Shelburne Farms for a full day, Jasper Hill for a full day, Vermont creamery, we are going to stop at Orb Weaver. We'll be at the Taste Place in Waitsfield and then we'll head into Burlington the Burlington farmers market, and then on to Stowe where we'll be at the Von Trapp Brewery and Von Trapp cheese. And to Ploughgate and more.  The week ends with the Vermont Cheese festival."
As this trip highlights, Vermont's cheesemaking is diverse and intertwined with an equally innovative local food, local beer and specialty food scene. It's a culture that's distinct from what you might find in many European cheese producing regions that are established in a very different tradition.  
"In Europe, if your parents and grandparents are making mozzarella, you are making mozzarella.  What we have introduced is, why not be innovative and why not step outside the box. There are young people who are experimenting. They say, I've got great milk and yeah I'm still going to make mozzarella, but I'm going to take some of that milk and make something different. That cross fertilization of ideas is what makes us special."
Another difference is the land. "Whether we are talking grapes, bread, cheese, or cured meat, it is all about terroir. You can taste the differences."
Not everyone is a cheese expert, but many of us want to learn more about Vermont cheese and cheese in general. For someone just starting to explore different types of cheese, Jeff had this to say:  "Make friends with a local cheese shop. Get to know the people behind the counter. Get to know them and they can get to know you. They'll get a sense of your tastes. Don't go in asking for brie. Go in and ask what is made in Vermont and is similar to brie. There is plenty to try."
Jeffrey also thinks about the future of Vermont's artisan products in the context of traditions that go back several generations. "There are plenty of challenges. . .  I would say that making cheese isn't a silver bullet, to someone who is hurting because of low milk prices, but if you are producing outstanding milk maybe there is someone who wants it….We have a good dairy tradition in this state it goes back to Cabot, Grafton took off in the early 70s ….. When Vermont Shepherd won best in show in the early 90's that was breakthrough stuff." 
He reiterated the importance of visiting farmers markets and supporting our small producers.
"My concern has always been the smaller producers. Orb Weaver is a great example. It is one of the first. How do we ensure that that farm stays in business?  Because as a consumer if it doesn't stay in business, a product that I like disappears."
Which Vermont cheese is his favorite right now?  "It's impossible. There are some cheesemakers that I'm in awe of. There is no question, Vermont Creamery is one of them…..Fabulous. Absolutely one of the best companies and some of the best cheeses in the world in my opinion… Springbrook Farm. Jeremy Stephenson has knocked grand-slams with his cheeses...   Shelburne Farms is still a go-to cheddar. I think Cabot has been one of the most important entities in this state when it has come to what they do and what they have done to support small scale producers."
Jeffrey Roberts' book , Salted and Cured: Savoring the Culture, Heritage, and Flavor of America's Preserved Meats, was recently released and if you are interested in joining Jeffrey on his Cheese Journey tour of Vermont cheese this summer, you can get more information here.