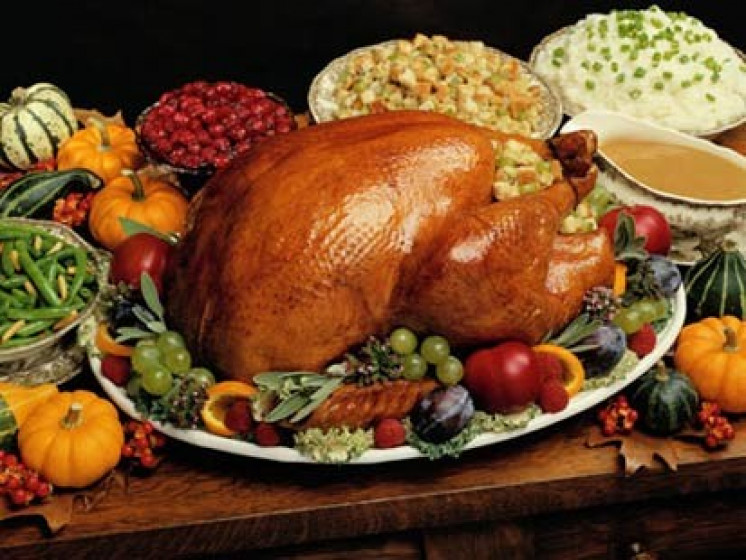 We asked Vermont farmers and chefs for their favorite Thanksgiving recipes featuring Vermont-grown food. Here are their delicious responses. Happy Thanksgiving!
Apple Cider Caramelized Onion Tart 
"This is one of our special brunch dishes! The caramelized onions are a wonderful side dish on their own but make a beautiful side when placed in a tart shell with cheddar cheese and sliced apples. It is delicious to serve at a brunch, on the side, or as an appetizer, and tastes best, I think, even at room temperature. We love using all local and organic ingredients in it." ~ Shared by Dorothy Read 
Ingredients:
1 tbsp. unsalted butter
2 – 3 large sweet Vermont onions, sliced
Salt and pepper to taste
1/2 cup organic Vermont apple cider
1 tart shell
6 ounces grated Vermont cheddar, a little more for the top
1 Cortland apple, sliced into 24 slices
1 shot of Vermont maple liquor
For the caramelized onions:
Slice the onions thinly, you should have a heaping quart. Heat a sauté pan and melt butter. For this preparation, I use an enameled cast-iron pan or stainless steel. Avoid non-stick pans as they do not encourage the lovely browning.
Over medium heat, season and cook onions, stirring occasionally until they start to brown. Cover, and continue to cook, stirring every five minutes or so. Once nicely browned, keep stirring and add the cider, scraping up any brown from the bottom. Uncovered, continue cooking until the cider has been absorbed and the onions are an even more intense brown color.
You can stop right here and served this as a side dish or topping for crostini!

To make the tart:
Pre-bake a pie shell, but don't let it brown. Slice the apples and pour the maple liquor over them, massaging it into the apples so they are evenly coated. You can also substitute Calvados in this step.
Line the shell with a cup of grated cheddar cheese, and arrange the apple slices in two concentric circles on top. Place the onions on top of this and spread evenly. Sprinkle a little more cheese on top, along with a couple of slices of apple for decoration, and pop back in the oven and bake another 15 minutes at 350, or just until the edges of the crust are browned and the cheese is starting to brown.
Fat Toad Farm Cajeta (goat's milk caramel) with Baked Brie
Creamy Vermont Brie baked it in flaky puff pastry and drizzled with Fat Toad Farm Caramel for a quick and delicious holiday appetizer! ~ Shared by Judith Irving of Fat Toad Farm 
Ingredients:
1 round or wedge of your favorite Brie or Camembert cheese (We recommend Blue Ledge Farm Camembrie...DigInVT staff rec)
1 sheet or 1/2 package thawed puff pastry
4 oz of your favorite flavor of Fat Toad Farm Goat's Milk Caramel (cajeta)
1 egg, beaten
 Almonds (optional)
Directions:
Preheat oven to 425°F. Roll out puff pastry on a lightly greased baking sheet. Place cheese in the middle of puff pastry and create a small indent in top of the cheese with a spoon. Fill indent with caramel, then bundle puff pastry up and around cheese. Lightly brush pastry with egg mixture. Bake for 20-25 minutes. Let cool for 5 minutes before serving with your favorite crackers or French bread. Enjoy!
Cranberry Sauce
Kelly spends her holidays cooking up pies to-go for the Spears Store in East Charlotte, so this simple and delicious side is the perfect accompaniment to her Thanksgiving Spread. ~ Shared by Kelly Murphy 
Ingredients:
1 bag Vermont cranberries
2 oranges, peeled
1 cup sugar
1 Tbs fresh lemon juice
Process everything in a food processor. Refrigerate until ready to serve.
Oyster Stuffing
Both oysters and bacon make the cut for this scrumptious holiday side! ~ Shared by the Red Clover Inn and Restaurant
Ingredients:
3 teaspoons garlic
10 cups French bread cubed
1 cup bacon lardons
2 onions small dice
8 celery stocks small dice
1/2 lbs butter
40 blue point oysters, reserve liquor
1 cup chicken stock
¼ cup sweet vermouth
Thyme (to taste)
Sage (to taste)
Salt (to taste)
Pepper (to taste)
Toast French bread cubes, set aside. Render bacon lardons Add butter and sweat onion, celery, garlic, Season with salt, pepper, and herbs. Deglaze with Vermouth. Add oysters, oyster liquor, toasted bread, vegetable mixture and place in greased pan. Bake for 30 minutes at 350*
Sausage-Sweet Potato Bake 
"I love this recipe! It's a quick dish that is both sweet and savory. All of our girls enjoy it (although they could do without the onion layer ...) Most of the year, we are able to make it with 100% local ingredients (minus the optional s&p and brown sugar)!" ~ Shared by Brooke Hughes-Muse 
Brown in skillet:
1 lb bulk sausage
Break up large pieces and drain off excess fat.
Arrange in 2 qt casserole:
2 medium sweet potatoes, sliced and boiled until almost tender
3 medium apples, peeled and sliced
1 onion, sliced very thin
browned sausage
salt and pepper to taste, optional
Sprinkle over top:
2 T brown sugar, optional
Cover and bake at 350* for 30 - 40 minutes, or until apples are tender.
Bacon Roasted Brussels Sprouts
Lardons or thick cut bacon heighten the flavor of these easy, delicious and seasonal brussels sprouts. ~ Shared by Chris Bailey of Vermont Smoke and Cure
Ingredients:
1 1/2 cups bacon lardons (1/4 – 3/8" square by the height of the belly, from a mini slab; or thick cut bacon, 1/2"+ pieces
2 large shallots, sliced
1 1/2 lbs. Brussels sprouts, halved
1/2 cup water
1 Tablespoon fresh thyme, chopped, or 1teaspoon dried
Salt and Pepper
Directions:
In a large saute pan, on medium heat, cook the bacon for three to five minutes to render out much of the fat.
Add sliced shallots and sauté slowly until completely soft. Add Brussels sprouts and saute on medium heat for three minutes. Add water to pan and then place in a preheated 350-degree oven for 10 minutes. Add salt, pepper and thyme. Serve immediately.
This soup makes delicious use of late season produce. ~ Shared by Laura and Mari of Green Mountain Girl's Farm
Ingredients:
1 McIntosh apple, peeled, cored and cut in half
1 butternut squash, sliced in half with seeds removed
1 head fresh garlic
1 tablespoon olive oil
1 medium onion, chopped
1 cup apple cider
2 cups vegetable stock
1/8 teaspoon crushed red pepper
Salt and fresh ground black pepper, to taste
Garnish:
1/4 cup nonfat sour cream
1 teaspoon minced pickled jalapeno pepper
2 tablespoons fresh parsley
(Note: We used plain yogurt and dill for our garnish; and ate it garnish-less, too)
Process: Preheat oven to 350 degrees Place the squash in a roasting pan, cut side facing up. Place half of the apple in each center of the squash halves. Cover and bake for 60 to 75 minutes, or until squash is soft all the way through. Remove from the oven and let cool slightly. While the squash is baking, wrap the head of garlic in aluminum foil and bake for 30 minutes, or until soft. Heat a soup pot over medium heat. Add the oil and onions and saute until soft, approximately 10 minutes. Remove the squash from its skin, and place the squash and apple in a food processor (I used a blender), including any pan juices. Remove 3 cloves from the baked garlic. Add the 3 garlic cloves and the sauteed onion to the squash and process until smooth. Add some of the cider if necessary to blend the squash (I added all the cider). Return the squash mixture to the soup pot. Add the cider, stock, crushed red pepper, salt and pepper and simmer for 15 minutes or until heated thoroughly. In a small bowl mix the jalapeno into the sour cream. Serve the soup with a dollop of sour cream and jalapeno mixture and sprinkle with parsley.
"Using fresh baking pumpkins, milk and eggs from Vermont farms, of course, this is a creamier and gluten free descendant of the traditional pumpkin pie. A perfect wine accompaniment to this delicious custard is Newhall Farm Ice Cider, made from organic estate grown apples. Some liken it to apple pie in a glass. Perfect too if you can't decide whether to choose pumpkin or apple, as now you can have your pie and drink one too!" ~ Shared by Linda Fondulas of Newhall Farm
Serves 6 (6 ounce ramekins) 
Ingredients:
Vegetable spray
2 (3 pounds) baking pumpkins such as sugar pumpkin or baby pam
1 quart half- and-half
1 inch of cinnamon stick
2 allspice berries
1 inch vanilla bean, split
1/4 orange rind, zested
1/2 cup whole milk, or as needed
4 eggs plus 3 egg yolks
3/8 cup sugar (1/2 cup plus less 2 tablespoons)
 Method of Preparation
1. Preheat oven to 325 degrees. Spray 6 (6 ounce) ramekins with a thin layer of vegetable spray and set aside.
2. Cut pumpkin in half lengthwise and scoop out the seeds and strings and discard. Peel, cube, and with an electric juicer, juice the remaining solid flesh. Save pulp. Place juice in a medium saucepan and reduce to 1/2 cup over medium heat, about 5 minutes.
3. In a separate medium saucepan, heat half-and-half, spices, vanilla bean and rind over medium-high heat and bring to a simmer. Pour over juiced pulp and infuse for 20 minutes.
4. Strain cream twice through a fine mesh sieve into a 4 quart sauce pan. (Push hard to get as much pumpkin cream through as possible. It is important to remove the starch from the pumpkin, so strain twice before reducing. Do not boil any pumpkin matter.) Add enough whole milk to equal 3 cups.
5. Return pumpkin mixture to saucepan and bring to a simmer over medium heat. Remove from heat and allow to cool.
6. In a medium bowl, whisk together eggs, yolks and sugar in a medium bowl. Add the pumpkin cream a little at a time, whisking continually.
7. Ladle mixture into prepared ramekins. Place the ramekins in a small roasting pan and add enough water to the roasting pan to come halfway up the sides of the ramekins.
8. Bake in the oven until custards are set but still wiggling in the center, approximately 35 to 40 minutes. Remove ramekins from roasting pan and refrigerate over night.