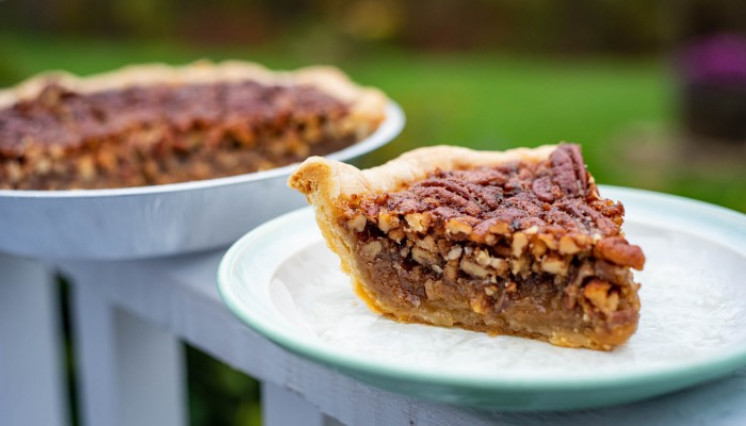 Vermont Fresh Network chefs and food producers come to the rescue with these fabulous sweets and sides for your Thanksgiving Table. Make this a truly local Thanksgiving and try one of these seasonal recipes from your favorite VFN chef or food producer.
Need help finding ingredients? Try a DigInVT Farm Market, Co-op or Local Food Market!
Caramel Apple Mule
Kick off the festivities with this autumn twist on a classic cocktail. (photo: The Social)
| | |
| --- | --- |
| Ingredients: | |
| 1/2 oz. lime juice, | 2 oz. Bird Dog Apple Whisky |
| 4 oz. ginger beer, | 1 Tbsp. caramel sauce |
Prepare: Measure out and stir all the ingredients together to incorporate the caramel syrup. Once all ingredients are fully incorporated, shake over ice in a shaker. Fill a 12 oz. glass with ice and pour the mixture over. Top off with ginger beer, garnish with an apple slice and a light caramel drizzle. Enjoy!
Build a Thanksgiving Charcuterie Board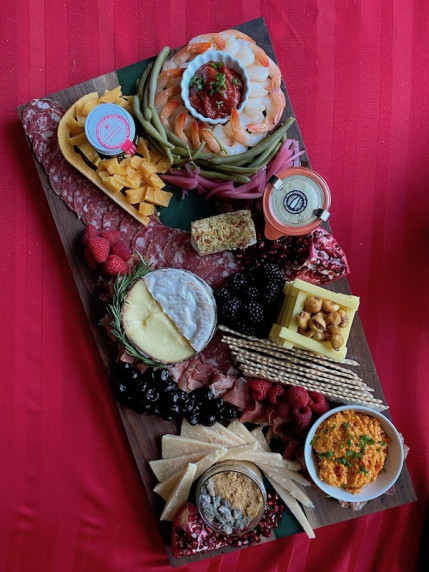 Cheese monger, Emma Harvey shares tips on building a holiday starter before the big meal:
First off, charcuterie is defined as cold, cured meats. There is a lot of misinformation circling the net, so let's stop that here! And let's call the platform for your creation a board - whether its served on a plate, platter, shovel or an upside-down martini glass (I've seen that!). Its a board.
Start with the classics, the basics, the crowd pleasers. Shelburne Farms cheddar, no matter the age, will forever be on the boards I make. I guarantee there will be that one person at the party who only likes cheddar and if you've got it on your board, you've made your day! Add something soft like Orb Weaver Creamery's Frolic - it's a lil' funky washed rind with the most delicious paste. Stony Pond's Tom Tom or von Trapp's Mr. Alice would be equally exquisite and possibly more approachable. These cheeses read soft Vermont brie ~ schemer on an O Bread baguette slice with a dollop of V Smiley preserves? Perfection.
For the charcuterie - Erika Lynch from Babette's Table is producing high quality charcuterie that I use on all my boards. Her collab with Shelburne Farms on the Saucisson au Fromage is incredible! And Vermont Chevon's goat salami made with pork fat is cured to perfection.
When assembling your board think about pairings: consider what works together and put them near each other. Use this photo as a guide to balance shapes, textures and color. Enjoy!
(photo: Emma Harvey @boardinvermont)

Apple Scalloped Potatoes
Swap out the mashed potatoes for this heavenly local side dish.
Ingredients:
1 medium Sweet Sixteen apple or other crisp Champlain Orchards like Macoun peeled and thinly sliced
1 teaspoon lemon juice
2 tablespoons salted butter
1/2 cup sliced Cipollini onion
4 medium red potatoes, thinly sliced (about 1 pound)
3/4 cup plus 2 tablespoons shredded Parmesan cheese, divided1/2 cup heavy whipping cream
1/2 teaspoon minced fresh thyme or 1/4 teaspoon dried thyme
1/4 teaspoon salt
1/4 teaspoon pepper
4 bacon strips, cooked and crumble
chopped fresh parsley, optional
Prepare: Heat oven to 350°. In a small bowl, combine apple slices and lemon juice; toss to coat. Set aside. In a medium bowl, combine 3/4 cup Parmesan cheese, cream, thyme, salt and pepper, set aside. In an 8 or 9 in. cast-iron or other ovenproof skillet, heat butter over medium heat. Add onion; cook and stir until crisp-tender, about 3 minutes. Remove from the heat. Alternately arrange potato and apple slices in a single layer in same skillet.; pour cream mixture over top. Bake, uncovered, 50 minutes. Top with bacon and remaining 2 tablespoons Parmesan cheese. Bake until potatoes are tender and top is lightly browned, 5-10 minutes longer. Let stand 10 minutes before serving. If desired, sprinkle with parsley.
(photo and recipe credit : This Champlain Orchards recipe is adapted from Shirley Rikis & Taste of Home).
Charred Brussel Sprouts
Chef Michael Drake delivers with this crispy, carmelized veggie side.
Ingredients:
1 lb. Brussel Sprout
2 Tbsp. Finely Chopped Red Onions
1 Tsp. Minced Garlic
2 Tbsp. Extra Virgin Olive Oil
1 Cup Grated Manchego (Cheese)
Prepare: De-stem and half your brussel sprouts. Drop in boiling salted water until they are par-boiled. (A knife through the Brussel Sprouts meets some resistance.) Do not overcook at this stage.Heat a large pan on medium-high heat. If it is a non-stick pan, do not add oil yet. If you do not have a non-stick, add 1 Tbsp. extra virgin olive oil. Toss in brussel sprouts, rotating them around the pan until you start to get a dark-brown char on some of them. Add in red onion and minced garlic and remainder of oil. Continue to cook until you have achieved a nice caramelized char on most of your sprouts. Sprinkle in your Manchego, cooking only for another 30-45 seconds until the Manchego is melted in. Do a final taste test, adjusting salt and pepper levels to taste.

(photo: The Social)



Pecan Pie
Who knew something so yummy could be so simple? Pie master Lyndsi Barnes of Butternut Bend Baking Co shares this tried-and-true showstopper.
Ingredients:
½ cup brown sugar
1 tablespoon flour
½ teaspoon salt
1 cup maple syrup
1 teaspoon vanilla
1/3 cup melted butter
3 eggs
1 cup chopped pecans
Prepare: Preheat oven to 350ºF. Pour pecans into the bottom of the piecrust. Blend together sugar, flour, salt, butter, maple syrup, eggs and vanilla. Spoon the filling into the piecrust. Bake at 350 degrees for 50-60 minutes. Pie should not be completely set.
(photo: Butternut Bend Baking Co.)
Pumpkin Maple Thumbprint Cookies
Blake Hill Preserves, Windsor
What's not to love about these classic Vermont-themed thumbprint Cookies? Reminiscent of British Jam Tarts filled with lots of jammy goodness, these quintessential Vermont flavors of Pumpkin and Maple will wow your guests! If you're short on time, this recipe is your jam (see what we did there?) Serving Size: Around 48 thumbprint cookies.
Ingredients:
2.5 cups all-purpose flour
1 cup unsalted butter
2/3 cup granulated sugar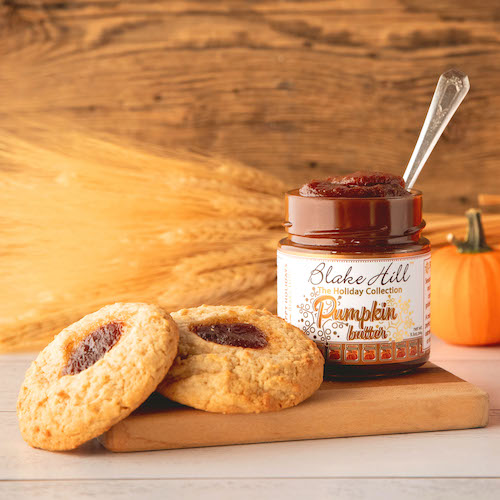 Yolks of 2 large eggs
1/4 teaspoon salt
Blake Hill's Holiday Edition Pumpkin Maple Butter
Prepare: Preheat oven to 350F and line baking sheet with parchment paper. In a large bowl, mix together butter and sugar, then yolks, 4 Tbsp Blake Hill's Pumpkin Maple Butter, seal salt, and finally flour, until fully combined. Roll spoonful of cookie dough into a ball, flatten a little. Fill thumbprint 3/4 full with Pumpkin Maple Butter and sprinkle top with sugar to make cookies sparkle.
(photo: Blake Hill Preserves)