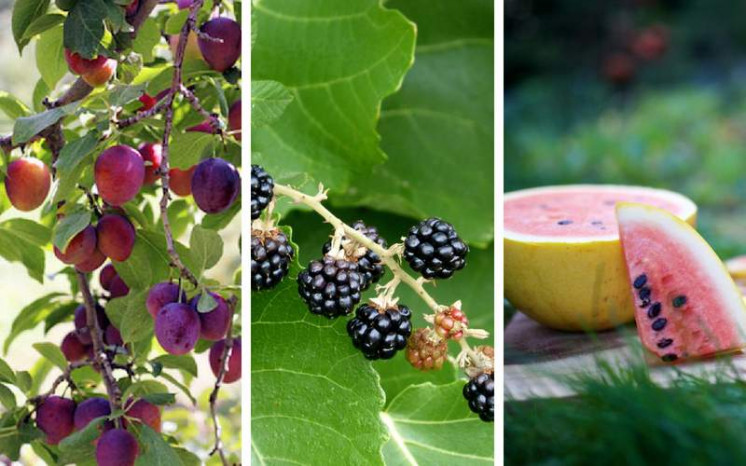 For orchards and farms across Vermont, Labor Day weekend is harvest time and that means game on - especially where Pick Your Own options bring scores of visitors eager to stock up on the best fruit of the season. Right now, early apples like Paula Reds are ripe for picking and at the same time peaches, plums, melon, and late season berries are ready, too. We asked a few Vermont chefs how they are using the fruits of late summer.
Vegan Pavlova with Local Berries, Simple Syrup, and Pistachios or Pecans
"Our Vegan Pavlova is a sweet vegan dessert that is succulent in flavor and visual appeal. We use Aquafaba and chickpea juice to obtain the same texture and flavor as a traditional, egg-based recipe. I love having this dish available to my guests that are vegan as it allows them to enjoy such an exquisite dish like a traditional pavlova, or just for guests looking to try something new. I love how one perception of the flavor of chickpea can be altered and expanded into more of an appreciation of the different roles that chickpea can take on."
-Chef Christian Kruse
Grilled Melon, Harissa- Lime Vinaigrette, Sesame Seeds, Sea Salt
"We are using a mix of melons from a couple different farms, but mostly from Pomykala Farm. The Cantaloupe this year is crazy good! I really wanted to highlight the melon itself. I added some lime to cut the sweetness and Harissa for a little heat."
-Chef Cara Chigazola Tobin
Pickled plum, goat cheese, sprouted lentil and pistachio
- Chef Sigal Rocklin
Pan seared Farm Raised Herbed Chicken, with Garden Baby Carrots and Green Beans, Brown Rice Pilaf, Red Currant Sauce.
- Chef Joey Buttendorf
---
And...we couldn't resist adding our own recipe to this list.
Plum Cornmeal Cake
"This recipe uses freshly picked plums from Boyers Orchard and local Vermont cornmeal. We love this cake because it lets the sweet-tart flavor of the plums shine and it is complemented by the fragrant local cornmeal. Plus the combination of the heartier cornmeal and the cooked down plums gives this cake a nice texture contrast, something that you don't always find in fruit baked goods that can sometimes come out a bit on the gummy side (sorry muffins, but it's true)."
-The DigInVT staff