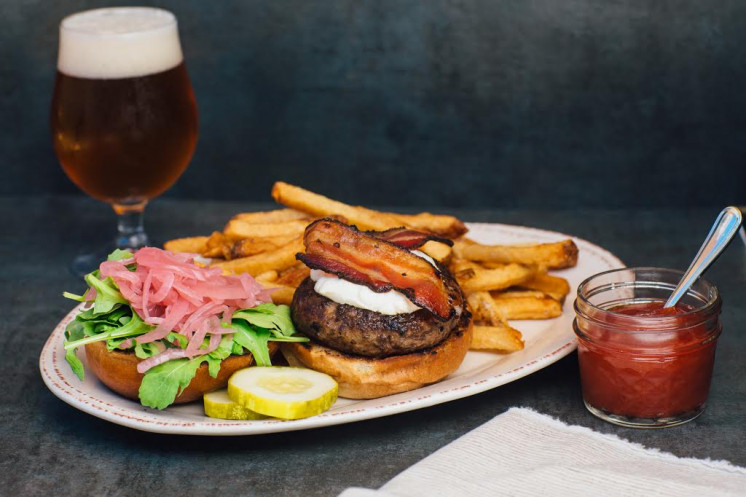 One Laplatte River patty, house recipe bacon, arugula, Cabot cheddar, pickled red onions on a locally made challah bun. No, this definitely isn't a McDonald's burger, but in Burlington, Vermont this burger is as (if not more) iconic. Farmhouse Tap & Grill puts out thousands of local burgers each month, sitting in the same location where the aforementioned chain went out of business.  
"A lot of young chefs write-off the burger," Chef Phillip Clayton, Executive Chef-Partner at Farmhouse Group shares, "but the burger paved the way for the rest of what we do at the Farmhouse Group. If you can make a burger plate as satisfying as your haute cuisine – you're doing something right." Designing the perfect burger isn't as easy as the experts make it seem. It took the Farmhouse Group a couple of years to come up with their classic - and don't worry Farmhouse fans, it isn't going anywhere anytime soon. 
Cooking a burger perfectly is an art in itself, and everyone has an opinion. Chef Phillip learned through years of research and development that about half of what makes a perfectly cooked burger happens in the kitchen. The rest of the magic is in the beef, and not all beef is created equal. When Farmhouse was originally making burgers, their demand for local beef was colossal and Chef Phillip would spend countless hours sourcing quality ground beef from around Vermont. Different breeds, on-farm practices, cuts used in the grind and varying processing methods meant an inconsistent product and one that was incredibly hard to consistently cook to temperature. The turning point for the Farmhouse burger was after they decided to single-source Laplatte River Angus ground beef. "You have to start with the right breed," Chef Phillip shared, praising the Angus breed, "and a farmer with the right expertise to raise the animal to its best potential in a responsible way." Processing also plays a part - beef needs time to age and lose moisture, and an excellent ground beef utilizes the right cuts of meat with the right meat to fat ratio. 
There are no binders, special spices or secret ingredients needed for these burgers. In the kitchen, Farmhouse cooks portion and knead each burger by hand; the kneading helps the burger hold together on the grill. Even handed seasoning – just salt and pepper – add the finishing touch.  The perfectly cooked burger sits atop a challah bun – a house recipe they have specially made by Bristol Bakery with a topping of local arugula, pickled onions, Cabot cheddar and house-recipe bacon cured with juniper and black pepper. 
While the Laplatte beef burger is the best seller at Farmhouse, they specialize in burgers of all proteins including a Misty Knoll turkey burger, Vermont Heritage Grazers Pork Burger and two veggie burgers loved by vegetarians and carnivores alike - a very popular order is the veggie burger add bacon (genius!).  "I love the fact that we're able to take something that's essentially a surplus and make a product that's loved by guests and the community," Chef Phillip shared. And love is not an exaggeration – Farmhouse has been the crowd favorite burger in Vermont since 2010!  
These burgers also give back. Each month, Farmhouse generously donates one dollar from each special burger sold to a rotating non-profit.