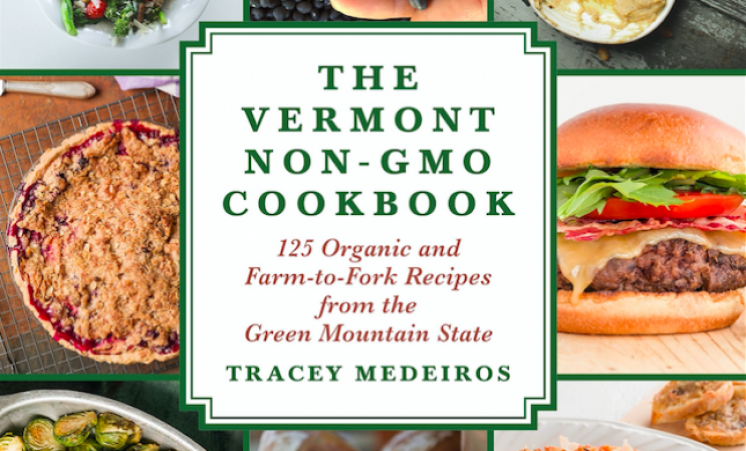 Cookbook author Tracey Medeiros is living the dream - well, the Vermontavore foodie dream at least. Her latest publication, The Vermont Non-GMO Cookbook, takes a look at the farmers, artisans and chefs that make Vermont a leader in local and sustainable food production and consumption. In this cookbook, Tracey takes the back roads to visit farmers and eateries throughout the state and brings their unique character to life in corresponding recipes.
Tracey generously shared two mouthwatering recipes from both a DigInVT farm and chef to give you a taste of the treasures found in the pages of The Vermont Non-GMO Cookbook. You can order the cookbook online here
Cedar Circle Farm & Education Center // Spinach and Smoked Chicken Gratin
Excerpt from the book...

The folks at Cedar Circle Farm & Education Center firmly believe that healthy soil is the product of regenerative organic practices, which, in turn, are the key to growing good food. They strongly support the movement to halt GMOs, toxic pesticides, and factory animal production. For many years, farmer activists from Cedar Circle Farm have been involved in the movement against GMOs in agricultural crops, fighting for the labeling of food products that contain GMOs. Their message is loud and clear: "Eating organic is the simplest way to ensure that what you eat is free of genetically modified ingredients."
RECIPE: Spinach and Smoked Chicken Gratin
(Serves 6)
"This is an excellent recipe to make in the late winter using a hardy storage potato, like a russet, along with spinach from farm greenhouses. Good cheese and cream and smoked chicken round out the mix in this dish for those last chilly evenings. Gratin recipes can get pretty involved; we came up with an easy and delicious one that can be mixed in a single dish and baked up hot to serve alongside tangy winter greens for an easy supper." —Alison Baker, former kitchen manager and chef, Cedar Circle Farm & Education Center
1 tablespoon olive oil
1 yellow onion, peeled and chopped
2 garlic cloves, peeled and thinly sliced
5 cups loosely packed baby spinach
1 cup sliced smoked chicken
1 cup sour cream or crème fraiche
1 teaspoon fine sea salt
½ teaspoon freshly ground black pepper
3 large russet potatoes, peeled and sliced into 1⁄8-inch-thick circles
2⁄3 cup half-and-half
½ cup shredded cheddar cheese
Preheat the oven to 375 degrees Fahrenheit. Lightly grease an 8-by-11-inch baking dish with nonstick cooking spray. Set aside.
Heat the oil in a large skillet over medium heat. Add the onion and cook, stirring occasionally, until soft and translucent, about 10 minutes. Add the garlic and cook, stirring frequently, for 1 minute. Transfer to a large bowl and mix in the spinach and smoked chicken until well combined. Stir in the sour cream, salt, and pepper, mixing until well combined.
Arrange a layer of the potatoes evenly on the bottom of the prepared dish, overlapping the slices. Spread some of the spinach mixture over the top. Continue layering the potatoes and spinach mixture, ending with the spinach mixture.
Carefully pour the half-and-half over the spinach mixture; it should just rise up the sides but not cover the potatoes. Sprinkle the cheese over the top. Bake, uncovered, until golden brown and bubbly, about 35 minutes. Remove from the oven and allow to rest for 10 minutes before serving.
Recipe from Cedar Circle Farm & Education Center
Photograph by Oliver PariniJuniper Bar and Restaurant at Hotel Vermont // Northern Lake Fish Chowder Excerpt from the book...Chef [Doug] Paine's philosophy on food is quite simple: "Find the best ingredients possible and make them into something fresh and delicious." With more than 40 farms sharing their produce and products with the award-winning restaurant, this ideology seems to be working quite well. Gathering inspiration from the juniper berry with its strong, unique flavor that has been used in making food and drink for centuries, this innovative eating establishment offers cuisine that appeals to all lifestyle choices, including vegan and vegetarian.
RECIPE: Northern Lake Fish Chowder Recipe
(Serves 6)
The sweet, crisp flavors of the hard apple cider provide the perfect counterpoint to the smoky flavor of the lake fish and smooth, velvety texture from the cream and fish stock.
1/4 pound thick-cut bacon, diced into small pieces
1 ounce butter
1/2 pound carrots, peeled, trimmed and diced into medium pieces
1/2 pound leeks, cleaned, trimmed, and thinly sliced
1/2 pound celery root, peeled, trimmed and diced into medium pieces
1 tablespoon chopped garlic
1 tablespoon fresh assorted herbs, such as parsley, tarragon, thyme, sage, or rosemary, minced, plus extra for garnish
1/2 cup hard apple cider
1 1/2 quarts fish stock, warmed
1/2 pound potatoes, such as Yukon Gold, peeled and cut into 1⁄2-inch pieces
1 cup organic heavy cream, warmed
1 1/4 pounds applewood smoked lake fish, such as walleye, or trout, pin bones removed and cut into 2-inch pieces
1 1/4 cups fresh or frozen corn kernels
Salt and freshly ground black pepper to taste
Baby red sorrel, for garnish, optional
In a large, heavy-bottom stockpot, cook the bacon over medium heat, stirring occasionally, until crisp, about 8 minutes. Remove the bacon from the pot with a slotted spoon and drain on paper towels, reserving the drippings in the pot.
Melt the butter in the same stockpot with the reserved bacon drippings over medium heat. Add the carrots, leeks, and celery root. Cook, stirring often, until the leeks are very tender, about
8 minutes. Add the garlic and herbs and cook, stirring often, until fragrant, about 1 minute. Increase the heat to medium-high and add the hard apple cider. Cook until reduced by half, stirring frequently, about 3 minutes.
Add the stock and potatoes and reduce the heat to a simmer. Cook until the potatoes are fork tender, about 15 minutes.
Slowly add the warm cream, fish, and corn. Simmer until the fish is heated through and the corn is tender, about 10 minutes. Season with salt and pepper to taste.
Garnish with reserved bacon, herbs, and baby red Swiss chard, if desired.
Recipe from Chef Doug Paine, Juniper Bar and Restaurant at Hotel Vermont and Bleu Northeast Seafood
Photograph by Oliver Parini