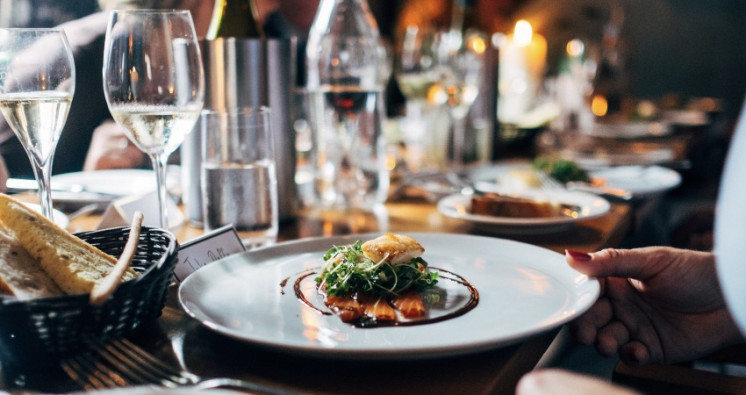 In December, for many of us it's time to celebrate, and that means gifts, decorations, community events, connecting with friends and family and, of course, food. Who knows better about the foods to celebrate the season than Vermont's caterers? Vermont Fresh Network member caterers have provided some tips and recipes below.
Whether you're bringing a dish to a small gathering of friends or hosting a major holiday party, be sure to enjoy the pleasures of local food. And if there are some things you just aren't going to cook for yourself, the Vermont Fresh Network has you covered with creative and talented caterers who always celebrate the season with local food. 
Let's Pretend Catering
As long-time Gold Barn Members of the Vermont Fresh Network, Let's Pretend Catering has built strong relationships with local farms and food producers. We asked what they love to serve during the holidays.  Here are some of their favorite dishes for entertaining.
We love anything that highlights two of our favorite things: local, seasonal fruits and vegetables, and local cheese!
Warm, savory crepes with gouda fall vegetables:
Wild mushroom and fontina canapes:
Individual cobblers with any type of fruit:
Here's an easy holiday favorite from Let's Pretend Catering.
Vermont Chevre and Arugula Pesto Torte

Cheese Layer
2 cups of VT chevre
2 cups of VT cream cheese
1 cup VT butter, softened

Puree in a food processor

Arugula Pesto
4 cups arugula
½ cup parmesan 
½ cup walnuts, toasted
Zest from 1 lemon
3 cloves garlic
1 cup olive oil

Puree in a food processor

Grilled Vegetable Layer
Slice and grill 2 zucchini
Slice and grill 2 red peppers
Slice and grill 1 summer squash

Dice grilled vegetables into large chunks and set aside
Assembly:
Line a loaf pan with saran wrap
Layer cheese spread, then pesto, then grilled vegetables (you won't use all of it in the first layer)
Repeat until all ingredients are used up (reserve a small amount to sprinkle on\ top once it is unmolded)
Cover top with saran wrap, press, and chill for at least three hours
Unmold onto a platter and serve with your favorite local bread! 
With an emphasis on global cuisine and a passion for incorporating Vermont food and products into her cooking, Vermont Fresh Network member Susanna Keefer of Susanna's Catering has these tips for planning a holiday party.
Simplicity is best, don't try to overdo it.

Pick a few dishes and do them well.

Pick dishes that can be made ahead of time and finished or reheated swiftly.

Local products that are a staple for us over the holidays are spiced and flavored maple syrups from Butternut Mountain Farm, hearty beef and pork dishes using shoulder and chuck cuts for easy slow cooking, local spirits and beers for adding richness to our sauces.

And plenty of local cheeses and dairy products!
Pears Poached in Boyden Valley Red Wine 
Cranberry Caramelized Onion & Chevre Tartines
Try this favorite from Susanna's recipe library:
Mushroom, Spinach & Bailey Hazen Blue Cheese Flank Steak Roulade
Ingredients:
2 lb Vermont beef flank steak
2 Tb butter
2  shallots finely chopped 
8oz portobello mushrooms, chopped
4 cloves garlic finely chopped  
3 cups chopped spinach
1/2 cup crumbled Bailey Hazen Blue from Jasper Hill Cheese
2 Tb sherry
Salt and pepper
2 Tb vegetable oil

Basil Sauce
8oz basil leaves
1 Tb white balsamic vinegar
1/2 cup water
salt & pepper
Butcher's twine

Directions:
Preheat oven to 400 degrees. Place flank steak on a large chopping board between parchment paper -- using a meat tenderizer or hammer pound out to roughly  a 10 x 12 inch size. Season with salt and pepper.
In a large sauté pan, melt butter. Add shallots, cook for 4 minutes. Add garlic, cook for another 2 minutes. Add mushrooms and cook for 5 minutes until softened. Add sherry and continue cooking until all liquid has reduced. Add spinach, stir once, and remove from the heat.
Season with a pinch of salt and pepper.
Spread mixture over seasoned beef and sprinkle with cheese. With the long side facing you, carefully and tightly roll up flank steak. Tie butcher's twine around the rolled up meat at both ends and in the middle. Lightly season the outside with salt and pepper. In a large skillet or pan on high heat, add oil and when hot, gently transfer the rolled meat. Sear on all four sides for 2 minutes each side.
Transfer onto a sheet pan and into the preheated oven. Bake for 20-25 minutes, remove and cover with foil. Let sit for 10 minutes.

For the sauce, add water, white balsamic vinegar and basil leaves to a blender,  blend until smooth, season with salt and pepper,
Slice flank roulade into portions and serve with basil sauce.

Staff Favorite
Also, we couldn't resist offering this favorite recipe from the Vermont Fresh Network staff that uses local ingredients. It is simple to make and it's perfect with craft beer, heritage cider, or local kombucha. 
Homemade Cheese Crackers with a Kick
Ingredients:
8 Tb cold, unsalted Cabot butter cut into chunks
1/4 pound your favorite Vermont sharp cheddar cheese, grated - about 1 cup
1/2 tsp kosher salt
a generous pinch finely ground black pepper
1 cup plus 2 Tb all-purpose flour
1 tsp - 1 Tb Butterfly Bakery Vermont Fresh Network Hot Sauces (depending on how hot the sauce is and how hot you want the crackers to be!)
Directions:
Put butter, cheese, salt, spices in a food processor and pulse until butter is well broken up. Add flour and pulse until well combined (couscous sized pieces). Add hot sauce and blend just until the dough pulls together.

Turn onto a work surface and knead enough to bring together into a thick disk. Wrap in plastic wrap and chill in the fridge for an hour.

Heat oven to 350 degrees.

Warm the dough on the counter just enough to be able to roll it (if you chill it for more than an hour). Roll out to scant 1/4 inch thick. Using a fluted wheel cutter or knife (I use a bench knife) cut into 1" strips one way, then the other, to make squares. Make a hole in the middle of each with a BBQ skewer (or something similar - bigger around than a toothpick, this step isn't as tedious as it sounds and it does make a difference).

Put squares onto an ungreased cookie sheet and bake for about 15 minutes, until the crackers darken a smidge. Cool on a cookie rack and serve. These spicy cheesy crispy crackers are a great addition to your cocktail snacks.
(Adapted from recipes by Jennifer Reese and Dorie Greenspan).