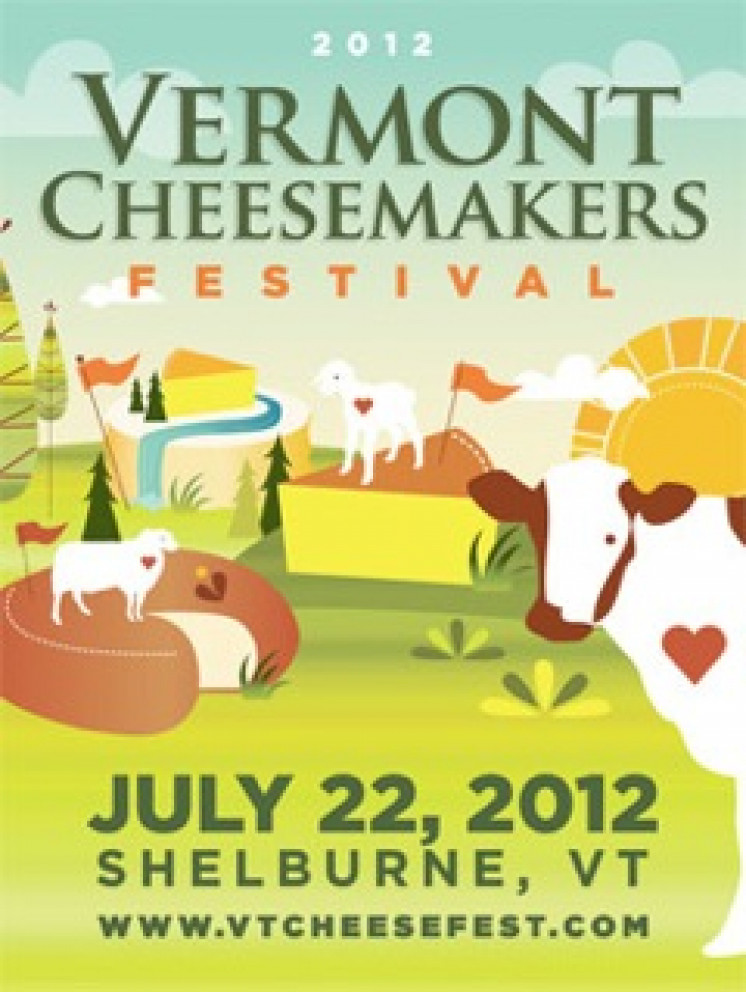 I always knew the Vermont Cheesemakers Festival was my kind of event. Whenever I saw the posters (kudos to Scuola Group and the illustration powers of Amy Ruppel) I would close my eyes and dream about tasting some of Vermont's finest cheeses on the banks of Lake Champlain at Shelburne Farms. Can it get any better? Well it actually does. The festival name is a bit misleading because in addition to cheese you can sample well-known chocolates, beers, wine, spirits, and more. Put this all together with a beautiful sunny afternoon and it's virtually paradise. So I have to thank Nicole for giving me the nudge to buy tickets early to this, typically, sold out event.
So what was the event like? Since it was a balmy afternoon in July, it was inevitably hot and crowded. I don't know if there's a maximum capacity for the tent and coach barn at Shelburne Farms but I'm sure we reached it. When I first arrived, I ran into a client of ours and asked him if he was inside sampling, his answer was pretty telling, "This isn't an event for me. If I can't have real face time with my customer, I don't attend." I quickly understood what he was referring to, it was a little intense with arms coming from everywhere, toothpicks in hand, everyone standing in line. But with that said I think the frenzied energy would be there no matter how many people came. With so many treats to be tasted you've got a new favorite around every corner and can't wait to find more. So when my wife and I needed a break we merely took to the nearest exit and in seconds were enjoying a cool breeze along the lake.
The greatest part of the festival is obvious, there are so many cheesemakers there and each has their spin on the standards plus a few "you've just got to try." You start negotiating with yourself, "Yea, this could be my dinner. Why not?" Though after about an hour I was hit with a hard cold reality that not only was I not going to be able to sample everything, but I should have stopped at one bite per vendor. That's ridiculously hard because if one bite is good two is better. Some of my favorites: the 4-year aged cheddar from Thistle Hill Farm and the Bayley Hazen Blue from Jasper Hill. I typically like a strong blue but the mellow creaminess of this one won me over. For the non-cheese delights there were a number of smoky items from Vermont Smoke and Cure and a sweet favorite from Big Picture Farm, Sea Salt Caramels. So good!
Overall it's a great event and a superior demonstration of the food scene in Vermont. My plan next year will be to stay longer, pace myself and come with my own stash of toothpicks. Hopefully the organizers can address the space issue (more tents?) so that there's an opportunity to put a face with the cheesemakers and for attendees to have a little breathing room, much like a fine wine.
Originally published on Skillet Design & Marketing blog.