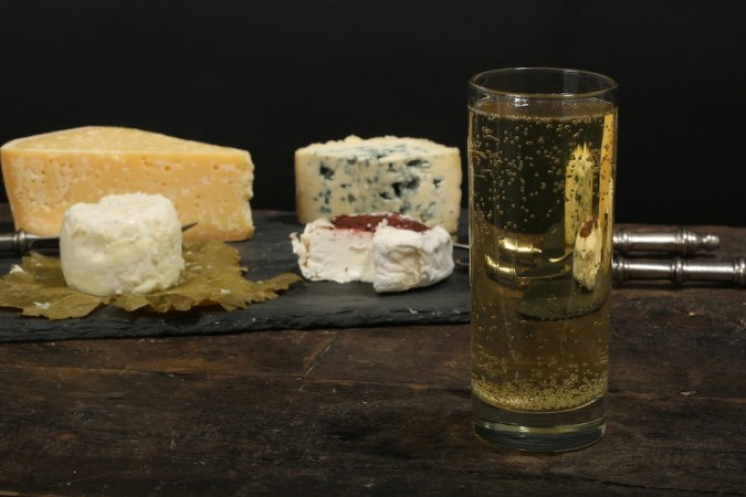 We asked William McNeil, co-owner of Hen of the Wood Waterbury and Burlington, for his expert opinion on pairing Vermont hard cider. Turns out, cider is a perfect partner to another Vermont specialty--cheese! Lucky for us, cider and cheese makers are abundant at Vermont Farmers' Markets. Find a market today and try out a new cider and cheese pairing.  
Here's Wiliam's advice:
"Hard cider is a naturally pairing jack of all trades! It's pretty easy to find food that tastes great with cider, whether you're drinking at a midweek dinner or a celebratory feast. Cider's naturally occurring low alcohol & carbonation help tremendously! Cider can add a little light to heavy meal or great complexity to a light meal. Its natural fruitiness pairs as well with pork as it does with a green salad. Cider also plays extremely well with Vermont cheese! Many drier styles of cider pair beautifully with rich, buttery cheeses (think cheddar, gouda or a creamy blue), while the big apple flavors of semi-sweet cider is gorgeous with fresh or soft-ripened cheeses. The old 'rule of thumb' that was taught to us day one in culinary school is that if two things come from the same region, they will naturally pair together. 
Point: Vermont Cheese loves Vermont Cider!"
Want to find your perfect pairing? Travel our Southern Vermont Cheese Trail, check out our Vermont Cheesemakers open to visitors, and read more about the flavor of Vermont cheeses from DigInVT partner the Vermont Cheese Council.