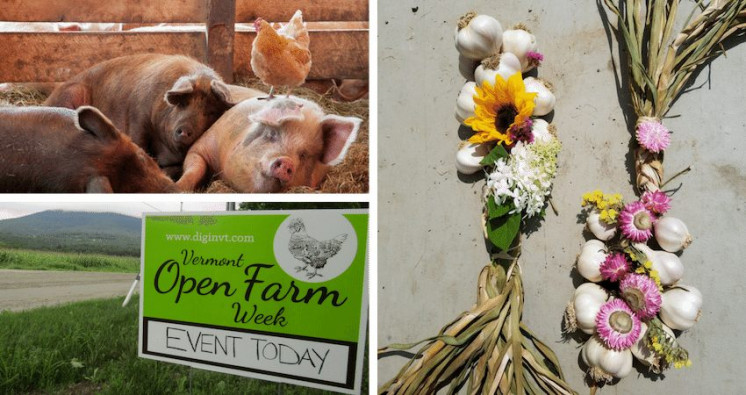 Coming up this August, Vermont Open Farm Week will be celebrating its 5th Anniversary! This yearly celebration of Vermont's farm community and agricultural heritage offers farm tours, dinners, classes, and many more events that show the range of Vermont's working landscape. Some of these farms are only open to the public during this one week in August. This is your chance to taste, to explore, and to meet Vermont's farmers.
Around this time of year, we start to get calls and emails asking when the complete Open Farm Week event list will be posted. In celebration of 5 years of welcoming people to meet their farmers, we felt a sneak peek is in order. This year, we have some can't-miss favorites, and we are always happy to welcome new farms to the event.  
Enjoy yoga under the full August moon for all levels in celebration of Vermont Open Farm Week! The class is free and open to adults, teens, and children of all ages and ranges of experience with yoga. The practice will place a special emphasis on poses for farmers and gardeners that soothe the lower back and open the upper body, shoulders, and neck.
Join Green's Sugarhouse for a complimentary guided maple tour. Samples of Green's awarding-winning maple products will be provided at the end of each tour along with complimentary maple cotton candy! 
Take a walk through the trellised two acre hop yard and take in the sights and smells of these majestic plants. Learn about how they were once Vermont's largest agricultural crop. Hogback Mountain Brewery, Hired Hand Brewing Co., Foam Brewers, and Lawson's Finest Liquids will be serving beer truly crafted with local ingredients, including hops grown at Homestead Hops!
Run a 5k in the beautiful Northeast Kingdom of Vermont, beginning and ending in the lavender field of Lavender Essentials of Vermont.  Fresh air and rolling hills fuel this country walk or run. Check out their other Open Farm Week events.
This is always an Open Farm Week favorite! Feast on delicious fried chicken with organic salads, cornbread, and lemonade at the farm! Lawn games, a local dessert vendor, and musical talents to make your evening! Join the folks at Maple Wind Farm for a family-friendly evening. Rain or shine.