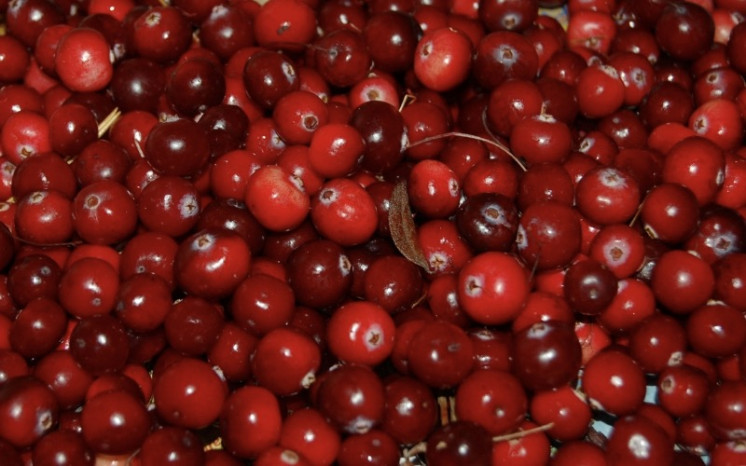 With delicious cranberries from Vermont Cranberry Company at your fingertips, why not use the traditional and versatile fruit to compliment your Thanksgiving meal!
  Holiday Cheer Cranberry Martini
We love this recipe for its versatility! We recommend using Vermont Cranberry Company's Cranberry juice, but if you can't get your hands on some, try to buy juice with the least amount of sugar.
1.5 oz of your favorite Vermont spirit - we recommend Bar Hill Gin, Whistle Pig Whisky, or SILO Distillery Vodka
1 oz  Cointreau or Grand Marnier
1.5 oz Cranberry Juice
Shake vigorously with ice and serve in a chilled martini glass, unless made with whiskey - then it's best at room temp!
To garnish your cocktail, freeze whole cranberries in ice cube trays, or garnish with a blood orange wedge.
Other variations could include fresh-squeezed ginger juice, a floater of sparkling cider, or a dash of maple liquor - have fun!
Vermont Cranberry Sauce from Vermont Cranberry Company - Fletcher, VT
12 oz VT Cranberries
¾ cup water
¾ cup sugar
⅛ teaspoon salt 
Bring water, sugar, and salt to a boil. Stirring occasionally, add cranberries, reduce heat to medium, and simmer until most of the berries have popped (about 5 min). Cool and serve.
Bob Lesnikoski of Vermont Cranberry Company recommends this traditional recipe - an adaptation of a master recipe from the geniuses at America's Test Kitchen, but he also encourages you to spice it up with orange zest or ginger!
Holiday Cranberry Strudel 
    Enjoy this paper-thin magical dough filled with savory and sweet fillings.  
 STRUDEL DOUGH
(Yield 1 Strudel, Serves 15)

Ingredients:

12 oz flour-bread, high protein, King Arthur (Total flour 2 ¾ cups, scoop and sweep method)
1 egg-large
2 oz butter, unsalted, soft
1 teaspoon salt
¾ cup water, warm (more water, if needed)
1 tablespoon distilled white vinegar
1 tablespoon vegetable oil

Tools:

1. Table 3 feet x 3 feet or card table.
2. Clean tablecloth to cover table. (The cloth helps in the stretching and rolling the strudel once it is filled.)
3. Kitchen aid mixer, rolling pin, parchment paper, sheet tray and pastry brush.

Procedure for dough:

1. Place flour, butter, and salt in mixer bowl.
2. Mix with paddle on low speed until incorporated. Add egg and mix; add warm water and vinegar to make soft dough. Might need to add more water one tablespoon at a time if it is too dry. Side of the bowl should glisten with a little moisture.
3. Change to dough hook and knead the dough at medium speed, until it becomes smooth and elastic, about 5 minutes.
4. Lightly flour counter top. Place dough on table and form dough into a log and with a gentle force hit against the table; fold the stretched dough under itself and repeatedly "Hit" dough against the table about 100 times. This teaches the dough to stretch.
5. Form dough into ball and coat with vegetable oil. Cover with plastic wrap; let rest for 1 hour at room temperature.

Make fillings during the hour wait for the dough to rest.

Holiday Cranberry Strudel Filling
(Yields 1 Strudel Serves 15)

Ingredients:

2-½ pounds apple, peeled, cut into 1-inch chunks (Granny Smith)
2 cups maple sugar
¼ cup lemon juice
12 oz fresh cranberries
1 cup kumquats seeded, sliced
½ cup pomegranate seeds
¼ cup orange juice
2 tablespoons Calvados (optional)
¼ cup apricot jam
1 cup chopped pecans, toasted
2 tablespoons soft butter
1 homemade strudel dough
⅛ teaspoon cinnamon
1 tablespoon maple sugar
½ cup toasted breadcrumbs
½ cup melted butter

Method:

1. Peel and slice apples and combine with lemon juice and one cup of maple sugar.
2. Combine fresh cranberries, orange juice, kumquats, and 1 cup of maple sugar in saucepan. Bring to boil, then simmer until the sauce has thickened, but berries still retain their shape. Strain and cool mixture. Add Calvados to strained liquid and boil until it turns into thick syrup.
3. Gently combine apples, cranberries, apricot jam, pomegranate seeds, softened butter, and add the reduced syrup.
4. Combine cinnamon, 1 tablespoon maple sugar, and toasted breadcrumbs.
5. Preheat oven to 400 degrees. Prepare strudel dough according to direction. Brush with melted butter and sprinkle it with toasted breadcrumbs.
6. Spoon apple cranberry mixture in a long even shape down topside of dough leaving 3 inches on top and on either side of the table. Using the tablecloth, roll the dough over like a jellyroll, finish with seam side up. Carefully roll onto parchment lined sheet tray with seam side down. Brush top with melted butter, cut slits at an angle with sharp knife 2 inches apart.
7. Lower oven to 375 degrees. Bake strudel in middle of oven until golden brown and crisp, 35 to 40 minutes. While baking and when done, brush top of strudel with melted butter. Transfer to a rack and cool 30 minutes. Dust with powdered sugar. Serve with whipped cream or vanilla ice cream.
Recipe by Strudelqueen - Vera Eisenberg.
(This an update of an article originally published in 2012.)