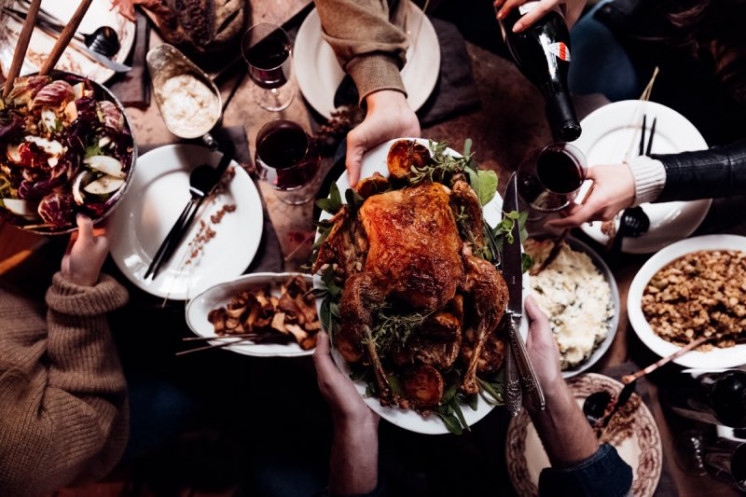 This Thanksgiving, why not let someone else do the cooking? Even better, let that someone be a Vermont Fresh Network (VFN) chef! There are many local inns and restaurants serving up delicious holiday meals prepared with Vermont ingredients this year. And, if you just need a little help with the hosting, we have options for you! Some of our favorite VFN member markets have prepared side dishes and pies available for pre-order. Peruse the list below to see what the offerings are in your area.
---
Arlington
West Mountain Inn - The inn's fixed price Thanksgiving menu features traditional dishes like roasted Vermont turkey with cornbread, pecan, and fig stuffing, in addition to salmon, sirloin, and butternut squash gnocchi. You'll also enjoy salad, a selection of appetizers, freshly baked rolls, and seasonal desserts. $45/adult, $23/child. 2:00pm - 5:00pm. Call 802-375-6516 for reservations.
Bristol
Inn at Baldwin Creek and Mary's Restaurant - Head to Bristol for a buffet including all your holiday favorites with some exciting additions such as salmon, leg of lamb, and stuffed shells. This "plentiful harvest dinner" starts off with soups and appetizers and ends with a dessert sampler. $60/adult, $28/child. 12:00pm - 6:00pm. Call 802-453-2432 for reservations.
Chittenden
Mountain Top Inn & Resort - Start off with local autumn squash bisque and salad before heading to the carving station for traditional roasted turkey and prime rib. There will also be several side dishes to enjoy including baked brie, brussel sprouts with bacon, baked sweet potatoes with maple butter, and Vermont sweet creamed corn. It all g oes perfectly with the beautiful mountain views from the dining room. $39/adult, $17/child. Call 802-483-2311 for reservations.
Dorset
The Dorset Inn - The Inn's a la carte Thanksgiving menu boasts smoked duck pate, Vermont Creamery goat cheese and mushroom tart, and Misty Knoll turkey dinner. Other entree options include prime rib, salmon, and house made pumpkin ravioli. The nearby Dorset Bakery will be preparing apple and pumpkin pie for dessert, along with the Inn's chocolate torte and carrot cake. Call 802-867-5500 for reservations (required).
Essex
The Essex, Vermont's Culinary Resort and Spa - Enjoy a Thanksgiving feast at The Essex. Their large holiday menu features a raw bar, antipasto, local cheeses, traditional side dishes, prime rib, turkey, vegetable strudel, and even a chocolate fountain. $50/adult, $22/child. 11:00am - 5:00pm. Call 802-878-1100 for reservations.
Grafton
The Grafton Inn - Give thanks with The Grafton Inn. They'll be serving up Thanksgiving turkey with all the trimmings, in addition to some unique offerings for those who prefer a less traditional meal. Think sea bass, cajun fried turkey, and filet mignon. For dessert, make the tough choice between apple, pecan, pumpkin, or chocolate pie. $70/adult, $30/child. 2:00pm - 4:30pm. Call 802-843-2248 for reservations.
Ludlow
Echo Lake Inn - Celebrate Thanksgiving at the Echo Lake Inn! They'll be serving up a three course holiday meal. Start off with Vermont sausage and kale soup and salad, and then enjoy a selection of main dishes, including salmon, filet mignon, ravioli, and, of course, Vermont turkey! Finish the meal with a selection of seasonal desserts. $42/adult, $20/child. Call 802-228-8602 for reservations.
Manchester
Reluctant Panther Inn and Restaurant - At Reluctant Panther, choose between several appetizer and entree options including local green salad, pheasant and squash risotto arancini, organic Vermont turkey, braised beef short ribs, and more! The dessert buffet boasts ten delectable offerings. $65/person. 2:00pm - 7:00pm. Call 800-822-2331 for reservations.
The Copper Grouse - From now until November 27th, Copper Grouse is celebrating Friendsgiving with hot toddies and pretzel bites for two for $25. Half of the proceeds will go to No Kid Hungry. And on Thanksgiving day, enjoy a three-course meal among family and friends at the restaurant. You'll feel right at home. $55/person. 1:00pm - 8:00pm. Call 802-362-0176 for reservations.
Middlebury
Morgan's Tavern at Middlebury Inn - Feast on a traditional holiday meal at Morgan's Tavern. Their buffet will make all your Thanksgiving food dreams come true, from roasted pumpkin bisque and Vermont maple whipped sweet potato to roasted local turkey and freshly baked pie. $36/adult, $18/child. 11:30am - 3:30pm. Call 802-388-4961 for reservations.
Stowe
Edson Hill - Stay cozy by the fireplace in Edson Hill's dining room. The chef is preparing a delicious three-course meal. Start off with a grilled radicchio salad or creamy mushroom soup. Next, choose between beef wellington, roasted turkey breast, or poached halibut, and complete the meal with pumpkin pie or apple cake. $65/adult, $30/child. 12:00pm & 3:00pm. Call 802-253-7371 for reservations.
The Lodge at Spruce Peak - The Thanksgiving buffet at the Lodge will feature so many delicious dishes, from popovers, local cheeses, and roasted autumn vegetables to heirloom apple, cranberry, sausage stuffing and brined Misty Knoll Turkey. They'll even have a dedicated "Kid's Corner" with hot dog slides, tater tots, and more, so there will be be no stress over picky eaters. $70/adult, $25/child. Visit opentable.com/solstice for reservations.
Weathersfield
The Inn at Weathersfield - The Inn has a fabulous feast planned for Thanksgiving day. Save room for the Vermont maple pumpkin pie with bourbon whipped cream but first, enjoy spinach fettuccini, leek and potato soup, roasted local turkey with all the trimmings, and much more! $52/adult, $4/child. 2:00pm - 7:00pm. Call 802-263-9217 for reservations. 
---
Or Order Ahead...
Grafton
MKT: Grafton - There's lots to be thankful for at MKT: Grafton. Stop by Monday - Wednesday for pies, sides, hostess gifts, and wine. 
Middlebury
Middlebury Natural Foods Co-op - Pre-order your Thanksgiving turkeys, side dishes, snack platters, and pies by November 23. Click here for the online order form.
Peru
J.J. Hapgood General Store & Eatery - Pre-order your Thanksgiving turkeys, sides, and desserts by November 21. Three words: Maple Bread Pudding. View the full menu here. Call 802-824-4800 or send an email to order.
Stowe
Harvest Market - The market has a full menu of Thanksgiving side dishes, desserts, and cooked Adams turkey breast available for pre-order, which will also be available on a first come, first served basis in the prepared food case. Check out the full menu here. Call 802-253-3800 or stop by before November 24 to order.

Williston
Natural Provisions Market - Order apple, pecan, pumpkin, or mixed berry pies from Natural Provisions by November 25. Click here for the online order form.
Woodstock
Woodstock Farmers' Market - Check out the Market's website to see their full Thanksgiving catering menu. They are fully prepared to do the cooking! They also have several pie flavors available for pre-order. To place a pie order, call 802-457-3658 x245. To place a catering order, call 802-457-3658 and press 1 for the deli.