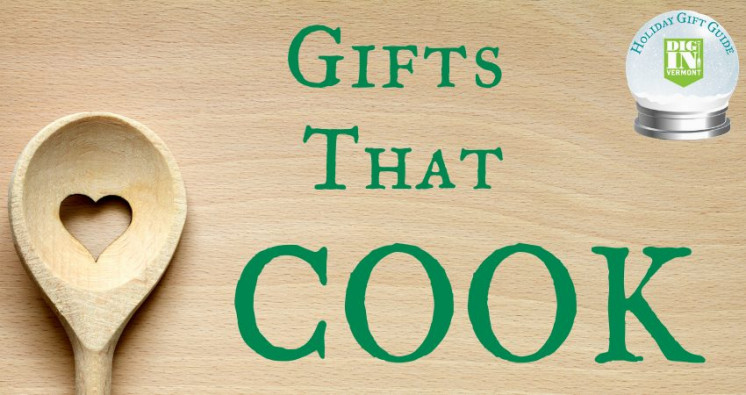 Clearly we love Vermont food here at DigInVT. And we firmly believe in getting more people to enjoy cooking and learning about what makes Vermont special. The following are a few ideas on the DigInVT Holiday Gift Guide to inspire your favorite cook and baker to spend an afternoon cooking, tasting, reading, and enjoying Vermont's food and farms.
Secrets to Flavor
Sometimes it's about those little extra flavorful additions when you cook. Special salts and infused vinegars are pantry items that can brighten and elevate any dish. Red Wagon Plants in Hinesburg offers a complete collection of their herb salts, vinegars, and their signature rub packed with Vermont-grown herbs from their farm. We love the vibrant colors and flavors of their vinegars made with Chive blossoms and Thai basil blossom.
Virtual Classes
Instead of wrapping a gift, give a class or workshop this year. You can plan a private class with friends or enjoy a pasta class with Odyssey Events VT in Bridgewater. For all your baking friends, you can't go wrong with a class at King Arthur Baking Company in Norwich or Brot Bakehouse School & Kitchen in Fairfax. City Market/Onion River Coop, and The Essex also offer a rotating list of virtual classes for all ages. And if you aren't sure what kind of class to give, pick up a gift certificate and let your friends and family choose their own cooking adventure.
Bakers Gotta Bake
Do you know a pie baker who wasn't able to visit Vermont this year to pick their own fruit? Champlain Orchards in Shoreham and Scott Farm in Dummerston make gift giving easy for you by offering apples by mail. Send a box of apples straight from Vermont to their door. And for an added gift to those who enjoy an afternoon of pie making, King Arthur Baking Company offers a list of pie making essentials, including a classic red pie plate and Vermont boiled cider to make your pie taste to the nth degree of apples.
For the Travelers
We may not be able to travel overseas right now, but that doesn't mean we can't enjoy a taste of Italy in Vermont. Agricola Farm in Panton offers a Bread and Pasta CSA box. If you know someone living in Addison or Chittenden county that likes Italian cooking, this is for them. Agricola farm is a small diversified farm in the heart of Vermont's Champlain Valley, with a strong Italian footprint, not only because the owners were born and raised in Italy, but also because their farm model is founded in the Italian "agriturismo." Each Bread and Pasta CSA box includes: four servings of fresh pasta, made on the morning of delivery, 1 loaf of fresh-baked bread, simple recipes and sauce recommendations, and of course some extra goodies like herbs from the garden, wild-harvested Vermont-native plants, or seasoned crackers. Pair it with a Vermont Salumi sampler box (order by mail) that includes four types of Salami, Bresaola, Lonza, Capocollo, and Pancetta and it will feel like that trip to Italy is just a little closer.
It's Time for Some Grilling
Do you have a griller in the family? We all know someone that loves to grill year round. The folks at Jed's Maple in Derby know that there is nothing like adding a little maple sweetness to whatever is being grilled and their Grilling Gift Box is all ready to go. It is full of maple grilling goodness including their Sweet Hot and Spicy Maple mustard, Jed's Maple BBQ grilling relish (it's a relish not a sauce), which is full of minced onion, garlic, crushed red pepper, and cooked slowly with their very own maple syrup. The box also includes a couple of their maple shakers (Maple Sugar & Pepper and Maple Grilling Rub). We are also big fans of the spicy hot sauces from Butterfly Bakery in Barre and Sugar Bob's Finest: The Sofi Collection (Smoked Maple Barbecue Sauce, Smoked Maple Syrup and Maple Sriracha). All three products have been honored by the Specialty Food Association's Sofi awards, so you can't go wrong.
Books that Cook
For people who cook, cookbooks can sometimes become an obsession. While cookbooks offer recipes and stories, they also offer us a sense of and a taste of place. Speaking of taste of place...Seasons in a Vermont Vineyard: The Shelburne Vineyard Cookbook. Shelburne Vineyard is recognized as a pioneer in cold-climate winemaking, producing expertly crafted wines from Vermont and regionally grown grapes. This book offers recipes that celebrate the outstanding wines and the affinity of food and wine produced in Vermont. Below are a few more that offer a little of the story of Vermont through food.
Last spring, Jenna and Nora Rice released an e-cookbook to help support Vermont restaurants. Isolate & Create is a digital cookbook featuring 20 recipes from 15 different Vermont chefs. 100% of the profits are donated to the Vermont Restaurant Strong Fund. Vermont in known for our farm to table cuisine and for our makers. Add The Vermont Farm Table Cookbook to your cart as you shop for the perfect serving dish at Simon Pierce.
A Cozy Tea
After cooking and baking the afternoon away, it's nice to sit down with a nice cuppa. The folks at Free Verse Farm in Chelsea want to help you "steep it local" with their custom tea blends. With names like Take it Easy Tea and Ode to Vermont you are sure to give a cozy gift straight from the Green Mountain State.
This DigInVT Holiday Gift Guide was made possible by support from the new UVM Office of Engagement. The office is the University's "front door" for private, public, and non-profit entities looking to partner with UVM to address community needs.