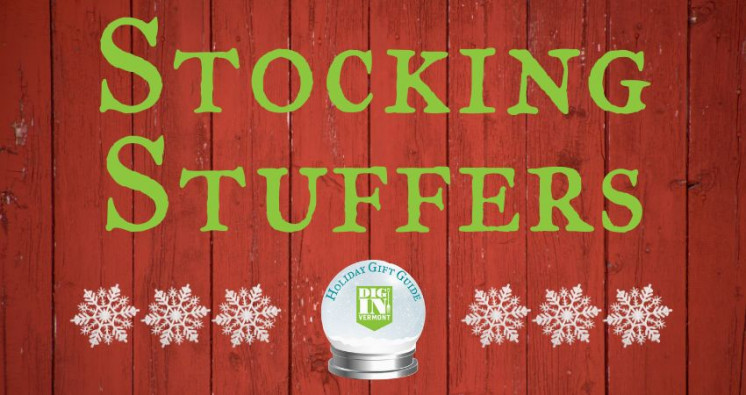 They say "good things come in small packages," and this is especially true for stocking stuffers! Go with a local theme this year and fill those stockings with Vermont-made goodies and treats. From cocoa and tea to lip balm and soap, as part of the DigInVT Holiday Gift Guide, this list has a little something for all the special people in your life.
Chocolate
Here at DigInVT, we can't recommend Lake Champlain Chocolates enough. They have all the festive treats you can think of on their handy Stocking Stuffer online guide. You can't go wrong with any sweet selection! Some of our favorites include Holiday Peppermint Hot Chocolate (currently on sale for just $10), anything from the Chocolates of Vermont line, and, of course, the classic Chocolate Santa Pops.
Caramel Sauce
The Flight of Petit Caramels from Fat Toad Farm makes holiday gifting SO easy. For $50, you get eight 2oz jars of caramel sauce featuring different flavors like salted bourbon, vanilla bean, cold brew coffee, and more. Treat each recipient to one or two! Don't forget to sneak a couple jars into your own stocking, as well! The whole set would also make a great standalone gift for the sweet treat lover in your life. Be sure to explore their website for other great options, including the Vermont Dessert Gift Box and the Caramel Apple Kit!
Smoked Maple Syrup
We love "Sugar Bob's" twist on this Vermont classic! Pure maple syrup is smoked using real wood, and packaged in adorable 2oz glass jars - perfect stocking size! Get a pack of six for under $25 on the Sugar Bob's Finest Kind online shop and help your family members or friends elevate their cocktails, marinades, or good old fashioned pancake breakfasts. Other favorites here at DigInVT are the Vermont Maple Sriracha slow roasted nuts and the Savory Maple Pantry, which features Smoked Maple Syrup, Smoked Maple Barbecue Sauce, and the four flavors of Vermont Maple Sriracha. Keep the holidays sweet and spicy with Sugar Bob's Finest Kind!
Apothecary Goods
"Steep it local" with Free Verse Farm & Apothecary! Their Tisanes (also known as "herbal teas") are made from plants grown on their farm in Central Vermont and packaged in cute tins, perfect for stockings or standalone gifts. Go for the unique Ode to Vermont blend or try something more classic like mint and lemon. For your loved one that loves to cook, how about a shaker of dried culinary herbs? We're partial to the Sage Finishing Salt or the Herbes de Vermont. Visit the Winter Favorites section of their online shop for all the best offerings for the season, including smudge sticks, lip balm, and more.
Honey
There's so much you can do with local honey! And some of the best local honey comes from Champlain Valley Apiaries. Their online shop features a special stocking stuffer section. And our favorite recommendation is a jar of the raw crystallized honey. Spread it on toast, swirl it in a cup of piping hot tea, add it to a vinaigrette, or enjoy a spoonful straight up, just because. Best of all, slip it into the stockings of your loved ones so they can do the same on Christmas morning!
Hard Cider Jelly
The hard cider jelly from Stowe Cider is unique and delicious! It comes in two flavors that incorporate their well-loved hard cider flavors - Apple Haze and Strawberry Fields. This is a great gift option for the foodies and/or cider lovers in your family, as it's an item they may not have seen or tried before! Pair it with a branded face mask to make being safe a little bit more stylish. Order from the Stowe Cider online store, and be sure to check out their other offerings, too - stickers, t-shirts, and more!
Drinking Accessories
Treat your loved ones to branded glassware, mugs, or koozies so they can enjoy their favorite local beverages in style! If you know their favorite, visit that brewery, cidery, winery, or distillery's website and explore their offerings. If not, you can't go wrong with the Rastal Teku Glass from Champlain Orchards. Shaped between a wine glass and a beer glass, it's the perfect combination of aesthetic and function, and great for enjoying cider. Or for the hot beverage lover in your life - what's cuter than this pottery sheep mug (currently on sale) from Vermont Grand View Farm? Slip a Zero Gravity koozie into every stocking - for just $3, your family can rep their favorite beers like Cone Head IPA, Green State Lager, and Little Wolf!
Enamel Lamb Pin
Featuring Jubilee, one of this year's lambs at Wing and a Prayer Farm in Shaftsbury, this pin will bring joy to anyone that receives it this holiday season! Born prematurely, Jubilee has faced a lot of challenges this year and has come out strong on the other side. Give this gift to someone who needs a little extra strength or encouragement, or just anyone that could use a smile. And let's be honest, who couldn't?! It also comes in a sticker version that would look great adorning a car, water bottle, or computer!
Hand Felted Soap
This is a luxurious upgrade from your typical bar of soap! Alpaca fiber from Maple View Farm is felted over goat's milk soap from Elmore Mountain Farm. Get it in lavender, lemongrass, or unscented. It's great to use and even greater to gift! Explore their full shop for other offerings, including adorable mini felted alpacas!
Ornaments
The UVM Bookstore has lots of great holiday ornaments! Whether you'd like to gift one that's simply Vermont-themed, or have a past or future Catamount in your life (Go Cats!), they have options. We're especially partial to the Home For The Holidays Wooden Ornament - perfect for the person who currently lives here, or the one that is missing Vermont this winter. The Metal Sled Ornament is also a great memento of one of the best snowy activities ever and includes UVM branding!
Pantry Staples
We believe that some of the best gifts are edible ones. Whether you're looking for mustards, chutneys, jams, or relishes, Dakin Farm has you covered! They have over 30 flavors of New England jams, jellies, and relishes, maple pepper, maple barbecue sauce, and so much more. Visit their online shop or stop by the store in Ferrisburgh and get a bunch of your shopping done all in one place.
Apparel
We're big fans of this "It's not the cow, it's the HOW" t-shirt from Stony Pond Farm in Fairfield! Not only is the t-shirt fun and stylish, but the graphic shows all the important parts of sustainable dairy farming! Or support the Vermont Fresh Network (VFN), a non-profit organization that works to build strong partnerships between farmers and chefs, by purchasing a t-shirt or tote bag from their New Duds online shop! Check out the Vermont Brewers Association store for lots of great t-shirt and hat options, too. If someone on your list has a favorite restaurant, brewery, farm, etc., try to get them a branded item so they can share the love by wearing their gift!
This DigInVT Holiday Gift Guide was made possible by support from the new UVM Office of Engagement. The office is the University's "front door" for private, public, and non-profit entities looking to partner with UVM to address community needs.